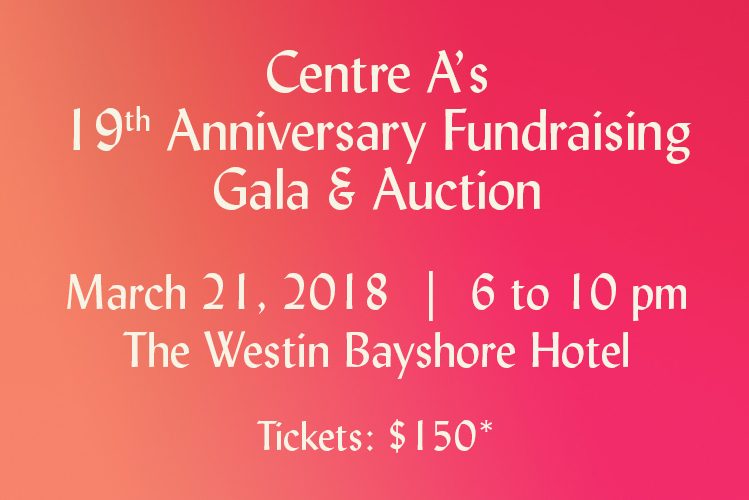 CELEBRATE OUR 19TH ANNIVERSARY GALA & AUCTION WITH US AND HELP TO BUILD THE NEW CENTRE A:
Come join us for dinner and drinks in the Stanley Park Ballroom at the Westin Bayshore Hotel, followed by our highly anticipated annual art auction with works by a variety of leading and emerging artists. We will be joined by returning host, MC Conor Wylie, and enjoy a special performance by the gallery's founding director, Hank Bull. Please click here to view a selection of works available at this auction from this year's contributing artists:
Amelia Butcher
Gabi Dao
Adad Hannah
Julian Hou
Fang Lijun
Morris Lum
Kate Metten
Byron Peters
Navin Rawanchaikul
Mira Song
Janice Wu
Gu Xiong
We will also have photo booths created by Marisa Kriangwiwat Holmes, Nadya Isabella, and Kendra Yee.
This year, following our recent move to 268 Keefer St., we are working hard to get ready to build out our new and expanded facilities. The move establishes Centre A's first long-term home, carving out a more permanent space in Vancouver for our mission: supporting the creation and appreciation of contemporary Asian art. We look forward to entering our construction phase in fall 2018.
All proceeds from this year's Gala will go toward our expansion project, ensuring Centre A's success in:
More than doubling the size of the only public gallery in Canada devoted to contemporary Asian and Asian diasporic art
Establishing a purpose-built Reading Room to house our library, one of the most extensive collections of Asian art books in the country
Building out the new location into multiple, separate gallery spaces, allowing us to stay open for visitors year-round
Thanks to your support, we are well on our way to bringing our vision of the new Centre A to life, for the next generation and beyond.
We highly recommend securing your tickets in advance to ensure a seat at this event. Purchase your tickets online through the form below, or give us a call at 604.683.8326.
Option 1: Buy your tickets now
*A special rate applies for an entire table (10 tickets for the price of 9).
Option 2: Set up a 4-month payment plan