Here I only worry about my feet, your feet, everybody's feet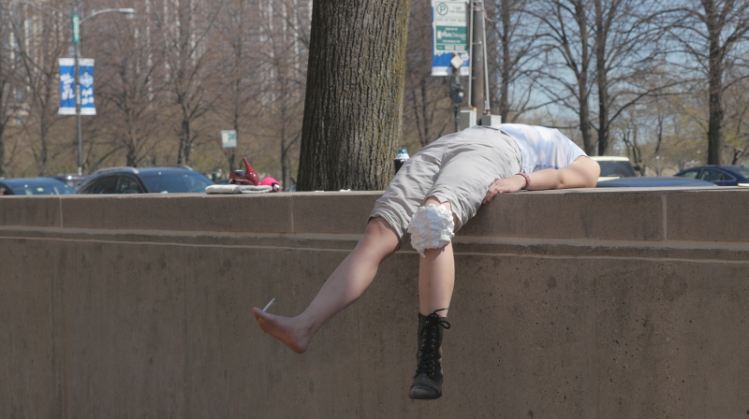 HERE I ONLY WORRY ABOUT MY FEET, YOUR FEET, EVERYBODY'S FEET
Mika Agari, Keely O'Brien with Popcorn Galaxies, Soraya Pathman, Kiyoshi Whitley, Tongyu Zhao, and Pongsakorn
Curated by Christian Vistan
June 3 – July 2, 2016
Opening June 3 | 7 pm
Gallery Hours: Tuesday -Saturday 11 – 6
'The great wall, the bricks, the letters, the typing hand, the smelly feet. The people, the brains, the language and the country, those I'm not concerned. Here I only worry about my feet, your feet, everybody's feet, and to comment in a offline online-presence until the time when we all get our feet on the ground, firm and soundless.'

excerpt from Did you wash your feet today? (poems on Facebook), 2015, Tongyu Zhao
Here I only worry about my feet, your feet, everybody's feet is a series of events, performances and artist projects curated by Christian Vistan, taking place from June 3 to July 2, 2016 at and around Centre A, 229 East Georgia in Vancouver's Chinatown. This month-long program includes performative, collaborative and participatory works and projects by Mika Agari (Nashville, TN), Keely O'Brien with Popcorn Galaxies (Vancouver), Soraya Pathman (Vancouver), Kiyoshi Whitley (Vancouver) Tongyu Zhao (Chicago, IL), and Pongsakorn (Vancouver).
Taking its title from a poem on Facebook by participating artist Tongyu Zhao, the events, performances and projects in Here I only worry about my feet, your feet, everybody's feet, take up concerns of space, location, collaboration, displacement and gentrification through an ongoing engagement with the public. Blurring the boundaries between the gallery space and the surrounding neighbourhood, works in this series permeate the gallery walls pushing art into the public realm. Engaging with the gallery's neighbourhood, this string of public performances, calls for participation and collaborative projects considers our relationship with history, space and one another.
Interacting with and inspired by current discussions in Chinatown about intangible cultural heritage and gentrification, this series functions as an institutional critique of museological strategies used to frame artistic work of an ephemeral or intangible nature such as performance, collaboration and participatory projects. With projects taking place in the gallery space, online and out in the street, the series reconsiders the function of the gallery as both a poetic and utilitarian space, at times performing the function of a props room, at times a stage, and in other instances a site for interaction.
Here I only worry about my feet, your feet, everybody's feet features an ongoing hotline project by Mika Agari, a collaborative documentary by Soraya Pathman, and performances by Kiyoshi Whitley and Tongyu Zhao, with weekly public puppet walks in the neighbourhood by Keely O'Brien with Popcorn Galaxies. Members of the public are invited to upload written and photographic documentation to a website project called documentcentera.org by web-based artist Pongsakorn, to document the series.
Here I only worry about my feet, your feet, everybody's feet, is taking place on traditional unceded Coast Salish land including the territories of the x?m??kw?y??m (Musqueam), Skwxwú7mesh (Squamish), Stó:l? and S?l?ílw?ta?/Selilwitulh (Tsleil-Waututh) Nations.
—
Mika Agari's work asserts intimate acts in public spaces. Her video performances revolve around a single objective–whether that be to drink orange juice with her dad, to unveil a public sculpture, to make a wish in a wishing fountain, or for this series, to talk to strangers. The objectives in the artist's work are explored, exhausted and pushed to their most raw and tender points of execution. Agari will be launching a month-long hotline, CALL ME I WOULD LIKE TO TALK, with Hitomi Agari, Weng Tze Yang, and Sam Chan, where she invites strangers from and around Chinatown to call in and talk. The conversations will be collected and available to listen to in the gallery, as well as on the website.
Keely O'Brien with, theatre collective, Popcorn Galaxies is presenting Elk Walk, a large-scale public puppet intervention featuring five puppets inspired by the fossilized skeletons of the extinct Irish Elk—the largest species of deer to ever live. Throughout the exhibition, the puppets will wander in and out of the gallery in weekly walks, culminating in a July 1, 3pm derive. With a volunteer cast of puppeteers, a mixture of Chinatown locals and organizers and local theatre performers and artists, the derives through Chinatown will see the work interact with complex local histories and ongoing processes of urban change.
Soraya Pathman's recent documentary video work, Girls Group, is the result of a three-month collaboration with eight girls from a local high school. Through conversations and interviews, play with camera work and direction, this most recent iteration of the ongoing project represents the groups' interest in collaborative research and the writing of histories through negotiation.
Kiyoshi Whitley utilizes architecture, constructed or found, in his performances. Influenced by history, memory and gentrification in Vancouver, Kiyoshi negotiates spaces and memories in his work. His performance addresses the space, as it is occupied by the audience's bodies and his own, as well as the architecture that is the container that appears to be invisible, or neutral. Whitley will be doing a performance over four nights that work off of Centre A's storefront and main gallery's architecture and location, along with an ongoing written project throughout the month, Projections under ones tongue / Hanabi, June 22-25, 7pm.
Currently based in Chicago, Tongyu Zhao's work concerns itself with the ground underneath it. Originally from China, Zhao's work investigates her current dislocation (the United States), displacement, memories and experience. She works through these themes and ideas through humour, props and material research and exploration in her objects and performances. Zhao will be collecting and sending props and objects from Chicago and Chinatown for her closing performance at Centre A, Foot Note On A Few Things (day 30), July 2, 8pm.
Pongsakorn is interested in subverting, examining and deconstructing value and belief systems through tongue-in-cheek propositions that also serve practical functions outside of the arts. Pongsakorn is building an alternative Centre A website (documentcentera.org), where the documentation of this series is produced through co-authorship. The artists, neighbours, audiences, writers, community members and others are invited to document, interpret, write and contribute to establishing the open content and documentation of the series as it is displayed on the website.
—
MIKA AGARI is a multi-media artist living and working in Nashville, TN. Agari graduated with her BFA from Watkins College of Art, Design & Film, TN in 2016. Through performative actions within consumer structures, Agari attempts to bridge the gap between the private and the public; from building a shrine for her father in a Walmart to using a toll free number to have intimate conversations. Agari has shown internationally, participating in shows at the Asheville Art Museum, the Frist Center in Nashville, TN, her video work has been screened at Third Man Records' Light and Sound Machine, and most recently she has shown at Centre A in Vancouver, Canada. Agari is also a co-curator at mild climate, an artist run space in Nashville, TN.
KEELY O'BRIEN is an interdisciplinary artist and co-artistic director of emerging theatre company Popcorn Galaxies. She holds a BFA in Theatre Performance from Simon Fraser University in 2016. Her practice incorporates visual art, performing, directing, and creative writing. Recent directing credits include The Love Talker and Radiant Thing at SFU, Wonders of the Ancient World, New Narratives, Invisible City, Hold On Tightly, and Elk Walk for Popcorn Galaxies. Recent acting credits include Town Criers with Theatre Replacement, Mr. Snortoose and The Machine Children's Machine at the rEvolver Festival, Loomings with Rice & Beans Theatre, and The Builders, Picnic and Women of Troy at SFU. She served as contributing writer for SFU's 2015 season of Black Box shows, and her play Anthropocene was featured as SFU's Spring 2016 main stage production. Her poetry has appeared in Cicada Magazine and coming up, in The Dalhousie Review. Keely incorporates her visual art practice into her theatrical projects, designing costumes, sets, and puppets for her own shows.
POPCORN GALAXIES is a growing collaboration between June Fukumura and Keely O'Brien. Their work is about re-enchanting the everyday world through theatre. Using unconventional space and structure and a do-it-yourself aesthetic, they challenge the audiences to actively engage in the work, to illuminate the mundane by juxtaposing it with the unexpected, and to test the thresholds between imagination and reality, life and theatre.
SORAYA PATHMAN is a recent graduate of Emily Carr's Critical + Cultural Practices programme. In taking up experimental filmmaking methods, her practice reflects an interest ?in themes of observation through the actions of viewing slowly through the lens of cinema's technological apparatuses. Corresponding with looking behind or inside, such attention to film's capacity to take the position of critical document or research process is an extension of Soraya's regard for extensive interview and encounter
KIYOSHI WHITLEY was born and raised in Vancouver, BC and is currently completing the final year of his BFA in Visual Arts at Emily Carr University. His work examines the social contracts bound in formal/physical structures through the act of performance. Here I only worry about my feet, your feet, everybody's feet is his first exhibition.
TONGYU ZHAO is an artist and performer. She has lived in Singapore, Shanghai and Beijing. Currently based in Chicago, but mostly based in her guts and wherever she locates, she thinks about material encounters and lived experiences. In an oftenchaotic expression, Zhao intends to slow down experience and expand life's weirdness. Zhao has performed at Rational Park, Links Hall and Mana Contemporary and showcased works at various venues across Chicago. She's a recent recipient of the LeRoy Neiman Fellowship from Ox-Bow School of Art, MI. She received her BFA from the School of the Art Institute of Chicago in 2016. Tongyu is also in a collaboration duo with artist Alyx Harch as Ha Ha Gallery
PONGSAKORN investigates value and belief systems enforced and performed by institutions. Attempting to deconstruct these institutions, his practice often appropriates the aesthetics?of power in order to negotiate with them. In a tongue-in-cheek way, the project often serves alternative functions outside the gallery space and the arts. Pongsakorn was born in Bangkok in 1994. He currently lives and works in Vancouver where he has completed his BMA from Emily Carr University of Art + Design in 2016.
CHRISTIAN VISTAN is a Vancouver-based Filipino Canadian artist originally from Bataan, a peninsular province in the Philippines. With an interest in the in-between, his work—in painting, textiles, writing and curation—occupies liminal moments and spaces. Recent projects and exhibitions include Sunset Table (2016) at Project Space, Vancouver, and most recently, Here I only worry about my feet, your feet, everybody's feet (2016), a series of events, performances and artist projects that he curated at Centre A, Vancouver. He is currently working toward a BFA in Visual Art with a minor in Curatorial Studies at Emily Carr University.
Here I only worry about my feet, your feet, everybody's feet is made possible through a curatorial mentorship co-op funded by BC Arts Council's Early Career Development Grant.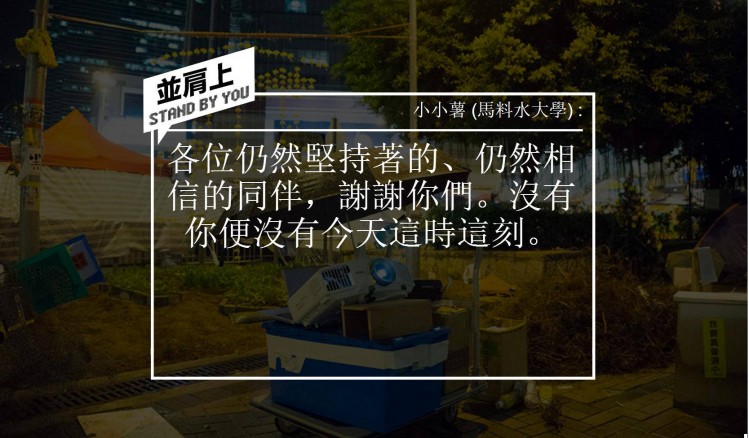 Add Oil Machine ???
In collaboration with Hong Kong Exile
Curated by Melissa Lee and Aaron Levy
Organized by Slought Foundation in collaboration with the Add Oil Team, this virtual exhibition seeks to spread awareness about the power of individual and collective assemblage and the formation of community and solidarity through art. In commemoration of the final days of protests one year earlier, the project will launch online on December 10, 2015, raising questions about archivization and historicization, and how institutions record and display protest movements and cultural resistance. Here, in Vancouver, Canada, we will be presenting it in the form of an outdoor projection and installation.
The title of the exhibition is derived from "Stand By You: Add Oil Machine ???: ???" a spontaneous four-month project by artists Sampson Wong (???), Jason Lam (???) and friends that strategically projected political writing on key government buildings in Hong Kong. Together with over 100,000 other protestors, they sought to protest recent electoral reforms by the Standing Committee of the National People's Congress of China and campaign for universal suffrage. Their projection system operated at the intersection of public culture, activism, and urbanism, and re-visualized the symbolic authority of civic sites. Mimicking the dominant tendency to wrap buildings in advertising, they projected more than 40,000 short messages of local support and international solidarity, catalyzing a vast protest site under intense global attention.
In response to the protester's demands, the Hong Kong government and the Chinese Communist Party strengthened its control of media and educational institutions and escalated its harassment of students, scholars and protesters, quietly subduing oppositional voices and language through administrative and bureaucratic protocols. "Stand By You: Add Oil Machine ???: ???" can be understood as a linguistic form of resistance to this power and process. In Kafka: Toward a Minor Literature (1975), philosophers Gille Deleuze and Félix Guattari introduce the term "minor literature" to describe the relationship between language and power, and the possibility of subversive forms of enunciation that contest domination. Recognizing the way in which the political domains co-opts both individual and societal consciousness, they recognize the potential of language and literature to express and imagine other possibilities. Minor literature builds upon the relationship between the individual and their political immediacy, and encourages new forms of solidarity and collective enunciation.
To what degree can the concept of minor literature be translated across languages, cultures, and places? "Stand By You: Add Oil Machine ???: ???" provides us with an opportunity to explore its applicability to the language of protest, and in particular protest in minor Chinese languages. A majority of the messages of solidarity were written in ??? Cantonese, the primary language in Hong Kong yet one that is secondary to ??? Mandarin, the standardized Chinese dialect spoken in Mainland China, Taiwan and Singapore. Cantonese people are often compelled to explain themselves in Mandarin to be understood in Mainland China and other parts of Asia, such that using Cantonese in everyday life is an affirmation of one's minoritarian cultural identity and sense of community. This project thus invites us to interrogate the politics of and relationship between Cantonese and Mandarin. Here political messages in Cantonese, a minor language, are being projected onto governmental sites of power whose association with Mandarin and Mainland China is precisely what is being contested.
Stand by You: Add Oil Machine for the Umbrella Movement is a work of the Add Oil Team. The Add Oil Team are Sampson Wong (???), Jason Lam (???) and their friends.
Friends who were involved in Stand by You included but were not limited to Candy Chu, Kitty Ho, Chris Cheung Hon Him, Jeff Wong, Kwan Kai Yin, Karen Shing.
PUBLIC PROGRAMMING
Vancouver Launch of "Add Oil Machine ???"
In collaboration with Hong Kong Exile
Curated by Melissa Lee and Aaron Levy
Thursday, December 10 | 5pm
In the alley between Revolver Coffee, (325 Cambie Street) and the Dominion Building (207 W. Hastings Street)
Free Admission
Facebook Event
Centre A and Hong Kong Exile, with the cooperation of Revolver Coffee are pleased to invite you to the Vancouver launch of "Add Oil Machine ???," an online exhibition about the Hong Kong Umbrella movement (2014) and the revolutionary potential of language and collective enunciation.