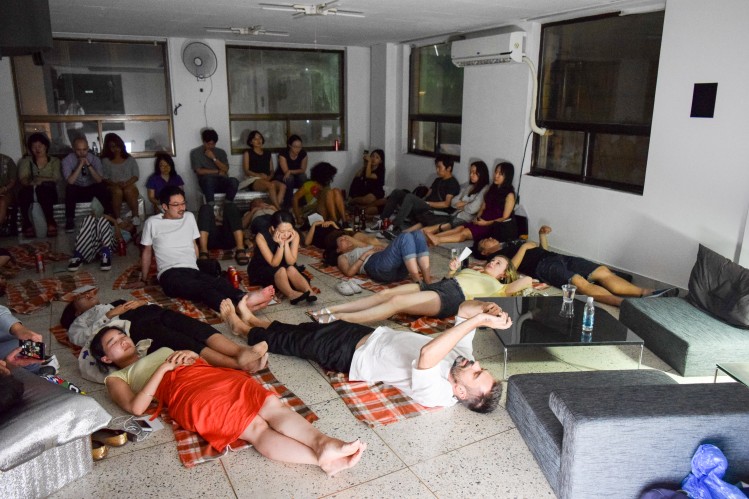 Canada-Korea Exchange and Residency Program with Centre A and RAT School of ART
In September 2015, Centre A (Vancouver, Canada) and the RAT school of ART (Seoul, Korea) established a Canada-Korea Exchange and Residency program. This collaboration activates the role of contemporary artists and scholars in trans-national, Asia-Canada relationship building, providing participants new opportunities for cultural productivity and intercultural exchange. Bringing people of various backgrounds together, Centre A and RAT school of ART's Exchange and Residency Program aims to provide artists, writers, curators, scholars, and other cultural producers a stimulating environment for critical reflection, artistic development and intercultural communication.
In 2016, Alex Grunenfelder, Centre A's inaugural Canada-Korea Exchange Artist-in-Residence spent March-June in Seoul for RAT school of ART's spring semester. During his residency, he participated in workshops and lectures at RAT school of ART, culminating in a presentation of his work and the launch of his book, 25.47 m², at RAT school of ART's public lecture series.
In 2017, RAT school of ART invites another Canadian artist, writer, curator and other cultural producers to participate and contribute to their spring semester (March-June 2017) as artist-in-residence.
For the duration of the residency, RAT school of ART will provide free tuition to the artist-in-residence as well as accommodations in an apartment in the heart of Jongno-District in downtown Seoul. The artist-in-residence will have the opportunity to develop a seminar/workshop as part of the 2017 spring curriculum and present their work, research or performance in RAT school of ART's public lecture program. In exchange, Centre A will host an exhibition in Vancouver with one or more participants from RAT school of ART in August 2017.
The artist-in-residence will be chosen by a small jury in Vancouver. Short-listed applicants will be called back for a joint interview with Centre A and RAT school of ART. The deadline for all applicants is January 14, 2017, with the short listed candidates to be interviewed shortly thereafter.
The artist selected for the residency will be one who displays knowledge and interest about Korean and East Asian history, culture and art, and who is actively interested in sharing their insights, experiences, work and practice. Artists, scholars, critics, curators and other culture-makers are equally welcome to apply.
To apply, applicants must submit:
– A comprehensive letter of interest outlining their background in art and culture making; their interest in Asian or Korean art and culture or Seoul as a city; and how it is that they imagine their participation will contribute to not only their own growth and development but to that of fellow participants in the RAT school of ART.
– A short seminar/workshop proposal to be realized with RAT school of ART during their residency
– Current CV
– A few examples of their work (images, videos, texts) or a link to their website
– Two letters of reference
Please send all inquiries and applications to residency@centrea.org by January 14, 2017
The RAT school of ART (RAT) is a self directed study program for passionate artists, who are able to set their own goals and work independently. The RAT school of ART offers a personalized learning program that should enable the members to gain autonomy and emancipate themselves. The RAT school of ART was founded in 2014 by Dirk Fleischmann, who has been teaching art at Korean universities since 2009 and taught classes as visiting professor at Lasalle College of the Arts (Singapore) and Emily Carr University (Vancouver.)  Other exchange programs of the RAT school of ART include a collaboration with Frankfurt's' Städelschule coordinated by renowned artist Tobias Rehberger and curator Philippe Pirotte.
Centre A is a public art gallery located in Vancouver's Chinatown engaged in the ongoing production of a pluralistic and democratic society. In our work, we seek to activate contemporary art's vital role in building and understanding the long dynamic Asia-Canada relationship, as we challenge Vancouver viewers to question the idea that Asian is "other" or Asia: "elsewhere", but rather to acknowledge the foundational place of Asian culture in Vancouver. We work hard to build community locally, with friends across the pacific and around the world as we function as a platform for Asian and Asian-diasporic perspectives in the fundamentally collaborative, border-crossing task of culture building.
Photos courtesy of RAT school of ART.