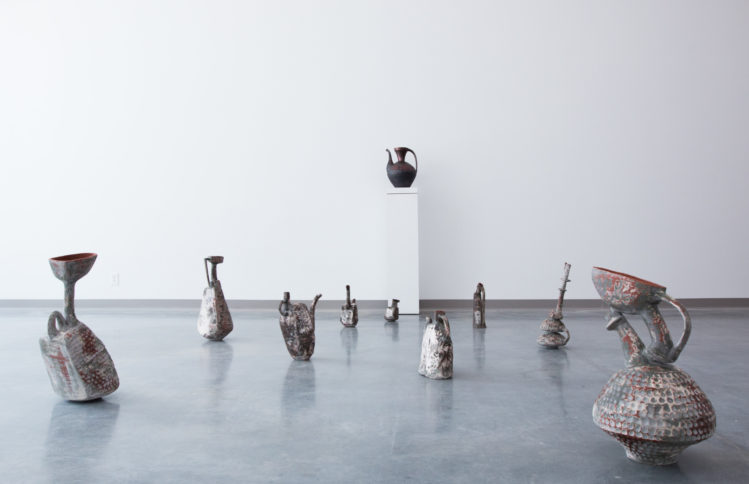 Mitra Mahmoodi, Aftabeh, 2018, earthenware clay, dimensions variable. Courtesy of the artist.
We cast Spells on the Mothers of our Daughters and Daughters of our Mothers
—
View the exhibition in the gallery and online at
centrea.org/we-cast-spells-online (going live on August 14, at 6 PM PST)
—
Online Opening Reception: 
August 14, 2020, 6 – 8 PM PST via Zoom 
Join here.
—
Gallery Hours:
Wednesday to Friday, 12 PM – 5 PM, or by appointment*, as of August 14, 2020
*Due to uncertainties imposed by the global pandemic, please refer to our website or social media in case of any changes to our gallery hours. If you would like to make an appointment outside of the hours above, please email us in advance at info@centrea.org and we will try our best to accommodate your request.
—
Public Program:
Online Screening & Artist's Talk: Yen-Chao Lin 
September 2020 (TBA)
Presented in partnership with Cinevolution Media Arts Society
—
This exhibition, We cast Spells on the Mothers of our Daughters and Daughters of our Mothers, brings together works by artists Yen-Chao Lin, Mitra Mahmoodi, Parvin Peivandi, Denisa Rahma, and Fiona Yujie Zhao. The exhibition centres on inherited cultural memories, magic, and rituals, and how they are complicated, and in turn reiterated in a contemporary context over time and through the diasporas.
It navigates diverse concepts and an array of cultural perspectives and locations, such as the filming of spaces that were once sacred and occupied by the Indigenous Amis sorcerers off the eastern coast of Taiwan, only to be disrupted and reconstituted by the colonization of the Spanish; the utilization, texturing and dissection of Persian carpets and weaving as a means of contemplating rituals of death, memory and analysis of the lives and reflections of women carpet weavers; the critiquing of themes of ritual, spirituality, and ostentation through calligraphy and ceramics in Iran. Furthermore, it explores themes of the occult, magic, and melancholy through staged photography and the play of iconography and traditional textiles from Jakarta as well as the speculation of inherited magic and spirituality that retains and transforms in the unconscious mind and body, through the medium of paint.
To rethink and contextualize these abstract understandings of identity through inherited memory, the artists connect through cultural material, place, and objects, to reimagine it in terms of modern dialogues and new identities.
Curated by Hana Amani, Curatorial Skills Development Intern
—
Sponsor:
Centre for Comparative Muslim Studies at Simon Fraser University
Lead Patrons:
Anonymous, Anonymous, Anonymous
---
Accessibility: The gallery is wheelchair and walker accessible. If you have specific accessibility needs, please contact us at (604) 683-8326 or info@centrea.org.
Centre A is situated on the traditional, ancestral, and unceded Coast Salish territories of the Musqueam, Squamish, and Tsleil-Waututh peoples. We honour, respect, and give thanks to our hosts.