Resonance: Contemporary Art from New Delhi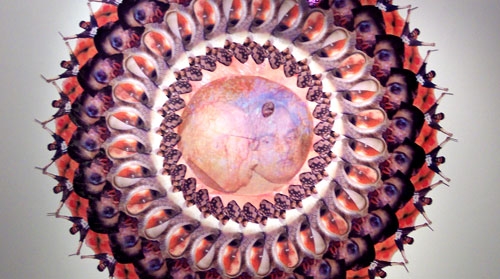 Artists' Talk: Saturday, October 16, 2pm
Curated by Keith Wallace
In conjunction with New Forms Festival, October 14-28, 2004
Anita Dube and Subodh Gupta are two of India's most internationally renowned contemporary artists. They incorporate into their artwork everyday objects derived from commercial, craft and vernacular sources. Anita Dube presents powerful wall sculptures using mass-produced ceramic eyes fabricated for Hindu devotional sculpture. Subodh Gupta is constructing a large columnar sculpture from more than six hundred stainless steel bowls.
In both cases, the basic identity of each individual object is retained, but their presentation is reconfigured to rupture any neutrality. The potency of this work resides at the juncture between past and present meanings embedded within. This exhibition, which also includes video and photomontage, is the first time that Dube and Gupta's work will be presented in Canada.
ANITA DUBE: Born in Lucknow, Uttar Pradesh state, Anita Dube holds a BFA from the University of Delhi and an MFA from the Faculty of Fine Arts in Baroda. She has been exhibiting her work in India and internationally since 1987 and was included in the 2000 Havana Bienal, 2001 Yokohama Triennale, ARS 1 Kiasma Museum of Contemporary Art in Helsinki, and is currently in When Latitudes Become Forms, a Walker Art Center touring exhibition. Dube was a founding member and participant in the Khoj International Art Workshop from 1997-1999.
SUBODH GUPTA: Born in Khagaul, Biahr state, Subodh Gupta lives in New Delhi. He received his education in painting from the College of Arts and Crafts in Patna. He has been exhibiting since 1983. His work was included in the 1999 Fukuoka Asian Art Triennale, 2000 Kwangju Biennale, 2003 Havana Bienal, and the inaugural exhibition of the Palais de Tokyo in Paris curated by Bernard Marcade and Nicolas Bourriaud. He recently exhibited at Art and Public in Geneva with Rineke Dijkstra and Simon de Pury and held a solo exhibition at the Showroom in London.
KEITH WALLACE: Keith Wallace has been working as a curator since 1979. He was Curator for the Contemporary Art Gallery from 1991 to 1994, and Director/Curator from 1994 to 2001. He is currently working as an independent curator and in 2001 was the first recipient of the Guest Curator program at the National Gallery of Canada in Ottawa. Wallace has organized exhibitions of artists from Canada, USA, Cuba, India, China, Thailand, Japan, France, Germany, England and Columbia.
The exhibition is accompanied by an exhibition booklet with curatorial essay by Keith Wallace.
Centre A gratefully acknowledges the generous support of its patrons, sponsors, members, partners, private foundations, and government funding agencies, including the Canada Council for the Arts, the Department of Foreign Affairs, the British Columbia Arts Council, and the City of Vancouver through the Office of Cultural Affairs.