Project for Bam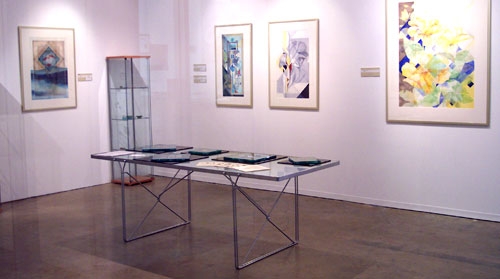 To benefit survivors of the earthquake
which struck the historic city of
Bam, Iran, on December 26, 2003
Produced in association with the
Canadian Commission for UNESCO
Exhibition: "Games and Gardens"
Pari Azarm Motamedi
Centre A, 849 Homer Street, Vancouver
Opening Reception: Thursday, December 2, 5:00 – 9:00 pm
Exhibition: Friday December 3 to Saturday December 11, 2004
CONCERT: "Concert for Bam"
Amir Koushkani, Darya Dadvar, Sal Ferreras
François Houle, Shirin Eskandani, Noushin Abedi, Nima Sarkechik
Centennial Theatre, 2300 Lonsdale Avenue, North Vancouver
Friday, December 3, 7:00 pm
General Admission: $35.00 Students and Children: $20.00
Tickets: Centre A 604 683 8326 Centennial Theatre 604-984-4484
A year ago, on December 26, 2003, a massive earthquake leveled the historic Iranian city of Bam, a UNESCO World Heritage Site. The population is still struggling to recover from the devastation. Over twenty six thousand people lost their lives. Many survivors, including young children, have lost their entire families, many are without shelter and are losing hope.
Centre A, together with a group of artists from diverse backgrounds, supported by members of the community and working in partnership with the Canadian Commission for UNESCO, is producing an exhibition and concert to raise money for the relief effort.
The exhibition by Pari Azarm Motamedi, titled Games and Gardens, features paintings inspired by garden motifs and elegantly crafted board games made of gold and silver. Not only are the games playable but many of the individual pieces are wearable as fine jewelery. These works will be offered for sale.
The concert features Iranian born soprano, Darya Dadvar, who will come to Vancouver from Paris to perform a special repertoire of Persian songs, accompanied on piano by Nima sarkeshik. The program will be opened by the talented mezzo soprano, Shirin Eskandani of Vancouver accompanied by composer and pianist Farshid Samandari. Climaxing the evening will be the group Safa, which brings together legendary Vancouver artists, Amir Koushkani, Salvadore Ferreras and François Houle and Noushin Abedi. The concert will also feature a media presentation and a silent auction.
Centre A is an associate member of the Canadian Commission for UNESCO
ORGANIZING COMMITTEE
Shabnam Eskandani, Shahpar & Faramarz Shoai, Sahar Saeb-nia, Shirin Eskandani, Pari Azarm Motamedi, Hank Bull