Breaking the Fourth Wall – Arts of the Downtown Eastside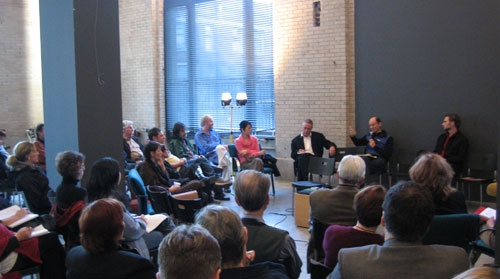 theatre, the fourth wall separates the actors and performers from the audience. Breaking the fourth wall is when we successfully connect with our audiences, usually when we connect with our own character, the characters of the other actors, and the character of the audience.
Join June Sanders, Irwin Oostindie, and Michael Clague in a conversation about how the arts are breaking the fourth wall in the Downtown Eastside, and how they could break the fourth wall between the Downtown Eastside and the rest of the world.
Vancouver International Centre for Contemporary Asian Art
Hank Bull will animate the conversation. Come to Centre A at their new gallery in the former BC Electric Building at the corner of Hastings and Carrall Streets at 4.00 PM on Monday, October 24th to listen to ideas.
Light refreshments will be available after the event.
RSVP to Rona Gilbertson, [email protected] at the Downtown Vancouver Association
http://vacforums.com/event-4wall.html