Vampyre Love Ball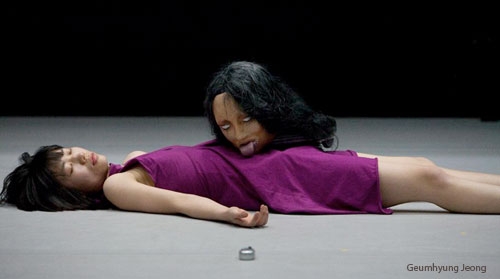 VAMPYRE LOVE BALL
C.Snatch Z.
Les Fermières Obsédées
Skeena Reece
Geumhyung Jeong
Saturday October 31,  8:00 pm – 12:00 am
At Chapel Arts, 304 Dunlevy Avenue
$10 / $5 members and students
Patrons:
Anndraya T. Luui
URBANOVA CENTRE OF ART AND DESIGN
Co-produced by Centre A and LIVE Biennale 2009
In conjunction with Heart of the City Festival
Centre A will close the LIVE Biennale 2009 with an evening of performance art in the cabaret atmosphere of Chapel Arts. Vampyre Love Ball will feature outrageous and risqué performances by local and international artists. Headlining the evening is the star of the Kyoto underground, Norico Sunayama, aka C.Snatch Z. She will be joined by Vancouver's own very popular and provocative Skeena Reece (who has just been booked to play the prestigious Sydney Biennale 2010). Also on the bill are Les Fermières Obsédée, (Desperate Farmwives), the hilarious and inventive girl group from Québec City, and topping it off is new hit sensation from Seoul, Korea, Geumhyung Jeong, on her way to a performance tour of the UK. This will be hot. You've seen Burning Man – are you ready for Burning Woman?
Empowerment, celebration of the female body, social engagement and inter-cultural and inter-generational collaboration will provide the conceptual framework for the Vampyre Love Ball.
The performances will make reference to the sexual politics of life on the Downtown Eastside and can be expected to be sensational and provocative
As well as providing the closing event for LIVE, (expect a dressed up Halloween crowd) this event will be Centre A's contribution to the 2009 Heart of the City Festival.
C.Snatch Z. is the stage name of Norico Sunayama, one of Japan's top performance artist. She is spending several weeks in Vancouver as the Mark Allison and Stephanie Holmquist artist-in-residence, with the support of the Foreign Visiting Artist program of the Canada Council. She will present a two-day "live installation" of one of her most celebrated works, a giant red dress called A Sultry World, at Centre A, Friday October 30 and Saturday October 31 from noon to 6:00 pm.  Born in Yokohama and living in Gifu, Japan, Sunayama is a dancer and a performance artist who has presented her work in many cities around the world. She studied under Mika Kurosawa, one of the most famous contemporary dancers in Japan and in 1990 joined Dumb Type, an internationally-acclaimed multi-media performance group. Sunayama has also founded several collectives and performance units, including The OK Girls, The Biters and Kill Your TV in Singapore. Norico Sunayama comes to Vancouver direct from a highly successful presentation at The Scotia Bank Nuit Blanche 2009 in Toronto.
Les Fermières Obsédées, (Desperate Farm Wives) is a performance collective formed by Annie Baillargeon, Eugénie Cliche accompagnied with the performer Isabelle Lapierre and the pianist Marie-Hélène Blay, who met at art school and discovered their shared love of fabrics, disguises and kitsch. Their wacky transgression of the quilting bee tradition has won awards for originality and innovation in textile art. This "thread" is followed through performances that question our contemporary worship of beauty. Four gorgeous women, dressed in uniforms and wigs, create a deliberate air of artifice, stylisation and exaggeration, which takes our obsession with image, fashion and conformity to an absurd conclusion. They will present a new work , "A Waltz for Puppets", created for their recent performance at the Musée National des Beaux Arts du Québec.
Skeena Reece is a performance artist and arts organiser whose work has been presented across Canada and the US.  A riveting presence on stage, her performances are funny, risqué and political. She comes from the Tsimshian Territory, born of Metis/Cree and Tsimshian/Gitksan descent and has been working in the arts since 1996. Her multi-disciplinary practice includes performance art, spoken word, humour, "sacred clowning", writing, singing, song writing, video art and arts administration. Like Sunayama, her work was a big hit at this year's Nuit Blanche. Skeena Reece is one of several Canadian First Nations artists who have been invited to participate in the prestigious 2010 Sydney Biennale.
Geumhyung Jeong is a young Korean artist who is re-negotiating the relationship between the human body and the machines that surround it. She works with ordinary objects – everything from a vacuum cleaner to a back-hoe – bringing them to uncanny life in a highly charged and disturbing interaction with her own body. Emerging from the vibrant underground performance scene of the vast, futuristic city of Seoul, Geumhyung Jeong has transformed her training as a dancer and choreographer into a unique and riveting performance practice. On her way to her second tour of the UK, this performance will be her Canadian début.
"Puppetry doesn't often find a place in experimental theatre festivals, but Jeong Geum-Hyung's duet with a vacuum cleaner is a reminder of how fantastical, magical and disturbing a form it can be …. Jeong's work addresses issues of control and manipulation and of animation and death-exactly the realm of puppetry." – Theron Schmidt, Real Time, Australia
The project patron, URBANOVA CENTRE OF ART AND DESIGN, is an innovative international foundation linking Shanghai, Xian, Los Angeles and Vancouver with projects that intersect art, architecture, ecology and design.
Contact:
Makiko.Hara (Curator)
Makiko[dot]hara[at]centrea[dot]org
Tel: 604-683-8326