THERE ARE NO PROBLEMS IN ART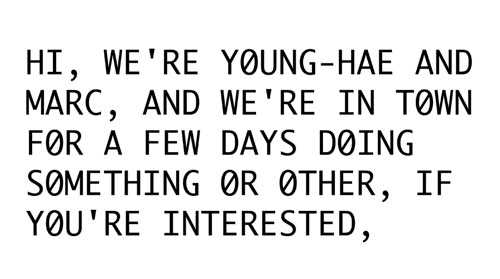 CENTRE A co- Presents
In collaboration with the Audain Gallery SFU Woodwards
YOUNG-HAE CHANG HEAVY INDUSTRIES
THERE ARE NO PROBLEMS IN ART
Exhibitions
September 13 – October 21, 2011 at Centre A
September 13 – November 5, 2011 at the Audain Gallery
Artist Talk: September 16, 6 – 8 pm at the Audain Gallery
Opening Reception: Friday, September 16
7 – 9 pm at the Audain Gallery & 8 – 10 pm at Centre A
Public Salon:  HI, WE'RE YOUNG-HAE AND MARC, AND WE WERE IN TOWN FOR A FEW DAYS DOING SOMETHING OR OTHER, IF YOU ARE INTERESTED, AND IF YOU'RE NOT, THAT'S O.K., TOO.
Wednesday, October 5, 6 – 8 pm at Centre A
Free Admission. Everyone welcome.

Co-Curators Sabine Bitter and Makiko Hara
Centre A is pleased to present international Artists in Residence Program and Exhibitions by Internationally renown Seoul base duo, YOUNG-HAE CHANG HEAVY INDUSTRIES. This project is co-organized with the Audain Galley SFU Woodward. Three newly commissioned works by the artists will be presented in two galleries.
By using their signature of a fast-moving, text-based video artwork synchronized to a jazz score, the two new works presented at Centre A : HI, MOM, WE'RE IN DOWNTOWN EASTSIDE, AKA DTES, AKA YOU-DON'T- WANT-TO-KNOW, (6 min 39 sec), and OUR DOWNTOWN EASTSIDE JUNKET, 2011 (5 min 16 sec) address the complexities of the relationships between art, artists, curator, institutions, communities in this specific area so called Down Town East Side (DTES) where both Centre A and the Audain Gallery are located.  A series of artist talks and salon will be scheduled in September 2011 in conjunction with Centre A during the artists' stay in Vancouver.
YOUNG-HAE CHANG HEAVY INDUSTRIES is yhchang.com. Its principals, Young-hae Chang (Korea) and Marc Voge (U.S.A.), are based in Seoul. YHCHI has made work in 17 languages and presented much of it at some of the major art institutions in the world. It has done commissioned works for Tate, London, the Centre Pompidou, Paris, and the New Museum, New York.
Centre A gratefully acknowledges the support of all its patrons, sponsors, members, partners, private foundations, and government funding agencies, including the Canada Council for the Arts, the British Columbia Arts Council, and the City of Vancouver through the Office of Cultural Affairs.
YOUNG-HAE CHANG HEAVY INDUSTRIES: www.yhchang.com
The artists will attend the opening and stay in Vancouver from September 16 – October 6. Interview with the artists is available by appointment during their stay in Vancouver.
*Due to a public symposium event, the installation is not able for viewing on Saturday, October 15.
Media Contact:
Makiko Hara (curator), [email protected], Tel: 604-683-8326