TO|FROM BC ELECTRIC RAILWAY 100 YEARS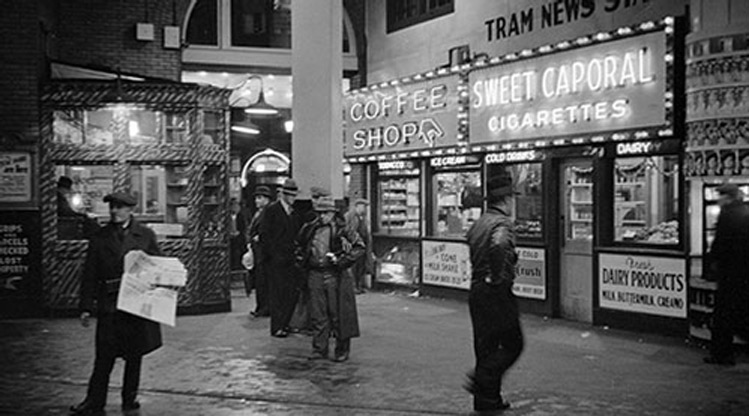 Raymond Boisjoly | Stan Douglas | Ali Kazimi | Vanessa Kwan | Evan Lee | Cindy Mochizuki
September 15 – November 10, 2012, Tuesdays-Saturdays, 11am-6pm
Opening Reception: Friday, September 14, 2012, 8-10pm
Co-curators: Makiko Hara and Annabel Vaughan
Lead Donors: The Audain Foundation for the Visual Arts and The Leon and Thea Koerner Foundation.
Circle of Support: Jan & Mark Ballard, Elsie Jang, Joanne Louie Mah and Hugh Mah and Michael O'Brian Family Foundation
Vancouver, BC – Centre A is pleased to present TO|FROM  BC ELECTRIC RAILWAY 100 YEARS, a group exhibition celebrating the historic BC Electric Railway (BCER) building's centennial anniversary, the current home of Centre A. Sitting below the six-story Second Empire Renaissance styled building, the early 1900s saw the BCER terminal blossom into a bustling interurban railway station. Addressing the building's importance to the collective memory of Vancouver, six contemporary artists will draw on the site and the neighborhood's expansive history to consider the building's significance as a cosmopolitan centre for new immigrants.
"The lofty space of the BCER terminal building is literally the keystone upon which the grid of the city turns. For the last six years the BCER building has been Centre A's home. On this occasion, it seems fitting to consider the role of the building as a conduit for a range of social, business and cultural exchanges. This exhibition examines immigrant contributions to the development of the Downtown Eastside," says Centre A's Executive Director, Haema Sivanesan.
"The more we learn about this building, the more we discover about Vancouver's rich and diverse cultural history. The exhibition TO|FROM takes us back 100 years, where the streets of Hastings were filled with sizzling cabarets and farmers markets," says co-curator, Makiko Hara. "Each artist in this exhibition are from a different generation and cultural background, they will share their own stories and histories of the Downtown Eastside." Co-curator Annabel Vaughan adds, "Using the centenary of the BCER building as a departure point, the exhibit will explore ideas implicitly embedded in the architecture of the building: arrival, speed, mobility, being in transit, waiting and the cosmopolitan aspirations of a young city."
"Before WWII and the internment of Japanese Canadians, the former Japantown was filled with markets, restaurants, bathhouses, and specialty stores like the confectionary shops that sold Japanese sweets," explains the artist, Cindy Mochizuki. The installation for this exhibit attempts to bring forth a site of memory, the interior of a space and disappearance of time. The occasion will also be used to interview and create specialty candy from that era with members from various Japanese Canadian community groups."
Highlights of the exhibition include:
1. New works by Raymond Boisjoly, Vanessa Kwan, Evan Lee and Cindy Mochizuki.
2. Selections from Stan Douglas' series, The Malabar People, seen for the first time in Vancouver. 3. Never-before-seen historical photographs of BCER
4. Film screening of Vancouver in the 1930s to 1980s.
TO|FROM  BC ELECTRIC RAILWAY 100 YEARS  is co-curated by Makiko Hara, Curator at Centre A, and Annabel Vaughan, Principal of the design firm publicLAB RESEARCH + DESIGN. Hara and Vaughan will give a public walking tour of the BC Electric Railway building on Saturday, September 15 from 2 to 5pm.
PUBLIC PROGRAMS at CENTRE A 
OPENING RECEPTION
Friday, September 14: 8-10pm
Opening night of TO|FROM
WALKING TOUR
Saturday September 15: 2-5pm
Curators walking tour of BCER building with Makiko Hara and Annabel Vaughan
Refreshments will be served after the tour
Maximum 30 people
Please reserve your spot and RSVP to [email protected]
Free
Friday, September 28 and Saturday, September 29: 2-3pm
A walking tour of BCER building by Gallery Docents
Part of Culture Days in Canada event
Maximum 30 people per tour
Please reserve your spot with specified date to [email protected]
Free
FILM SCREENINGS
Saturday, October 20: 4pm-7pm
Continuous Journey (2004) by Ali Kazimi
83 mins
Artists conversation to follow with Ali Kazimi and Evan Lee, moderated by Haema Sivanesan
$10 tickets, sold at the door.
Please RSVP your spot to [email protected]
Limited seats! Screening capacity 40 people.
The event will be catered by Vijs Rangoli, each ticket holder will receive one complementary drink ticket; there will also be a cash bar available at the event.
Ali Kazimi's Undesirables: White Canada & the Komagata Maru (Douglas & McIntyre) was a finalist for a 2012 City of Vancouver Book Award.
Saturday, November 3: 5:30pm-7:30pm
Interurban: An evening of archival films and stories with Colin Browne, Professor, SFU School of Contemporary Arts, and composer and musician Paul Plimley.
Free

PANEL DISCUSSION, CATALOGUE LAUNCH AND CLOSING PARTY
Saturday November 10
2-5pm: Panel discussion with Raymond Boisjoly, Vanessa Kwan and Cindy Mochizuki, moderated by Ashok Mathur
Followed by catalogue launch and closing party
THE ARTISTS AND WORKS

RAYMOND BOISJOLY: For TO|FROM, Boisjoly will develop a new text-based work using one of the old interurban railway maps, which shows the Fraser Valley railways called 'milk-train' that connected New Westminster to Chilliwack. The milk-train was important for bringing milk and other farm products from the Fraser Valley to the city until 1950. The old map indicated more than 30 station names mixing settlers names with anomalies such as "Warwhoop". Boisjoly will develop his research using the map as a departure point for considering the location within a cultural and geographical history.
Raymond Boisjoly is an Aboriginal artist of Haida and Québécois descent from Chilliwack, he is currently based in Vancouver, BC. Using various conceptual and technical strategies, his practice engages issues of Aboriginality, language and materiality. Boisjoly combines an invested interest in text-based works with a black metal aesthetic. A graduate of Emily Carr's Fine Art's degree program and UBC's Master's program, Raymond's work has been exhibited in group exbitions nationally and internationally: Vancouver Art Gallery (2012), Presentation House (2012), The Power Plant in Toronto (2012), and Western Bridge in Seattle (2012). Raymond is currently a sessional instructor at Emily Carr Institute of Art and Design and is represented by Republic Gallery, Vancouver.
www.raymondboisjoly.com
STAN DOUGLAS: TO|FROM will include a small selection of Douglas' recent photographic work, The Malabar People, a series of 16 black-and-white portraits of patrons and staff of a fictional 1950s nightclub. The work reveals mixed demographics, while raises questions around socio-political and economic histories of Vancouver and midcentury cities in North America. Historically, the north-south train network provided Vancouver with a steady stream of West Coast cabaret performers, who worked in nightclubs and cabarets along the Hastings Street strip, all of which were within walking distance of the BCER station.
Stan Douglas is a Vancouver based artist. Since the late 1980s, Douglas has created films, photographs, and installations that re-examine particular locations or past events. His works often take their points of departure in local settings, where broader issues can be identified. Douglas has had numerous solo and group exhibitions at prominent institutions worldwide. Recent solo exhibitions have taken place at Kestnergesellschaft in Hannover (2004), Studio Museum in Harlem, New York (2005), Centre Pompidou in Paris (2007), and Staatsgalerie Stuttgart and Württembergischer Kunstverein in Stuttgart (2007). He has been included in recent group exhibitions at venues like, the Hirshhorn Museum and Sculpture Garden in Washington, DC (2008), International Center of Photography in New York (2008 and 2009), ZKM | Museum für Neue Kunst in Karlsruhe (2010), and Guggenheim Museum in New York (2010) and the The Power Plant in Toronto (2012). His work is represented by David Zwirner Gallery in New York.
www.davidzwirner.com/artists/stan-douglas
ALI KAZIMI: TO|FROM features a film Continuous Journey, by Toronto-based filmmaker Ali Kazimi, a significant Canadian contemporary documentary film that won over 10 international festival awards. Continuous Journey is an inquiry into the largely ignored history of Canada's exclusion of South Asians by the immigration policy, "Continuous Journey Regulation of 1908." The film follows the tragic story of Komagata Maru, a Japanese ship chartered by a Sikh entrepreneur Gurdit Singh to ship Indian immigrants to Canada. In 1914, the ship arrived at Vancouver Harbour with 376 passengers aboard: 340 Sikhs, 24 Muslims and 12 Hindus. Many of the men on board were veterans of the British Indian Army and believed it was their right as British subjects to settle anywhere in the Empire they had fought to defend and expand. However, they were not allowed to land in Canada, and the ship was forced to return to India. This was one of several incidents in the history of early 20th century involving exclusion laws in Canada and the United States, designed to keep out immigrants of Asian origin.
Ali Kazimi is an India-born, Toronto-based award-winning filmmaker with a career spanning over two decades. His films address a wide range of social, environmental and historical issues.  Kazimi's films have won over 30 national and international awards, honours include: Narmada: A Valley Rises (Best Political Film and Best Director, Hot Docs 1994), Shooting Indians: A Journey with Jeffery Thomas (Nominated for Best Documentary, Genie Awards 1997), Continuous Journey (The Ram Bahadur Trophy for the Best Film of the Festival South Asia, Kathmandu, Nepal 2005), The Golden Conch (Mumbai International Film Festival, India 2006), The Colin Low Award for the Most Innovative Canadian Documentary (DOXA Film and Video Festival, Vancouver 2005), and Runaway Grooms (The Donald Brittain Award for Best Social/Political Documentary, Gemini Award 2006). He is currently an Associate Professor in the Department of Film, Faculty of Fine Arts at York University. Ali Kazimi's first book, Undesirables: White Canada and the Komagata Maru – An Illustrated History was published May 2012.
http://en.wikipedia.org/wiki/Ali_Kazimi | http://komagatamarujourney.ca
VANESSA KWAN: Vancouver Family is an ongoing project that Kwan initiated in early 2000, when she was a student at the Emily Carr University of Art and Design. She sent a package to all the Kwans in Vancouver (300 of them). In a letter written in both Chinese and English she asked each Kwan to consider the question "Is there a place you'd like to go, but have never been?" and write their response on a returned addressed postcard. Of the 300, she received 51 responses, ranging from brief ("Africa.") to poetic ("I have never been to Egypt where pyramids line the skyline and dust roam the pathways."). This was her first participatory project, and has never been presented in public. For TO|FROM, Kwan revisits this early work and creates a new installation work from these correspondences.
Vanessa Kwan is a Vancouver-based artist and programmer. Her work has been exhibited at a number of galleries and artist-run centres. Kwan's solo exhibitions include: Your Private Sky at the Or Gallery (2005), The Storm and the Fall at Access Artist Run Centre (2008), and Your Private Sky (Penticton) at the Art Gallery of the South Okanagan (2005). Recent public art commissions include Vancouver Vancouver Vancouver (2010) and Geyser for Hillcrest Park (forthcoming in 2012, with Erica Stocking) for the City of Vancouver. She is a founding member of the arts collective Norma, who received a Mayor's Arts Award for Public Art in 2011. She currently works as interdisciplinary arts programmer at the Vancouver Art Gallery, and as melancholic proprietor of Sad Sack, a soon-to-be-in-existence moveable event space.
www.vanessakwan.com
EVAN LEE: Ocean Lady Migrant Ship Re-creation Project is Lee's recent project that examines and focuses closely on the 2009 Ocean Lady incident cover image that was circulated in the media. Canadian authorities seized the MV Ocean Lady in the waters near Victoria, BC, and detained the Sri Lankan crew and passengers who undertook a dangerous journey to escape hardship and persecution and seek asylum in Canada. There has been massive public debate and speculation over the legality of their claims and the practice of human smuggling, and a climate of xenophobia has developed amidst accusations of immigration "queue-jumping" and fears of terrorism.
The Ocean Lady event highlights the complexities and challenges of immigration and its history in Canada, some of which were experienced directly by his family and friends. SS Komagata Maru in 1914 and continues with the more recent arrival of the MV Sun Sea. The extensive media coverage of Ocean Lady was frequently accompanied by a particular low- resolution, digital aerial photograph that depicted the passengers (faces pixilated) on the deck of the ship waving and calling out to the approaching RCMP helicopter. The artist has re-imagined and re-created the event that this photograph depicts, aided by research and a combination of photography and 3D digital modeling. As with much of Lee's previous work, his starting point is the found photograph, which he re-purposes and experiment upon expanding and transforming its content. Elements of fiction will be incorporated to fill in the gaps left in the original photo. And although Lee plans to produce a singular image on the scale of a historical painting, the final form of the project will not resemble a conventional photograph. A major component of this project will be to construct a digital 3D model of the ship and its 40-plus passengers on its deck.
Evan Lee was born 1975 in Vancouver, BC. Lee's experimental work over the past 15 years critically reflect on photography's recent technical and social evolutions. More recently, he has been looking closely at how these changes have taken effect in the media, and consequently, how if affects our attitudes towards images and ideas. Lee received him MFA in 2000 from the University of British Columbia. Lee's exhibitions include: On the Nature of Things at the Kamloops Art Gallery, Again and Again and Again and In Dialogue with Carr at the Vancouver Art Gallery, Triumphant Carrot: the Persistence of Still Life and Playing Homage at the Contemporary Art Gallery, PHANTASMAGORIA and Evan Lee Captures at Presentation House Gallery, Le Mois de la Photo à Montreal and At Play at the Liu Hai Su Museum in Shanghai. Lee's work has been featured and reviewed in Border Crossings, Flash Art International, Lapiz International Art Magazine, Yishu Journal of Contemporary Chinese Art, Canadian Art, Art on Paper and Pyramid Power. Lee has been a sessional faculty member at the Emily Carr Institute of Art and Design and in the Department of Fine Arts at UBC. Lee is represented by Monte Clark Gallery in Vancouver and Toronto.
http://evanlee.ca
CINDY MOCHIZUKI: As early as the 1880's, small Japanese businesses existed in Vancouver that catered primarily to the floating labourers along the Powell Street area.  The Japanese moved into this area and were gainfully employed working in sawmills, gardening, domestic and hotel service and nearly half were involved in commercial enterprise. Before World War II, this area known as Japantown or Nihonmachi was a concentrated area of Japanese activities including grocery stores, restaurants, cafes, lodging houses, dry goods shops, bathhouses, fish markets and specialty stores like the confectionary shops that sold specialty Japanese sweets. In 1942, over 20,000 Japanese Canadians were forcibly dispersed and uprooted from their homes and lost possession of their businesses and properties to be sold without consent by the Canadian government.
confections is a new and ongoing project that reworks the memory and history of the abundant confectionary shops and kashitens available in the bustling Powell Street area blocks away from the B.C. Sugar Refinery. As of 1941 there were at least 19 Japanese confectionaries, bakeries, and senbei ya that were found along Powell, Hastings, Gore, Dunlevy, Alexander and Main Street.  The installation attempts to re-create that and bring forth a site of memory; an interior of a space and time of nostalgic handmade confectionery that has now disappeared.  The installation includes audio interviews with those that grew up in and around the Powell Street area and the creation of specialty Japanese sweets with members of various Japanese Canadian community groups that presently still continue the culinary tradition. confections continues the research and memory work that was explored through the Open Doors Project, a series of historic panels presented as a graphic memoir found at the storefront of businesses presently occupying the Powell and Jackson Street area. The panels reflect the history of the Japantown area through the documentation of the businesses and shops that existed before and after the war.
Cindy Mochizuki is an interdisciplinary artist with a practice that moves across several forms including drawing, animation, multi-media, collaborations and performance. She is interested in the place between the documentary and the imagined; often integrating archival materials and interviews through the process of her work.  Her short films have been screened in Holland, Korea, Toronto, Los Angeles and Montreal. Her most recent exhibitions and performances include: Mörkö, Russian Hall (2012), Yo-In Reverberation, National Nikkei Museum & Cultural Centre (2012), and Lost Secrets of the Royal commissioned by LIFT and the Toronto Reel Asian Film Festival, Blackwood Gallery (2011).  She is a sessional instructor at Emily Carr University and holds a MFA from Interdisciplinary Studies from Simon Fraser University.
Acknowledgments: National Nikkei Museum & Cultural Centre, Beth Carter, Linda Reid, Alexis Jensen, Miko Hoffman, Tonari Gumi, Roberta Nasu and Auxiliary Group Members, Kikkori.
www.cindymochizuki.com | http://opendoorsproject.weebly.com
ABOUT THE CURATORS
Makiko Hara is the curator at Centre A: Vancouver International Centre for Contemporary Asian Art, since 2007. She has curated numerous contemporary art exhibitions by Japanese, Canadian, and international artists for over 20 years in Japan and Canada. She has served as project coordinator for several international exhibitions, including the Yokohama Triennale (2001/2005) and the Echigo Tsumari Art Triennale (2003). Hara was one of the three curators for the 2009 Scotiabank Nuit Blanche in Toronto. She has contributed to catalogues and magazines and her most recent essay was published in Mutation Perspectives on Photography (2011).
Annabel Vaughan is trained as an architect and is the Principal of the design firm publicLAB RESEARCH + DESIGN in Vancouver. She has taught at the School of Architecture and Landscape Architecture at the University of British Columbia and co-teaches the Architectural Science Program at BCIT. In her practice, she works to understand how Vancouver came to be the city it is, where it's headed in the future, and how the intersection of art and architecture in the public realm will shape its outcome. She has co-written articles for Artspeak, West Coast Line and Vancouver Matters (Blueimprint, 2008) with Rob Brownie. She has exhibited at Artspeak, Presentation House, the Vancouver Art Gallery, La Fonderie Darling in Montréal and The Other Gallery in Banff.
ABOUT CENTRE A
Established in 1999, Centre A (Vancouver International Centre for Contemporary Asian Art) is the only public art gallery in Canada dedicated to contemporary Asian art. Centre A makes a significant contribution to Vancouver's cultural landscape by contributing to the cultural infrastructure of the city, and foregrounding a range of diverse contemporary artistic practices. Centre A commissions and curates exhibitions, performance art projects, symposia, occasional residencies, publications and educational programs that contextualize the work of Asian-Canadian artists within a larger national and international context. We also bring the work of leading international artists to Vancouver, encouraging an exchange of ideas and promoting a wide awareness of contemporary cultural practices from Asia and its diasporas.
Generously supported by:
Canada Council for the Arts, British Columbia Arts Council, City of Vancouver, The Leon and Thea Koerner Foundation and The Audain Foundation.
Photo Credit:
1.) British Columbia Electric Railway depot on Carrall Street, May 30, 1928. Dominion Photo Co. VPL 22735.
2.) British Columbia Electric Depot – Carrall and Hastings, January 13, 1939. Leonard Frank. VPL 15714.
3.) The Tram News Stand and Coffee Shop illuminated at night in the B.C. Electric Building at 425 Carrall Street. City of Vancouver Archives, AM640:CVA 260-778, 1937. Photographer James Crookall.
4.) B.C. Electric waiting room. City of Vancouver Archives, AM640:CVA 260-784, 1937. Photographer James Crookall.
View our online publication here:
Sponsors: