TO|FROM BC ELECTRIC RAILWAY 100 YEARS: Culture Days in Canada Walking Tours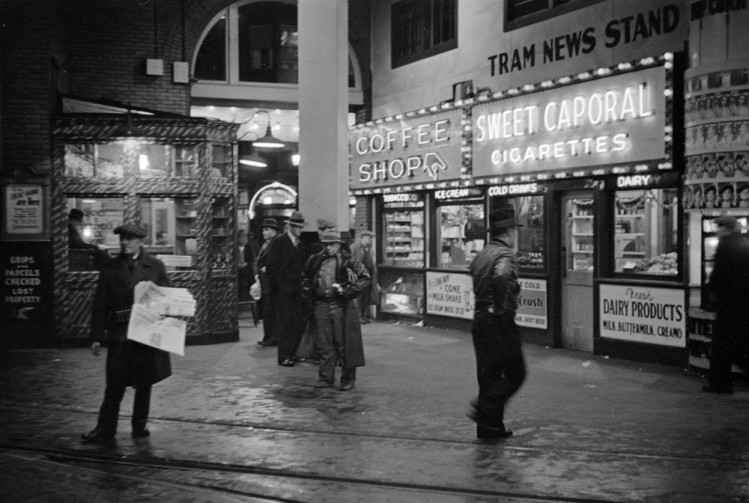 By Jorma Kujala
This week two free walking tours of the historic BC Electric Railway building, home of Centre A, takes place on Friday, September 28 and Saturday, September 29 from 2-3 pm.
This 1912 building was constructed at a time when the BC Electric Railway Company operated the most extensive interurban (or intercity electric railway) system in Canada, moving people and freight as far as Chilliwack. The six storey Second Empire Renaissance style structure must have been a crowning achievement for the BCER, as the journal, The Architect, Builder and Engineer wrote, "The interior fittings of the building are in thorough keeping with the magnificent appearance of the block. The wood finish throughout is oak, and many of the offices are panelled to the picture mouldings in mahogany or oak." This depot was a hub for Vancouver's growing streetcar and train services, with streetcars entering the building through the large arched windows and trains entering from a large square-shaped opening on Hastings Street.
Street railways, which had been operating in the area since 1890, had an enormous impact on the Lower Mainland, opening up large areas of undeveloped land for housing and enabling people to live at a distance from their employment. The BCER depot, which also housed 300 workers, was the largest employer in Vancouver's downtown area, and the influx of potential customers attracted many service businesses to the neighbourhood.
The glory days of the interurban, however, would not last.  By the end of the1930s, the popularity of streetcars was starting to decline, as commuters preferred the comfort and convenience of their own cars. Additionally, the need for major infrastructure upgrades to an ageing streetcar system pre-destined motorized transport as the way of the future, and the entire transit system converted "from rails to rubber," from streetcars to rubber-tired buses. In 1948, conversion to trolley buses began, with the last streetcar in Vancouver making its final run in 1955, and in 1958, the last of the interurban services finished up in Steveston. When streetcars were replaced by trolley buses and the B.C. Electric (now B.C. Hydro) moved to Burrard Street, the BCER depot underwent renovations, and the ground floor (now the home of Centre A) was closed in for a bank.
Come explore the history of our building! Please reserve your spot for one of these free docent-led tours by sending an e-mail with your specified date to [email protected].