As Heavy as a Feather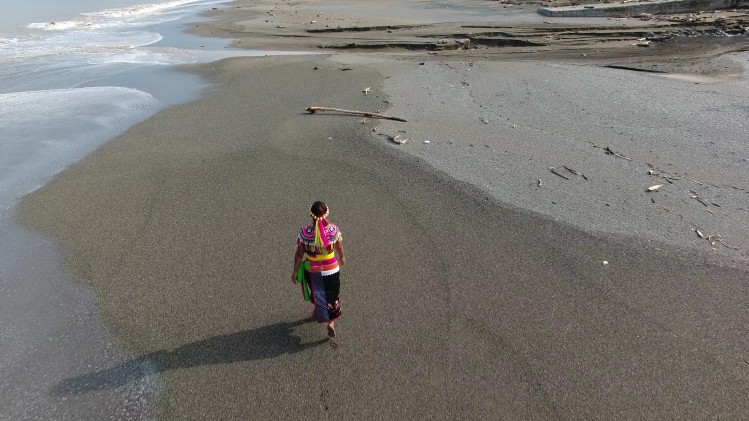 Chang En Man
As Heavy as a Feather
Nov 12 – Feb 11, 2017
Opening reception: Nov 10, 7-10 pm
Artist talk: Nov 12, 3 pm
The gallery will be closed on Nov 11 for Remembrance Day.

Chang En Man's practice is characterized by a dynamic interplay between story, tradition, and the struggles of indigenous peoples in the face of ongoing experiences of colonization. Chang employs a critical approach to representations of traditional indigenous practices. Through video, performance and social practice, she unearths the complex interconnections between indigenous peoples and cultures and land, creating a space for the assertion of contemporary expressions of indigenous identity. Therein, she takes a look at the convoluted results of colonization, that over time, have come to result in complicated interactions between settler and indigenous communities, and multi-layered experiences of identity.
This exhibition, "As Heavy As a Feather", takes place in response to a research trip Chang took through British Columbia in the summer of 2016. Through this trip she participated in the UBC Okanagan's Indigenous Arts Intensive and traveled throughout the province, including, importantly, to Unist'ot'en territories: a site of indigenous title assertion, cultural revival and healing in the face of Northern British Columbia's oil and gas development projects. She observed that, like in Taiwan's situation, there is a grey zone where development projects are met with anxiety, anger and anticipation while supposed economic benefits are weighed with the risks of cultural and environmental loss.
"As Heavy as a Feather" consists of two parts. The first is the result of over three years of engaging with the Fudafudak indigenous community (meaning "a glittering place" in the Amis language) in Shanyuan Bay on the east coast of Taiwan.
Like in many indigenous communities throughout the world, the Fudafudak community struggles to sustain social and cultural continuity as it interfaces simultaneously with capitalist and outsider activist interests. In the quest for economic revitalization and thereby wider community empowerment, the area is struck by the dilemma of accepting large-scale investments for projects that may be harmful to the environment and affect traditional ways of life. The resulting tension attracts participation from indigenous and non-indigenous activists alike. A prominent example is the widely known Meiliwan Resort development plan, a project that has been the subject of ongoing protests since its announcement in 2004. In this portion, with a folk song and a traditional Taiwanese indigenous kite–symbolic of mutual aid and long distance travel–the viewer is invited into the Fudafudak landscape and encounters layered narratives with the juxtaposition of two video works. One video features the Fudafudak elders who sang the Ngayaw song and tapped childhood memory and shared traditional stories as they tried to help Chang learn how to make the kite. The second video is an interview with Chang's friend, a young non-indigenous female social worker engaged in indigenous rights activism. Through these parallel narratives the artist reveals a grey zone asking how individuals can reflectively locate themselves within the complex processes of developing healthy relationships between indigenous and non-indigenous communities.
In the shadow of the kite installation she presents the second part of the exhibition, an editorial project in-progress; a site of dialogue where oral tradition, performance and academic practice inform a trans-pacific conversation between North American and Taiwanese communities on key issues including: contemporary indigenous identity, the complexity of settler- indigenous relationships, and means for realizing comprehensive de-colonisation.
Initiating dialogue, Chang invited Anchi Lin, a Vancouver- based artist of Taiwanese indigenous descent, to be part of the exhibition. Lin's work, which will be exhibited in the back gallery is a new video piece entitled, "A Glass of Wine: Excerpts from an hour conversation between Anchi and En-Man", an informal and intimate conversation with Chang.
After the exhibition at Centre A, "As Heavy as a Feather" will travel to Los Angeles, California where it will be presented at the Taiwan Academy Gallery.

PUBLIC PROGRAMMING
Artist Talk
Saturday, November 12, 3pm
at Centre A, 229 East Georgia Street

CHANG EN MAN lives and works in Taipei. Her work has been widely exhibited in Taiwan, as well as Thailand and Korea. In 2011 she received a Kaohsiung Award honorable mention in mixed media. The Taipei City Department of Cultural A airs has sponsored her work in 2013 and 2014. "As Heavy As a Feather" marks her first showing in North America.
ANCHI LIN is an artist of Taiwanese heritage who lives and works in Vancouver. Her work negotiates and interfaces with concepts such as language, identity, and cultural norms. Her heritage has served as a catalyst for her exploration of these concepts. Lin received a BFA in Visual Art from Simon Fraser University School for the Contemporary Arts.
This exhibition is made possible with the generosity of Taiwan Academy, Department of Cultural Affairs Taipei City Government, Ministry of Culture (TAIWAN), Taipei Economic and Cultural Office Vancouver, Canada Council for the Arts Visiting Foreign Artists Program, and our accommodations sponsor Skwacha?ys

We would also like to acknowledge the contribution of Centre A staff: Christian Vistan, Natalie Tan and Ruby Wang, and the exceptional assistance of Jimmy Liang, Hanzhi Hua, Eileen Hsu, Y Vy Truong, Jessica Chu, Lucy Ann Tung, Aubin Kwon, Do Kyung Lee, and YiFan Jiang.