Artist Talk: Clara Cheung & Gum Cheng Yee Man (C&G)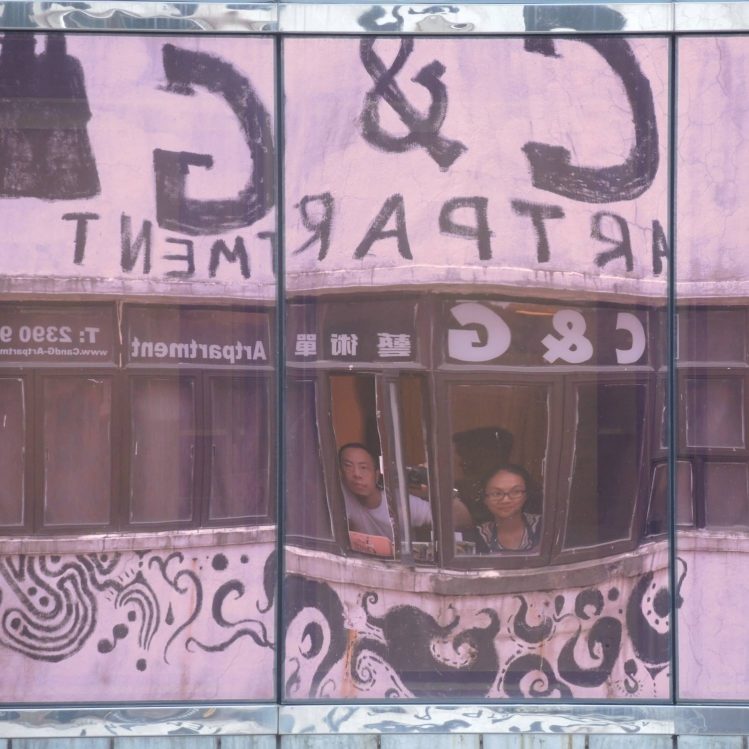 Artist Talk: Clara Cheung and Gum Cheng Yee Man (C&G)
January 25, 3pm
Centre A
Join us on Wednesday, January 25th at 3pm for a live recording of episode 2 of Get Tanned where guests and visiting artists Clara Cheung and Gum Cheng Yee Man (also known as C&G) join host Natalie Tan for a conversation about the intersections of art making, cultural policy and the state-society relationship.
Clara Cheung and Gum Cheng Yee Man are artists and founders of C&G Artpartment art space in Hong Kong. With a strong concern over the local art ecology, C&G use their art to respond to social and cultural issues. Their essential goal is to fill gaps in the current art scene in Hong Kong, and allow C&G Artpartment become an art space for the exchange of ideas. Over the past 8 years, C&G Artpartment has hosted more than 40 art exhibitions that included more than 70 local artists who respond to social and cultural issues in Hong Kong.
Their practice as the duo C&G is both humourous and challenging. The activities that C&G organise are often collective and participatory in nature, with a focus on issues surrounding the art ecology of Hong Kong as well as current events. In 2014, C&G were the artists-in-residence at Asia Art Archive and hosted 'Not as Trivial as You Think: Hong Kong Art Quiz,' in May 2014, in which many local artists participated to recall important but often forgotten stories from the past in Hong Kong art scene.
Get Tanned is a periodic podcast by Centre A's Deputy Director, Natalie Tan. Through this podcast, Tan engages conversations about gender, race, power and representation in the arts and in society more broadly.
Please note, part of this talk will be in Cantonese with English translations.
—

Upon her graduation from Rhodes College (TN, USA) with the Bachelor Degree of Arts in Fine Art and Computer Science in 2002, CLARA CHEUNG received the Sally Becker Grinspan Award for Artistic Achievement and the Apollonian Award for Art History. She then studied for the Postgraduate Diploma in Education at the Chinese University of Hong Kong and received a Master's Degree of Cultural Studies at Lingnan University afterwards. She was the panel head of the visual arts department in a Hong Kong high school from 2003 to 2007, is an active member of the non-profit art group, Project226, the founder of C&G Artpartment and a part-time lecturer at Hong Kong Baptist University. Her work has been included in solo and group exhibitions in Hong Kong and overseas, and have been collected by private collectors and art museums.
GUM CHENG YEE MAN was born in Hong Kong. In 1998, Cheng completed the social work programme at Hong Kong Polytechnic University. He graduated with distinction of Bachelor of Arts (Fine Art) in Drawing, at RMIT University in 2002. In 2007, Cheng received an M.A. in Comparative and Public History from the Chinese University of Hong Kong. He is a registered social worker, part-time lecturer of HK Art School, founder of C&G Artpartment, Wooferten; and chairman of a Hong Kong non-profit art group "Project 226". Since 2000, he has curated more than 100 art exhibitions, educational programmes, seminars, exchange programmes, and more. His curatorial direction mainly criticizes politics, social issues and the art eco-system. His artworks explore various media, like painting, drawing, performance, stop-motion animation, photography, video and installation.
Clara Cheung and Gum Cheng Yee Man have been invited to Vancouver by Remy Siu – composer, new media artist, and Co-Artistic Director of interdisciplinary company Hong Kong Exile. C&G's visit has been made possible with assistance from BC Arts Council.