Sound Forms: a selected program

May 16 to June 2
Opening Wednesday, May 16 | 5:30 to 8:30
Next Wednesday, May 16, we're very excited to welcome Contemporary Musiking Hong Kong (CMHK) to Centre A for the presentation of a selected program from the Sound Forms festival, featuring works composed by Hildegard Westerkamp, Larry Shuen, Alex Yiu, Barry Truax, Remy Siu & Russell Wallace, and Vanissa Law. CMHK Artistic Director and Sound Forms curator Samson Young will be in attendance. Held last month by CMHK and Hong Kong Art Centre, Sound Forms was the first festival in Hong Kong to focus on multi-channel sound.
The program consists of 2 new commissions and 1 newly remixed piece by 3 Hong Kong composers, as well as 3 pieces by Canadian composers. The selected pieces fall under 3 themes: soundscape compositions based on field recordings; beatbox, rap, and rhymes made by electronically fragmented vocal patterns and heavily processed speech, which trace tenuous lines in space; and experimental additive synthesis changing the timbre of sound in a multi-channel setting.
Sound Forms is born out of the conviction that one of the most important features of auditory experience is its capacity to reconfigure space: the ephemeral destabilizes rigid structures. It aims to use focused listening to rekindle an ancient understanding of sound as colliding masses, as projection of carrying speeds and infinitely trans-muting forms; in turn, we might reimagine space as fluid, living, and resourcefully voluminous.
About Sonic Anchor:
CMHK's Sonic Anchor is an experimental music and sound art concert series jointly presented with Hong Kong Arts Centre, which provides the cozy venue of McAulay Studio. Sonic Anchor brings curious audiences and adventurous artists together to enter into a conversation of mutual discovery and respect. It aims to be a playground for musical and sonic experiments.
In April 2018, CMHK presented a special series of Sonic Anchor – Sound Forms – a multi-channel sound festival. The week-long festival presented 5 new commissions, 21 international artists, 21 Hong Kong premieres, and 2 world premieres in 7 concerts and 6 exhibitions.
5:30 pm | Sammy Chien New Media Residency Presentation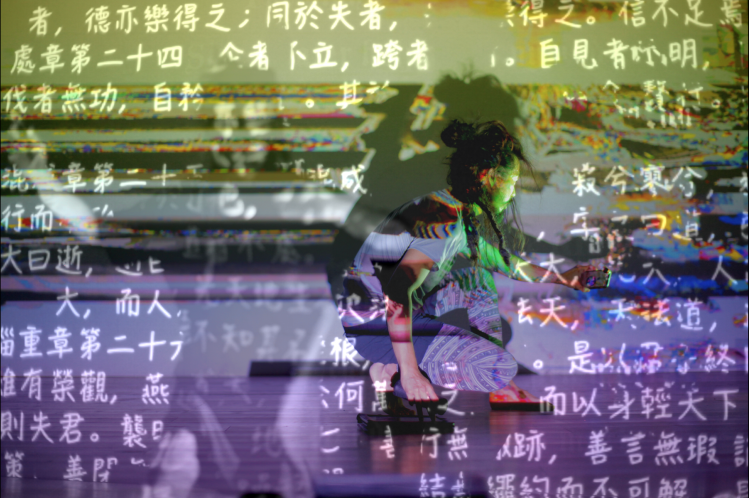 Next Wednesday also marks the conclusion of the inaugural residency at our recently established Byron Aceman & Caron Bernstein New Media Gallery, located in Centre A's new space on the 2nd floor of 268 Keefer St.
Sammy Chien, our current artist-in-residence, will be starting off the evening's program with a presentation of the work-in-progress he has been developing at Centre A, a solo interdisciplinary new media performance piece called We(a)ves. This work will investigate migration, race and gender politics, transcultural identity, and spiritual philosophies, all articulated through Chien's own performance language, which draws from digital technologies, audiovisuals, text, contemporary dance, and Qi Gong practices. We(a)ves will tell a story of life in Vancouver at the intersections of immigration, queerness, racialization, and mental illness.
Please note that this presentation has been rescheduled for Wednesday, May 16th and will no longer be taking place on Saturday, May 12th.
Sound Forms Composers
ALEX YIU SIU LUNG
Born in China and raised in Hong Kong, Alex Yiu is a sound artist, composer, and co-founder of Hong Kong Community Radio. Otherwise, Alex Yiu is also a DJ and music producer under the name 'Alexmalism'. By immersing avant-garde musical materials and underground dance music elements, his experimental beats are the manifestation of his sound world.
As a sound artist, his artistic output concerns and experiments with the interpretation of language, power representation in music, and narrative poetics. His works reply on different medium, including video, sound, performance, visual collage, multimedia and etc. After completion of his first degree in Music Composition/ Production at the Hong Kong Baptist University, Alex obtained a MMus in Sonic Arts from Goldsmiths, University of London in 2015.
BARRY TRUAX  is a Professor Emeritus in the School of Communication (and formerly the School for the Contemporary Arts) at Simon Fraser University where he taught courses in acoustic communication and electroacoustic music. He worked with the World Soundscape Project, editing its Handbook for Acoustic Ecology, and has published a book Acoustic Communication dealing with sound and technology. As a composer, Truax is best known for his work with the PODX computer music system which he has used for tape solo works, music theatre pieces and those with live performers or computer graphics. In 1991 his work, Riverrun, was awarded the Magisterium at the International Competition of Electroacoustic Music in Bourges, France. Truax's multi-channel soundscape compositions are frequently featured in concerts and festivals around the world. Since his retirement in 2015, Barry has been the Edgard Varèse Guest Professor at the Technical University in Berlin, and Guest Composer at the 2016 BEAST Festival in Birmingham, as well as similar events in Hamburg, Lisbon and Milan. He has guest edited two theme issues on soundscape composition for the Cambridge journal Organised Sound, and is co-editor of the Routledge Companion to Sounding Art.
HILDEGARD WESTERKAMP
Composer Hildegard Westerkamp focuses on listening, environmental sound, and acoustic ecology. At the beginning of her career she worked with R. Murray Schafer and the World Soundscape Project, is a founding and board member of the World Forum for Acoustic Ecology and was long-time editor of its journal Soundscape. She has conducted soundscape workshops, given concerts and lectures, and has coordinated and led Soundwalks locally and internationally. Excerpts of her compositions appear in Gus van Sants's films Elephant and Last Days and more recently she collaborated on the soundtrack of Nettie Wild's film Koneline. Her newest composition Klavierklang for pianist Rachel Iwaasa had its world premiere at ISCM's World Music Days in Vancouver, November 2017. In 2017, Hildegard's ways of composing and listening were presented on CBC Ideas.
LARRY SHUEN LAI YIN graduated from The Hong Kong Academy for Performing Arts Honors in 2016, majoring in music composition and electronic music.
Shuen has a keen interest in music composition and a wide range of compositions. His music ranges from solo, chamber, electronics, choral, multimedia and orchestral works, which are premiered in the Hong Kong, Philippines and USA by various musicians, including Hong Kong New Music Ensemble, Michigan State University Chamber Choir, Jenga Percussion Ensemble, Ido Akov, RTHK String Quartet, Romer String Quartet and The Greeners' Sound.
Currently, Shuen is pursuing a Master's degree in creative media, and working across the fields of music, sound art and media art as a freelancer. He is also the conductor of The Greeners' Sound, a local choral society in Hong Kong.
REMY SIU (b.1990) is a composer and new media artist based in Vancouver, BC. Recently, his work has involved the construction of automated and variable performance apparatuses that employ light, sound, software, and the body. He is interested in creating friction and stakes between the performer, the interface, and the system through the use of game mechanics and failure. His output spans chamber music, dance, theatre, installations, and audio-visual work.
He actively creates with Hong Kong Exile (interdisciplinary arts company) and Mahaila Patterson-O'Brien (choreographer), and has worked with Vicky Chow, Turning Point Ensemble, Quatuor Bozzini, Centre A Gallery, Pi Theatre, Theatre Replacement, the Western Front, and others.
His work has been presented internationally at the PuSh International Performing Arts Festival (Vancouver), Sonic Anchor (Hong Kong), CanAsian Dance (Toronto), UNO Fest (Victoria), Sonic Boom Festival (Vancouver), Dancing on the Edge (Vancouver), Centre for New Music (San Francisco), Constellation(Chicago), Seattle International Dance Festival, Vancouver Art Gallery, The International Symposium On Electronic Art(2015 Vancouver, 2016 Hong Kong), and more. He has received a SOCAN Foundation Young Composers Award and an honourable mention in the Jules Léger Prize for New Chamber Music (2016).
Remy holds a BFA (Hons.) in composition from Simon Fraser University Contemporary Arts (Vancouver, BC) where he studied with David MacIntyre, Owen Underhill, and Barry Truax. He has also studied with Rodney Sharman and received lessons from Ken Ueno, Claus-Steffan Mahnkopf, Suzanne Farrin, and Detlef Heusinger.
He is currently the Artist-in-Residence for the Push International Performing Arts Festival with Hong Kong Exile, the Co-Artistic Director of Hong Kong Exile, and the Co-Director and Manager at the Gold Saucer Studio. During 2017-2019, he will be one of two Composers-in-Residence with the National Arts Centre Orchestra (Canada).
RUSSELL WALLACE is from the Lil'wat Nation in BC and is a traditional singer and contemporary composer. Wallace composed music for many soundtracks for film, theatre, dance, and tv productions. His credits include 1491, Wild Foods, Indspire Awards show 2017, Ernestine Shuswap gets Her Trout, and Ecstasy of Rita Joe. Wallace was the composer in residence for the Aboriginal Dance Program at the Banff Centre from 1996-2003 and is a founding member of the Aboriginal Writers Collective West Coast as well as the Artistic and Managing Director for EMUSE-Aboriginal Electronic Music Festival. Amongst many other jobs Wallace teaches at Simon Fraser University, Capilano University, and is the Cultural Coordinator at NEC Native Education College.
VANISSA LAW was born in Hong Kong and began her studies at the Hong Kong Baptist University in 2004, started out as a piano major and studied piano with Chinese composer Mr. Cui Shiguang. After graduating from HKBU Vanissa turned her focus towards electroacoustic music composition during her stay at Ball State University, Indiana, majoring in voice and music composition. Vanissa returned to Hong Kong in 2010 and obtained her PhD in 2017 under the supervision of Prof. Christopher Keyes.