I know you are but what am I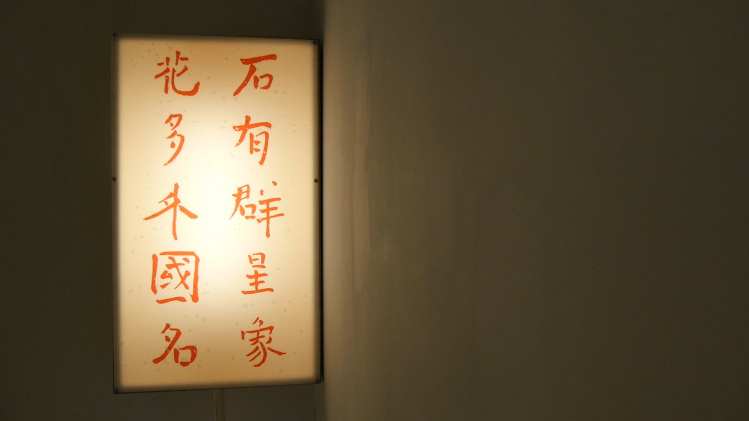 I know you are but what am I
Jessica Chu, Alanna Edwards, Aghigh Gougani and Andi Icaza-Largaespada, Candice Jee, Tse Chun Sing,
and an eating performance with Olivia Chow
Curated by Joni Cheung
June 28 – July 28, 2018
Opening Reception: June 27, 2018, 7-9 pm
Composting Workshops by Candice Jee: July 14 and July 28, 3pm
Eating performance with Olivia Chow: July 19, 7pm
Gallery Hours: Tuesday – Saturday, 12-5pm
Centre A is now located at Unit 205-268 Keefer Street on the 2nd Floor.
This exhibition takes place on the unceded Coast Salish territories of the Musqueam, Squamish, and Tsleil-Waututh peoples.
–
Children of indigenous and migrant communities often deal with the pressures of preserving the identities handed down to them while trying to find their own. Accompanying the privileges they have gained or that have been taken away, are the incomprehensible struggles of generations before. For some, intergenerational disconnect and loss of cultural connection forms an integral part of their subjectivity. For children of migrants, the feelings of alienation they experience in the places where they have become settlers on unceded indigenous lands is only amplified when visiting the places their families once called home.
In this exhibition, Joni Cheung invites interdisciplinary artists who reflect on the systems that construct identity as static and unchanging. As they wade through personal histories and experiences, the artists challenge narratives of cultural authenticity and consider their own layered identities and the inevitably fluid exchange between identity, place, and history. Using photography, video, sculpture, installation, and performance, these artists explore conversations around revolution, womanhood, family, belonging, and intergenerational and  migratory identity experiences. Like generations of indigenous and migrant communities before them, these artists negotiate with their past and present selves, to expand and broaden what collective and individual identities can be.
As part of the annual curatorial skills development mentorship programme, I know you are but what am I  is Centre A's first exhibition in its new home at the Sun Wah Centre. The fifth Recent Graduates exhibition is curated by recent Simon Fraser University School for the Contemporary Arts graduate Joni Cheung and features works by Jessica Chu, Alanna Edwards, Aghigh Gougani and Andi Icaza-Largaespada, Candice Jee, Tse Chun Sing, and Olivia Chow.
–
Conceived during a five week residency at the John and Maggie Mitchell Gallery in Edmonton, Olivia Chow's We Do Chicken Right on July 19, 7pm, is a performance that draws inspiration from personal stories and realizations based on meals shared and dialogue exchanged with families from diasporic communities. Chow invites the audience to eat Kentucky Fried Chicken as she investigates the violence and politics behind the food that connects us and brings us joy.
Please RSVP to [email protected] as space is limited.
In A Memoir of A Family Photo Album, Jessica Chu grapples with modes of consciousness and alienation. Through her grandparent's archival photographs, Chu perceives transcultural identities that her grandparents faced after The Great Emigration in 1949, reflecting her own cultural transformation as a 1.5 generation immigrant in Canada. Through this work, Chu addresses motifs of disconnection and identity by investigating the relationships between absence, memory, and place.
Alanna Edwards' video installation Intervention and sculpture Disassembled Totem of a Low Blood Quantum Indian explores dialogues around identity, authenticity, and cultural history. Using humour, Edwards' works mix opposing materials to question the idea of the real. Braiding together personal and cultural histories, she creates new narratives about her experiences growing up straddling different identities. From inserting video of herself into old family photographs to remixing and collaging digitized VHS videos, her work offers new ways of understanding past histories while playing with the fluidity of time and the preservation of culture.
Aghigh Gougani and Andi Icaza-Largaespada construct an intimate nook in a transitional space using found and handmade objects. As daughters of women and men who lived through the '79 revolutions in Iran and Nicaragua respectively, the artists draw out the latent effects these historic events have had on bodies, particularly female bodies. In the hopes of creating a space for discussion and understanding,  they will gather a shared collection of objects and images to reflect on their memories and experiences as well as others'.
Candice Xiaobing Jee presents three works: Many flowers have foreign names (after Yu Jing) – a light box sign mimicking Taipei shop signs with poetry lines from a suspected ancestor from the Song Dynasty, Walkie Talkie (After Guan Daosheng) – a calligraphy scroll, and Choy Sum Field  – an installation piece consisting of a makeshift garden used to grow choy sum seeds throughout the exhibition. The seeds were cultivated by the artist in Taipei, Taiwan, by planting Malaysian seeds with compost, made out of calligraphy students' discards and her own calligraphy drafts and mistakes.
Alongside these works, two composting workshops, Choy Sum Field (How to make mishap into ground), will be held on Saturday July 14 and July 28 at 3pm. Workshop participants will create fertile compost, using old calligraphy drafts and mistakes Jee has sent to Vancouver, Canada. Through this multi-part installation, Jee uses real and imagined lives and memories from her and others' family history. Using installations to make place and meaning, she creates a space to reflect on cultural identity, migration, hybridization, mobility, and authenticity, as well as the recycling and mutability of culture.

Please RSVP to [email protected] as space is limited. We encourage participants to bring their own materials to compost, such as food scraps (but no meats, bones, or oily food scraps), dry leaves, tea leaves, coffee grounds and their own old calligraphy drafts and mistakes, or other Chinese language paper material, such as newspaper.
Tse Chun Sing's works, Wake Up! Wake Up! Wake Up!, The Flash, and Falling Flowers, use sound, light, kinetics, time, and duration to create moments of anticipation and surprise. The three pieces work serially, responding to the current reality of Hong Kong society and its disappearing culture, perspectives, and expressions. Underlying Tse's small yet intricate gestures, is a sense of precarity and loss of hope, feelings shared by many bearing witness to these changes.
–
Olivia Chow is an artist and curator based in Hong Kong. She was Assistant Curator at Para Site in Hong Kong, and previously Lead Production Supervisor at The Works Art and Design Festival in Edmonton, Canada. She received her BFA from the University of Alberta in 2012. Her works primarily focus on recognizing and reconciling the sense of identity displacement and searching for inclusion of diasporic citizens in modern society. She draws inspiration from the relations with everyday domestic activities; from observations and reflections on social encounters.
Jessica Chu is an interdisciplinary artist whose practice often deals with themes of belonging and identity within a multicultural framework. Chu was born in the United States, raised in Taiwan, and later immigrated to Canada. Growing up in different countries and holding multiple nationalities, cultural transformation and displacement were ongoing experiences for her. Through photographic images, Chu explores the ambivalence between the fixity of this medium and the fluidity of constructed identities. She is a recent graduate from Simon Fraser University with a BFA in Visual Arts.
Alanna Edwards is a multi-disciplinary artist of Mi'gmaq and settler descent working primarily with found object assemblage exploring themes of identity, authenticity, simulacrum, and the everyday. Edwards communicates with humour by mixing contemporary, traditional, synthetic, and natural materials, questioning what it means to be considered an Aboriginal artist. She has a BA from Simon Fraser University, a diploma in Fine Arts from Langara College, and is currently finishing her BFA at Kwantlen University.
Aghigh Gougani is an Iranian born, Vancouver based artist. She engages with ideas around physical space in relation to cultural and feminine identity. Cultural space is revealed through architecture, manipulated landscape, objects, and rituals.They can be physical or non physical. Along with other factors, these spaces create identities. Through her work, Gougani explores cultural space, examining how identity shifts between the invisible boundaries that a space creates and how values and thoughts are affected by our surroundings. Coming from Iran, the artist has been exposed to the effects of drastic changes in cultural spaces, and by extension, on values and identities, especially the intercultural transitions for women. Gougani recently graduated with a BFA in Visual Arts from Simon Fraser University.
Andi Icaza-Largaespada is a photographer and visual artist based in the unceded Coast Salish territories of the Musqueam, Squamish and Tsleil-Waututh, most of the time. In 2017, she received a BFA in Visual Arts from Simon Fraser University. She incorporates elements of social research, ecology, feminism, and ethics to her multidisciplinary work in the fields of photography, performance, and writing. Her practice observes modes of belonging and resistance, searching for possibilities within tensions. Her latest exhibition addressed (embodied resistance to) transnational structures of extractivism in Managua, Nicaragua, where she grew up and spends most of the rest of her time.
Candice Xiaobing Jee is an interdisciplinary artist born in Perth, Australia, and is currently based in Taipei. Partly influenced by the reality of her family's migrant background, her work investigates processes of displacement and movement. She recycles texts, personal experience, family anecdotes, popular culture, material rubbish, organic matter, and most recently the "Chinese garden", into installations. By "placing placelessness", Jee's installations create space for an intersubjective encounter with the viewer, positioning cultural identification as an ongoing negotiation of chance, change and intention. Candice has a BA in Visual Arts from Curtin University, Western Australia, and is a Meisterschülerin from Universität der Künste Berlin (class of Hito Steyerl). She graduated this year with an MA in Chinese Arts from the National Taiwan University of Arts, under the Ministry of Education's Taiwan Scholarship, and the Ian Potter Cultural Trust Grant. Her work has shown in Australia, Japan, Georgia, Italy, Germany and Taiwan. She received the Art Gallery of Western Australia's Haruhisa Handa travel grant to study art in Japan, and scholarship programs for Fondazione Ratti's XII Advanced Course in Visual Arts in Italy, and the École Nationale Supérieur des Beaux-Arts in Paris.
Tse Chun Sing is an interdisciplinary artist who explores possibilities in often unnoticed daily objects or events. Interested in sound, he explores various audible materials and technologies to materialize his imaginative and idiosyncratic objects. He obtained a BA (Hons) in Visual Arts from the Academy of Visual Arts, Hong Kong Baptist University in 2017. His graduation piece, The Musical Instruments, was awarded WMA for Young Talent award and AVA Award in the graduation exhibition, and most recently shortlisted for ifva Awards Media Art Category.
This exhibition, a part of Centre A's Curatorial Skills Development Mentorship programme is generously supported by Nigel Bullers, Beth Carter and Bob Baker, Olivia Chan, Paul Crowe and Judith Leung, Alex Cu Unjieng, Marlene Enns, Bill Jeffries, Sherri Kajiwara, Blair Montgomery, and Todd Wong.
–
Cheung would like to thank Rusaba Alam, Shizen Jambor, Tyler Russell, and Natalie Tan for their support, encouragement, and guidance during her internship. She is thankful for the opportunity and for all the people she has met during her time here.
Cheung would also like to thank the exhibiting artists, volunteers, her professors, mentors, friends, and family. She would like to give special thanks to her mother, Christina Yan.
Special thanks to the Hua Foundation for sharing their time and knowledge during the making of Choy Sum Field (How to make mishap into ground).
Image Credit: Candice Xiaobing Jee, Many flowers have foreign names (after Yu Jing). Photo: Kayleigh Madjar.