Four Films by Tuan Andrew Nguyen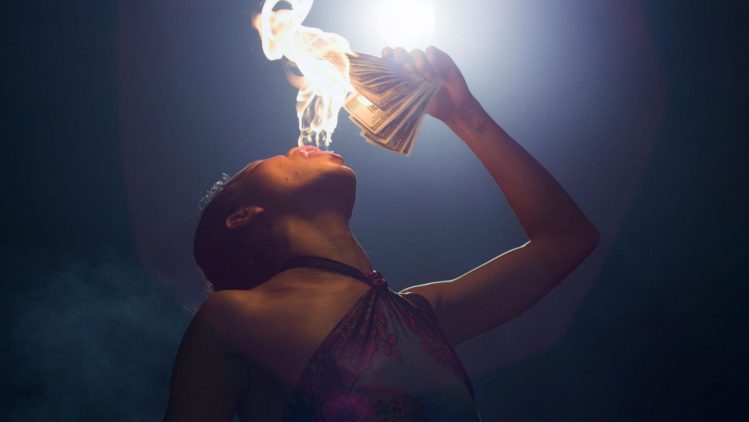 ---
October 24
Evening screening 7:00 — 8:30 pm
Centre A is excited to present a program of four films by Ho Chi Minh City-based artist and filmmaker Tuan Andrew Nguyen, including the Canadian premieres of The Living Need Light, the Dead Need Music (co-authored as a member of The Propeller Group) and My Ailing Beliefs Can Cure Your Wretched Desires.
As both a solo artist and a member of The Propeller Group, with Phunam and Matt Lucero, Nguyen's work over the last two decades has explored migration, diaspora, and intersectional coalition-building between post-colonial peoples. For example, Nguyen's 2008 solo work Letters From Saigon to Saigon takes the form of a long letter penned by Wowy, a young rapper based in Ho Chi Minh City (formerly known as Sai Gon), to the American rapper Saigon. Nguyen describes the work as "part fan-letter, part foreign diplomacy, touching upon the overlapping moments of pop culture, politics, and history."
Another key concern of Nguyen's work is Vietnam's rapid economic growth and rise to "new Asian Tiger" status, meditating on colonial histories and indigenous belief systems hidden within twenty-first century Vietnamese modernization. The Propeller Group's The Living Need Light, the Dead Need Music (2014), originally commissioned for New Orleans's Prospect Biennial, suggests affinities between elaborate, multi-day Vietnamese funerary practices, which had been partially outlawed by previous Communist regimes and resuscitated after the state's 1986 economic reforms, and the similarly carnivalesque character of New Orleans's so-called "jazz funerals." Nguyen's two-channel solo film My Ailing Beliefs Can Cure Your Wretched Desires (2017) reflects on the irony that contemporary Vietnam's reverence for animals has caused their overconsumption, which in turn has resulted in the extinction and near-extinction of numerous species. Posed as a Socratic dialogue between the spirits of the last Vietnamese Javan rhinoceros and Hoan Kiem turtle, the film brings together conspicuous consumption of rare animal meat, the recently-wrought belief that rhino horn can cure cancer (which appeals to the wisdom of Traditional Chinese Medicine but is nowhere to be found in its annals), and the symbolic importance of the film's protagonist animals as totems for Vietnamese independence.
Also included are the short video work The Two Tuans (1998), created when Nguyen was an undergraduate student at the University of California, Irvine; and the music video for Wowy's song "Ke Toi Do" (2017), which Nguyen directed and collaborated on.
Nguyen is a partner in TPG Films, a production firm that has served as The Propeller Group's commercial shadow. In addition to working with artists such as Dinh Q. Le and the collective Superflex, and on various ad campaigns, TPG Films has also been a force in Vietnamese pop music, producing numerous videos for the country's younger generation of musicians. TPG Films's music video aesthetic has bled into Nguyen's and The Propeller Group's artistic work, and is especially visible in The Living Need Light, the Dead Need Music.
---
Program:
The Two Tuans, 1998
The Living Need Light, the Dead Need Music, 2014, co-authored as a member of The Propeller Group
Ke Toi Do, 2017, co-authored with Wowy
My Ailing Beliefs Can Cure Your Wretched Desires, 2017
This program will last approximately one hour and thirty minutes, including a short introduction to the artist's work by new Centre A curator Godfre Leung
Please RSVP, as space is limited
Please note that Centre A is now located on the second floor of 268 Keefer Street
This screening will take place on the traditional, ancestral, and unceded Coast Salish territories of the Musqueam, Squamish, and Tsleil-Waututh Nations
---
TUAN ANDREW NGUYEN graduated from the Fine Arts program at the University of California, Irvine in 1999 and received his Masters of Fine Arts from the California Institute of the Arts in 2004. He is a co-founder and currently board member of Sàn Art, an artist-initiated exhibition space and educational program in Sài Gòn, Vietnam. Nguyen has shown work in numerous film festivals and international exhibitions, and has works in the collections of the Queensland Art Gallery, Carre d'Art, the Museum of Modern Art, and the Solomon R. Guggenheim Museum. He has received several awards in both film and arts, including an Art Matters grant in 2010. His work explores strategies of political resistance through rituals, the making of objects (both as testimony and as devotion), supernaturalism, and the impact of mass media on these moments of resistance. In his continual attempts at reworking the power dynamics of public space and mass media in general, he founded The Propeller Group in 2006, a platform for collectivity that situates itself between an art collective and an advertising company. Accolades for the collective include the main prize at the 2015 Internationale Kurztfilmtage Wintherthur and a Creative Capital award for its 2011 video project Television Commercial for Communism. The collective has been featured in numerous international exhibitions including the The Ungovernables (2012 New Museum Triennial), Made In LA (2012 Los Angeles Biennial), Prospect 3 (New Orleans Triennial 2014), and the 2015 Venice Biennale. In 2017, My Ailing Beliefs Can Cure Your Wretched Desires was presented at the Armory Show in New York and The Island at the Whitney Biennial.