Samson Young: It's a heaven over there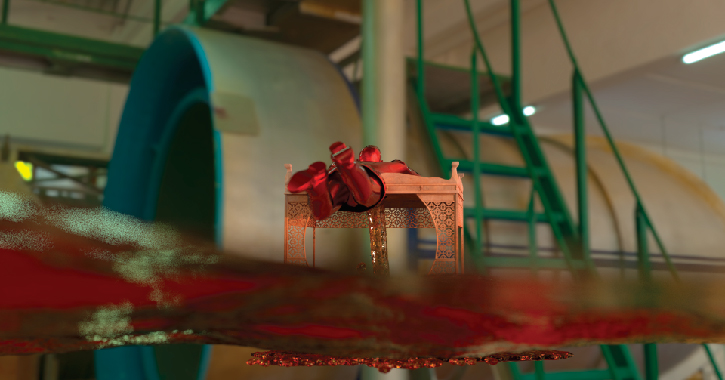 February 23 – June 4, 2019
_
It's a heaven over there is the first solo exhibition in Canada by celebrated Hong Kong artist Samson Young. Situated in a cavernous gallery in a pink walled, neon-lit, 1980s era shopping mall in Vancouver's ever gentrifying Chinatown, this multimedia installation originates from Young's archival research on Won Alexander Cumyow, the first person of Chinese descent born in Canada, and mobilizes Centre A's location in a former retail mall to stage a double vision of global retrotopianism.
In this exhibition, the contemporary retrotopian impulse that remembers once-vibrant mall fountain courts as town squares becomes an entryway into the poetics of the diasporic imagination. It's a heaven over there continues Young's interest in shifting topologies, the modern nation-state, and cosmopolitan social imaginaries, and will feature a new body of works on paper, an animated music video, and archival materials.
Special Events
Opening Reception – February 23, 2019 | 7-9 pm*
Artist Talk – February 24, 2019 | 2 pm*
*Artist in attendance
–
Samson Young is a highly regarded composer, sound and media artist based in Hong Kong, holding a PhD in Music Composition from Princeton University. With a formal cross-cultural training in music composition, he draws from multicultural paradigms to weave a symphony of image and sound, touching upon the recurring topics of identity, war and literature. Young is the member of multiple bands and has collaborated with orchestras worldwide. He has had solo exhibitions at the Kunsthalle Düsseldorf, Centre for Contemporary Chinese Art in Manchester, M+ Pavilion in Hong Kong, and Hiroshima City Museum of Contemporary Art, among others. In 2017, he represented Hong Kong in the 57th Venice Biennale. Group exhibitions include Solomon R. Guggenheim Museum, New York; Biennale of Sydney; National Museum of Art, Osaka; National Museum of Modern and Contemporary Art, Seoul; and documenta 14: documenta radio. Furthermore, he has participated in multiple festivals, as well as been the recipient of several prizes, including the 2015 BMW Art Journey Award and 2018 Hong Kong Art Centre Honorary Fellowship. Further awards include Artist of the Year (Hong Kong Arts Development Council), Prix Ars Electronica, and the Bloomberg Emerging Artist Award.
_
Acknowledgements
We are deeply grateful to Samson Young for his dedication to this project and his unflinching creative gaze. It's a heaven over there is the result of countless conversations over many years. It would not exist without the extensive journey of listening and learning undertaken by the Centre A team, particularly Executive Director/Curator Tyler Russell, Deputy Director Natalie Tan, who provided the impetus for this project and without whose contributions this exhibition would not be possible. We owe our deepest thanks to Tyler Russell, and later Godfre Leung, for their curatorial oversight. We also thank Yun-Jou Chang, Joni Cheung, Shizen Jambor and Emma Richards for their contributions. 
_
This exhibition takes place on the unceded territories of the Musqueam, Squamish, and Tsleil-Waututh peoples.