Centre A x Rungh: Art + Feminism Wikipedia Edit-a-thon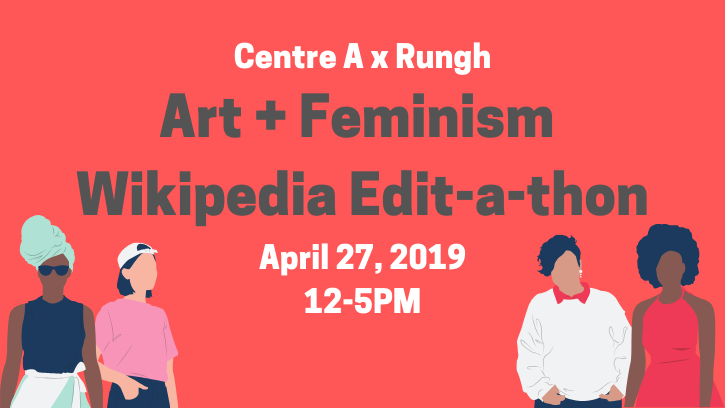 April 27, 2019 12-5PM
We would like to acknowledge that this event is taking place on the traditional, ancestral, and unceded territories of Musqueam, Squamish and Tsleil-Waututh First Nations.
Centre A and Rungh are partnering to support increasing the representation of women and non-binary artists on Wikipedia by hosting an Art + Feminism Wikipedia Edit-a-thon committed to creating and updating pages for women identifying artists. Together, we invite you to bring forth stories that too often go unacknowledged in the art world. In this event, we would like to focus on feminism through an intersectional lens that acknowledges dimensions including, race, class, privilege, disability, sexuality and others that have contributed to unequal or prejudiced representation.
Please join us in reconsidering our role in our own participation and representation of our culture and community in the open-source knowledge platforms.
Come on your own or with friends to discuss, create and update Wikipedia pages on artists working from the margins, with resources from the Rungh archive and Centre A's library collection.
Books, research materials and light refreshments will be provided.
New to Wikipedia Editing?
The edit-a-thon will begin with our free tutorial led by Simranpreet Anand on April 27th at 12pm. Participants will learn how to begin their research, edit and create Wikipedia pages, and keep them online.
About Art+Feminism Wikipedia Edit-a-thons
There is a well-documented and noticeable gender gap on Wikipedia. Many studies have measured this gap. Some have estimated female contributors at a total percentage of 9%; the highest studies say 13%. Gender inequities on Wikipedia lead to a bias in content and language and contribute to the erasure of knowledge and histories.
Art+Feminism's Edit-a-thons and other initiatives make an impact on the gender gap through crucial improvements to gender, feminism, and art related subjects on Wikipedia. Since 2014, Art+Feminism edit-a-thons have taken place across the world, creating and improving over 11,000 articles.
For more information on Art+Feminism Edit-a-thons, visit: www.artandfeminism.org
Schedule:
12:00pm – 1:30pm
Intro to Wikipedia editing (optional)
1:30pm – 5:00pm
Art + Feminism Wikipedia Edit-a-thon
Preparing for the Event:
– Please create a Wikipedia account prior to the event
– Bring a laptop and charger
– We will also have a list of suggested topics but participants are welcome to bring their own ideas for entries!
For additional information and questions about the event please email [email protected]
How do I sign up?
People of all gender identities and expressions are invited to participate in making an impact on women, gender, feminism, and the arts on one of the world's most popular sites. Please bring a laptop and power cord to the event.
The event is free and open to the public, please RSVP if you can to help us with our catering count or, if you find yourself in the neighbourhood, drop in!
Sign up on Eventbrite
Accessibility
Childcare: If you require childcare, please contact Diane at i[email protected] by 12pm, April 25, 2019, or call (604) 683-8326.
Mobility: The gallery is wheelchair friendly. If you have specific accessibility needs, please contact us at (604) 683-8326.
*Please Note: This event is jointly hosted by Centre A and Rungh, and registration information will be shared by both organizations.