Everything is a façade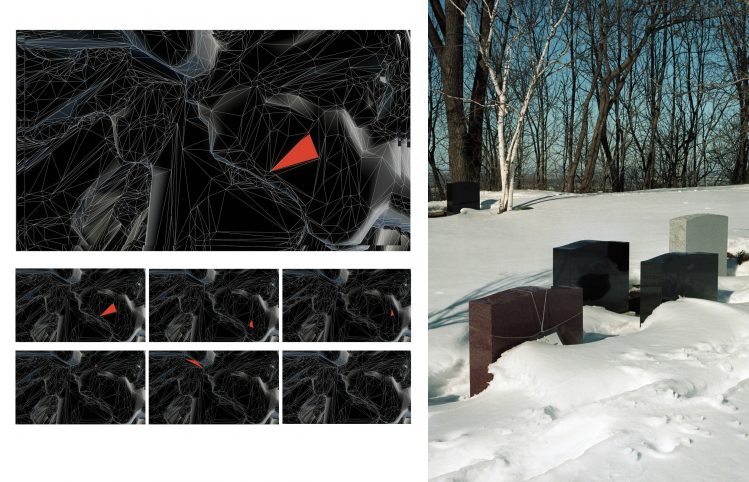 September 6 – October 26, 2019
—
Public Reception: September 19, 2019, 6 – 8 PM | Remarks: 6:30 PM
—
Everything is a façade, featuring works by Tom Hsu and Lin Xin, is an exhibition that draws on impulsive (yet deliberate) gestures and decisions in the vernacular through digitization and reimagination. Incorporating video, photography, and installation, the exhibition examines patterns, errors, and structures that have been generated in isolation from their contexts. The amalgamation of these creative experiments that attempt to capture the characteristics of electronic media enables the act of tracing graphics, thereby pointing to the multiple fragments of time and space.
Tom Hsu, based in Vancouver, is a visual artist whose work seeks to investigate the curious condition of spaces, and their correlation to the bodies that attend them. He comes from a base in analog photography, and this stability allows him to extend into made, found, and choreographic sculpture, all of which deal with the everyday mundane. 
Wuhan-based Lin Xin, whose work centres on electronic media, often marries painting and electronic imaging in her practice. Frequently working with various forms such as digital animation, oil painting, and lighting installations, her work leads the audience into an alternative reality in the cyber virtual environment by way of intensive visual language.
Curated by Henry Heng Lu
---
Accessibility: The gallery is wheelchair and walker accessible. If you have specific accessibility needs, please contact us at (604) 683-8326 or [email protected]
Centre A is situated on the traditional, ancestral, and unceded territories of the Musqueam, Squamish, and Tsleil-Waututh peoples. We honour, respect, and give thanks to our hosts.