JUSTIN SHOULDER PRESENTS PHASMAHAMMER / IN CONVERSATION WITH HENRY HENG LU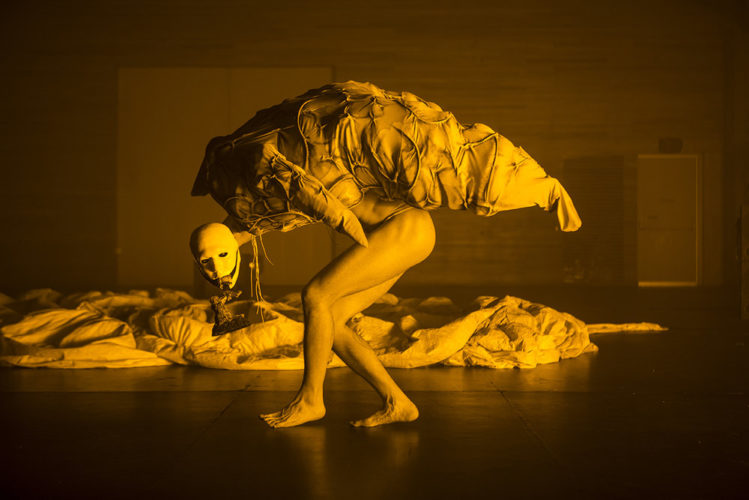 Justin Shoulder, Carrion (still), 2017, performance. Courtesy of the artist.
Join Justin Shoulder for a lecture-performance illuminating Phasmahammer, an ecology of alter personae in their main body of work based on queered ancestral myths. Shoulder's artwork and performances use avatar as personae, concentrating specifically on movement language in order to enact new kinds of storytelling drawn from the queer club experience, and communal re-imaginings as a way of crafting and enacting new narratives.
This talk is in conversation with Henry Heng Lu, Curator of Centre A.
This program is co-presented with the Vancouver Art Gallery.
Friday, August 7, 2020, 5:30 PM PST via Zoom
Register HERE.
ABOUT THE ARTIST
PHASMAHAMMER is the pseudonym of shape-shifting artist Justin Talplacido Shoulder. Working primarily in performance, sculpture, video and collective events Phasmahammer is an eco-cosmology of alter personas based on queered ancestral myth. Creatures birthed are embodied through handcrafted costumes and prosthesis and animated by their own gestural languages. The artist uses their body and craft as an instrument of metaphysics towards a queer Filipinx futurism. P.H. believes in performance and shared ceremony as communal medicine for difficult times.
P.H. is a founding member of queer artist collective The Glitter Militia (Monsta Gras, Pink Bubble) with partner and key collaborator Matthew Stegh and Club Ate with collaborator Bhenji Ra. Their works have been presented across Australia and Internationally where they work between gallery, nightclub, theatre and cinema contexts. Recent performance highlights include: La Manutention performance artist in residence at the Palais de Tokyo, Paris 2019, The Prague Quadrennial of Stage Design, 2019, Premiere of theatre work Carrion, Performance Space, Sydney (AUS) + subsequent tour to Artshouse, Melb (AUS), Fusebox Festival, Texas (USA), Museum Macan, Jakarta (IDN), Roskilde (DEN), M+ (HK), Singapore Art Museum (SGD), and Asia Pacific Triennial 8 GOMA (AUS).