The Spirit Keepers of Makuta'ay: An Artist Talk with Yen-Chao Lin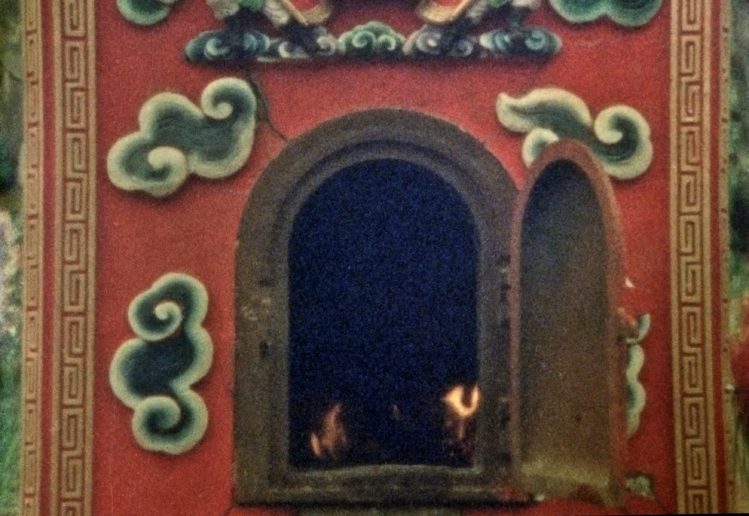 Yen-Chao Lin, The Spirit Keepers of Makuta'ay (still), 2019, 8mm film. Courtesy of the artist.
Join us for an online artist talk by Montréal-based artist Yen-Chao Lin via Zoom in conjunction with the current group exhibition, We cast Spells on the Mothers of our Daughter and Daughters of our Mothers, at Centre A.
In this talk, Yen-Chao will discuss the inspirations that influence her practice and the making of her short film, The Spirit Keepers of Makuta'ay (2019), while also navigating her other interests in areas of spiritual practices, folklore, divination, and religion in connection to her exhibition at Centre A. Following the talk there will be a Q & A session moderated by Hana Amani, the exhibition's curator.
This event is co-presented by Centre A and Cinevolution.
Friday, September 25, 2020, 6:00 PM PST via Zoom
Register HERE.
ABOUT THE ARTIST
Yen-Chao Lin is a Taipei-born Montréal-based multidisciplinary artist. A self-described postmodern archivist and natural history enthusiast, her work explores divination arts, occult sciences, oral history, religion, and power through means of intuitive play, craft techniques, collaboration, scavenging and collecting. Her current research is focused on dowsing, psychic mapping, and resource extraction. Yen-Chao has been invited to give public presentations at Artexte (Montréal), Concordia University (Montréal), GAX Asian Indigenous Relations in Contemporary Art (Montréal), PHI Foundation (Montréal), among others. Her works have been shown at Art Metropole (Toronto), Berlinale (Berlin), Edinburgh International Film Festival (Edinburgh), OBORO (Montréal), SAVVY Contemporary (Berlin), SBC Gallery of Contemporary Art (Montréal), TIFF Lightbox (Toronto) among others. Yen-Chao currently serves on the Board of articule (Montréal) as vice president. Her most recent installation The Eroding Garden will be featured at Musée d'art contemporain de Montréal in fall 2020.
ABOUT THE CO-PRESENTER
A grassroots, women-led, migrant-driven non-profit arts organization, Cinevolution's mission is to: Promote innovation and critical discourse through film and new media art works; Bring new ways of thinking and expression into cross-cultural communication; and Foster creative exchange and collaboration among filmmakers and media artists in Canada and around the world. Founded in 2007, Cinevolution has been committed to making experimental film and media art accessible for all since its inception, with a particular focus on connecting and empowering immigrants and other historically marginalized communities through community festivals, participatory media art projects, film screenings, workshops, and live performance events. Our work is powered by the belief that art can transcend cultural, social and linguistic divides to transform both the artist and the audience.