Fugitive Images: A Lecture by Chris Hamamoto & Federico Pérez Villoro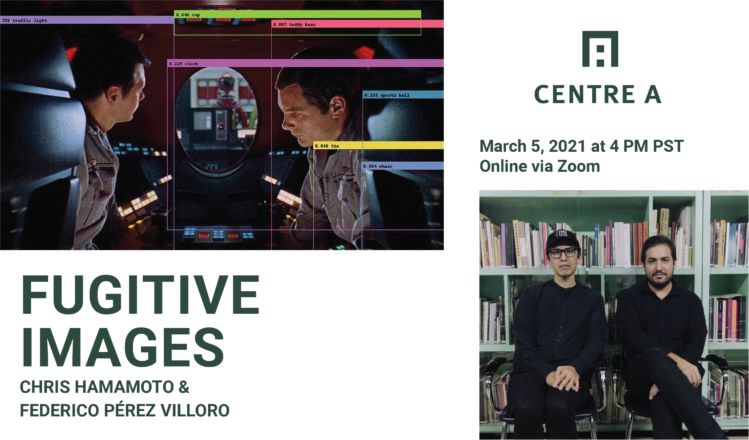 Join us on Friday, March 5, 2021, at 4:00 PM PST, online, for "Fugitive Images", a lecture by Chris Hamamoto & Federico Pérez Villoro.
Register HERE.
Chris Hamamoto and Federico Pérez Villoro's collaborative work investigates the impact of emerging technologies in contemporary culture and politics. It often includes computer-based media, publications, video, writing, and pedagogical initiatives. They both hold MFAs from the Rhode Island School of Design, where they met in 2011. 
Following research developed during the duo's residency at OCAT in Shenzhen, China, in fall 2019, this lecture will explore the impact of computational models for facial recognition, and the datasets with which they are trained. Putting into question the very act of organizing images of people based on conceptual classes, it will address both the in-transferability of meaning between images and concepts and the amplification of social biases always present in such processes. Under an ongoing search for what they understand as "fugitive images," the artists will present digital artifacts at the margins of algorithmic vision and speculate on the possibility to escape the logics of computational representation.
The lecture is followed by a Q & A.
ABOUT THE SPEAKERS
Chris Hamamoto is based in Berkeley, California, and works as a designer and educator. He is an assistant professor at the California College of the Arts, while maintaining an independent graphic design practice. Federico Pérez Villoro is an artist and researcher living and working in Mexico City. He has advanced various independent educational programs and has served as a faculty at the Rhode Island School of Design and the California College of the Arts. Their work together has been exhibited internationally and recognized by institutions such as Printed Matter, the Walker Art Center, OCAT Shenzhen, and the Yerba Buena Center for the Arts.
---
Please contact us by phone at 604.683.8326 or by email at [email protected] if you require any assistance.