Speech Acts: Zainub Verjee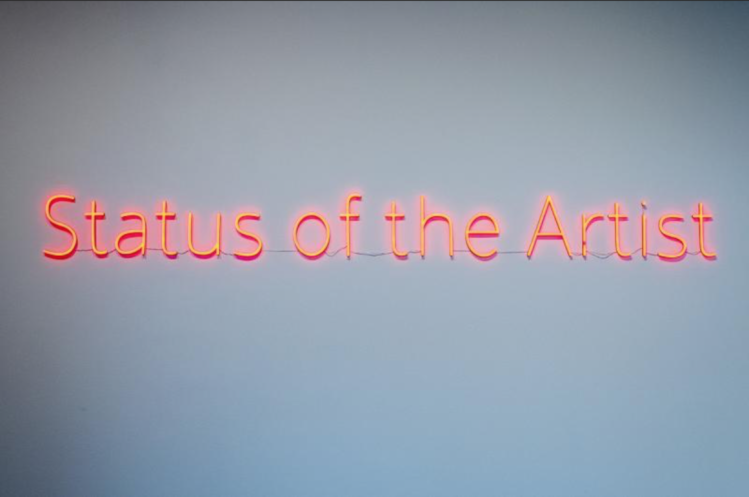 Zainub Verjee, Status of the Artist, 2020, LED neon, 12″ x 135″. Courtesy of the artist.
Speech Acts: Zainub Verjee
—
June 30 – August 28, 2021
Organized by Henry Heng Lu
—
Join us on Tuesday, July 27, at 11:30 AM PDT (Vancouver) for Resistance as an Act of Public Pedagogy.
Register here.
This virtual event will bring together five artists with African origins – Rikki Wemega-Kwawu, Laiwan, Linda Mvusi, Shaheen Merali, and Zainub Verjee – for an active engagement about the panellists; practices, experiences of resistance, and histories of decolonization. The event will be moderated by Narendra Pachkhédé.
This public program is co-presented by Centre A and Western Front.
—
Current Gallery Hours:
Wednesday to Saturday, 12 PM – 6 PM*
*Subject to change as per COVID-19-related protocols. Face masks or face coverings are mandatory during your visit. The gallery is closed on July 1, 2021.
—
How do we perform action? Do words act? Do we act words? When do words fail us? These questions have always occupied Zainub Verjee's work, which navigates the relationship between reality and language: the ability to consciously reflect on the nature of language, and the relation between language and other cultural factors in a society.
This exhibition is an excerpt of Verjee's practice where language becomes the materiality of the form and its meaning. It represents her sustained and long-term engagement with the issues of resistance, activism, artist's labour, and discourse making—speech, listening and writing.
The works in this exhibition also engage with how vocabularies are appropriated and redeployed into circulation. In the current times when there are explicit attempts to direct the discourse and stifling dialogue that reduces the social into a binary, how does one confront the methods and behaviours of speech? This exhibition foregrounds the relationship between language and voice, action and words, and the tension underlying these contestations.
Born in Nairobi, Kenya, Zainub Verjee was educated in England and immigrated to Canada in the early 1970s. Apart from her practice as a multidisciplinary artist, she is a programmer/curator, critic, writer, and arts administrator. Verjee began her career in the Vancouver arts community of the 1970s, which was steeped in interdisciplinary, intermedia, and intercultural practices. Having made her mark as an emerging artist, Verjee shifted the emphasis of her work to curatorial, administrative and policy arenas. Applying the insight, creativity and criticality of an artist, she has brought "institutional critique" into the workings of the institution itself.
Deeply engaged with the UK's British Black Arts, Tactical Video Movement, Third Cinema and the post-Bandung Conference decolonization, Verjee has been embedded in the history of women's labour in British Columbia. In 1989, she co-founded and co-directed In Visible Colours— An International Women of Colour and Third World Women's Film and Video Festival and Symposium, widely and critically recognized as a foundational film festival in Canada. She received the National Film Board Fellowship in 1992 as part of New Initiatives in Film for women of colour and aboriginal women.
Verjee's work contributed to the formation of the British Columbia Arts Council, as well as that of many other institutions. Verjee, the late Jim Wong-Chu, and Paul Wong made joint efforts towards the beginnings of Asian Heritage Month in Vancouver in 1995. Verjee is the laureate of the 2020 Governor General's Award in Visual and Media Arts for Outstanding Contribution. In spring 2021, Verjee was conferred with an Honorary Doctorate from the Ontario College of Art and Design University.
—
The artist would like to acknowledge funding support from the Ontario Arts Council.

---
Accessibility: The gallery is wheelchair and walker accessible. If you have specific accessibility needs, please contact us at (604) 683-8326 or [email protected].
Centre A is situated on the unceded territories of the Musqueam, Squamish, and Tsleil-Waututh peoples. We honour, respect, and give thanks to our hosts.