Film Screening: NAM JUNE PAIK: MOON IS THE OLDEST TV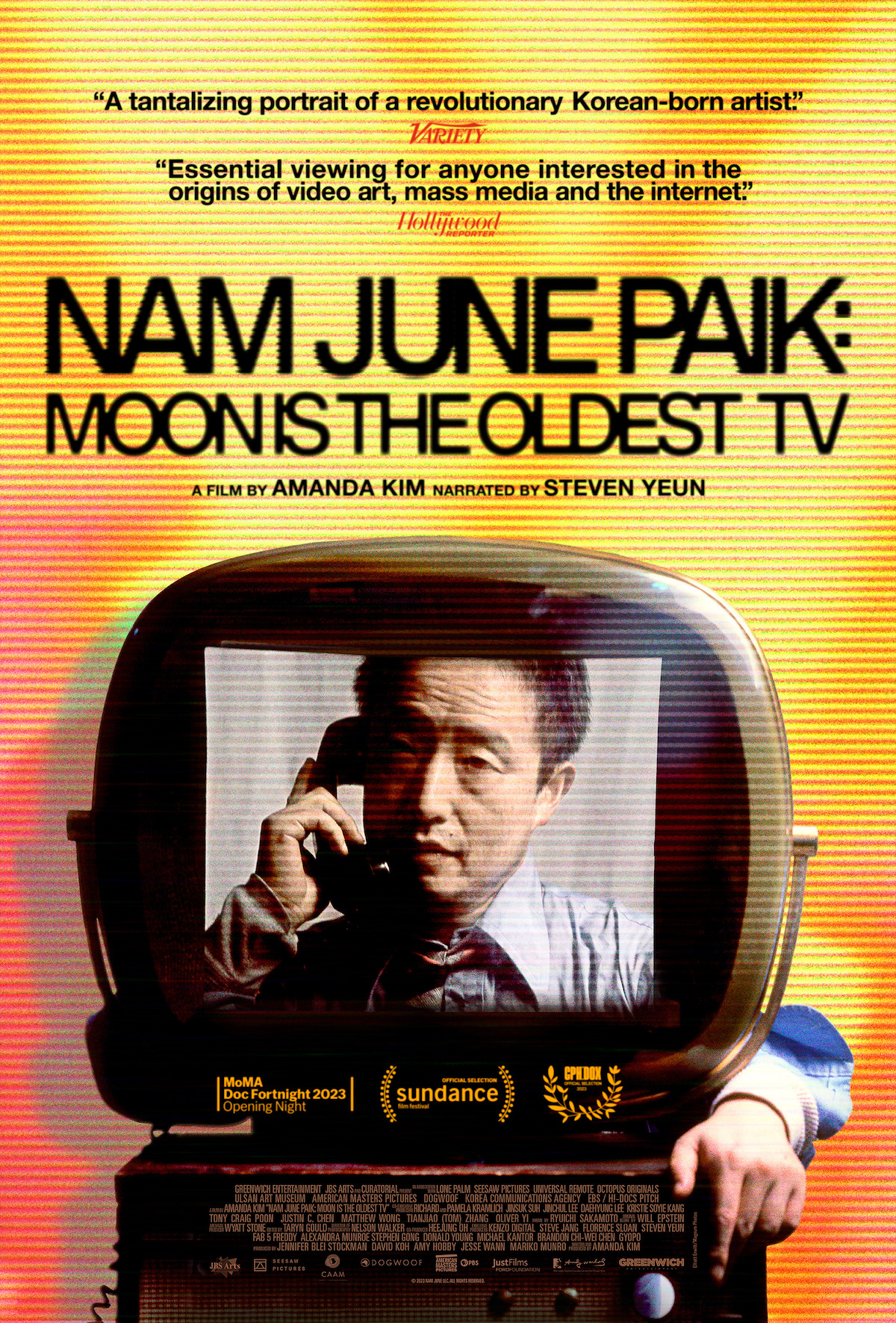 Film Screening | NAM JUNE PAIK: MOON IS THE OLDEST TV (2023)
Saturday, May 6, 2023
3:30 – 6 PM
Centre A
as part of The Living Room.2.0: Intimate Entanglements, and in partnership with Films We Like. 
–
NAM JUNE PAIK: MOON IS THE OLDEST TV (2023)
Running Time: 109 minutes
Language: English
Not Rated. 
Directed by Amanda Kim
–
We are pleased to announce the screening of NAM JUNE PAIK: MOON IS THE OLDEST TV (2023), a film by Amanda Kim and narrated by Steven Yeun. As part of The Living Room 2.0: Intimate Entanglements, we have partnered up with Films We Like to present a screening of the documentary of acclaimed artist Nam June Paik at our gallery space.
Here is a synopsis, courtesy of Greenwich Entertainment:
The George Washington of Video Art" … "Cultural Terrorist" … "Citizen Zero of the Electronic Superhighway" … But who really was Nam June Paik, pillar of the American avant-garde in the 20th century and arguably the most famous Korean artist in modern history? Director Amanda Kim tells, for the first time, the story of Paik's meteoric rise in the New York art scene and his Nostradamus-like visions of a future in which "everybody will have his own TV channel." Thanks to social media, Paik's future is now our present, and NAM JUNE PAIK: MOON IS THE OLDEST TV shows us how we got here.
Amanda Kim's documentary charts Paik's artistic evolution by tracing his formative education in Munich and his life-changing encounter with avant-garde musician John Cage, through his immigration to New York City and collaboration with the seminal experimental Fluxus movement, into his revolutionary work with video art—including his radical public television broadcasts of "Global Groove" in 1973 and "Good Morning, Mr. Orwell" in 1984—and beyond into Paik's lasting influence on the art world and his predictions of our technological future.
Featuring an extensive archive of performance footage, original interviews from Paik's contemporaries and collaborators, and a voiceover narration of Nam June Paik's writings read by Executive Producer Steven Yeun (Minari, Nope), NAM JUNE PAIK: MOON IS THE OLDEST TV is a timely meditation on the contradictory ways in which technology elicits both fascist tendencies and intercultural understanding.
–
About Nam June Paik:
"Before TikToks and Reels there was the video art movement, massively influenced by revolutionary artist and pioneer Nam June Paik." – Films We Like. Born in 1932 in Seoul, the documentary tells the story of the Korean-American artist who has become one of the most influential artist and pioneer of Video art, at the heart of the 20th century modern art movement in New York.
–
The screening is open to all! RSVP on Eventbrite HERE.
---
Accessibility: The gallery is wheelchair and walker accessible. If you have specific accessibility needs, please contact us at (604) 683-8326 or [email protected].
Centre A is situated on the unceded territories of the Musqueam, Squamish, and Tsleil-Waututh peoples. We honour, respect, and give thanks to our hosts.