Down a Dark Stairwell (2020) Screening and Panel Discussion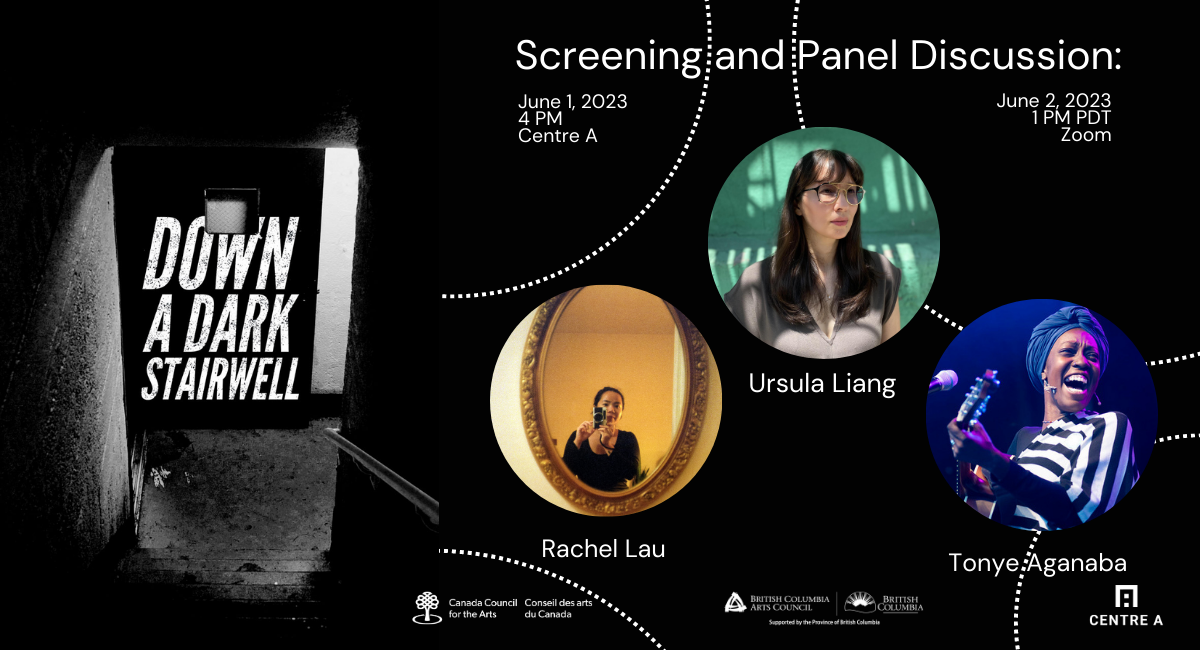 Screening and Panel Discussion: Down a Dark Stairwell (2020)
– 
Screening: Down a Dark Stairwell (2020)
Thursday, June 1, 2023
4 PM
as part of The Living Room 2.0: Intimate Entanglements
Register HERE. 
– 
Panel Discussion: Ursula Liang, Rachel Lau, Tonye Aganaba
Friday, June 2, 2023
1 PM PDT
Zoom 
Register HERE. 
–  
Join us for a free screening of Down a Dark Stairwell, the critically acclaimed documentary feature by Ursula Liang which takes an intimate look at the 2014 incident and its aftermath. The screening will be followed by a virtual panel discussion, with the filmmaker and artist-organizers Rachel Lau and Tonye Aganaba. 
The killing of Akai Gurley in 2014 by the police officer Peter Liang, and Liang's subsequent conviction, incited protests from Black and Asian communities across the United States and Canada. Today, almost ten years later, the story remains relevant as ever in the wake of COVID-19, with the rise of anti-Asian sentiments and continuation of anti-Black police violence. What can we learn from revisiting this historical case? How can our communities take care of one another in the spirit of collective justice and solidarity? 
About the film:
When a Chinese-American police officer kills an innocent, unarmed Black man in a darkened stairwell of a New York City housing project, it sets off a firestorm of emotion and a passionate quest for accountability. When he becomes the first NYPD officer convicted of an on-duty shooting in over a decade, the fight for justice becomes complicated, igniting one of the largest Asian-American protests in history and disrupting a legacy of solidarity.
–
Speaker Biography:
Ursula Liang is an award-winning director and producer with 25 years of experience in storytelling. Her debut feature, 9-Man, was broadcast on public television and called "an absorbing documentary" by the New York Times. Her second film, Down a Dark Stairwell, had its premiere at True/False and was called "a vital picture of a tumultuous time" by Vox. Her latest documentary, Jeanette Lee Vs., is part of ESPN's acclaimed 30 for 30 series. Her work has been supported by ITVS, Ford Foundation, Sundance Institute, Firelight Media, and the Center for Asian American Media. Before becoming a filmmaker, Ursula held staff positions at The New York Times Op-Docs, T: The New York Times Style Magazine, ESPN The Magazine, Asia Pacific Forum and Hyphen magazine. She also produced for television (UFC Primetime, NBC Spartan Ultimate Team Challenge). Ursula is a member of Film Fatales, A-DOC, IDD, and is the Vice President of Brown Girls Doc Mafia. She is from Newton, Mass. and currently freelances from Oakland, Calif. 
Rachel Lau is a multidisciplinary artist, writer, and radio producer based on the unceded territories of the Musqueam, Squamish, and Tsleil-Waututh First Nations, colonially known as "Vancouver". Inspired by the tenderness and strength of queer and racialized communities, they create work that embraces feeling and communality. Their current practice includes sound art, poetry, photography, drawing, and zine-making. With friends, they organize Queer Reads Library, a mobile library of queer books and zines based in Hong Kong and Vancouver.
Tonye Aganaba is a Black African immigrant and uninvited settler living on the unceded ancestral territories of the Musqueam, Squamish & Tsleil-Waututh First Nations. They were born and raised in London, England but have always called the lands of their ancestors colonially known as Zimbabwe and Nigeria, home. Today, Tonye is one of two Criminalization & Policing Campaigners at Pivot Legal Society – working alongside an incredible team of lawyers, campaigners, and organizers grappling with the contradictory and colonial nature of Canadian law, and using it strategically to bring cases that will help us co-create an equitable and just society. 
Poster of film image from PBS. Photo of Rachel Lau and Ursula Liang, courtesy of respective speakers. Photo of Tonye Aganaba by Lorne Clarke.
---
Accessibility: The gallery is wheelchair and walker accessible. If you have specific accessibility needs, please contact us at (604) 683-8326 or [email protected]. As the workshop will take place in the format of a Zoom Meeting, audio transcripts will be available upon request.
Centre A is situated on the unceded territories of the Musqueam, Squamish, and Tsleil-Waututh peoples. We honour, respect, and give thanks to our hosts.