// Liminal Futures //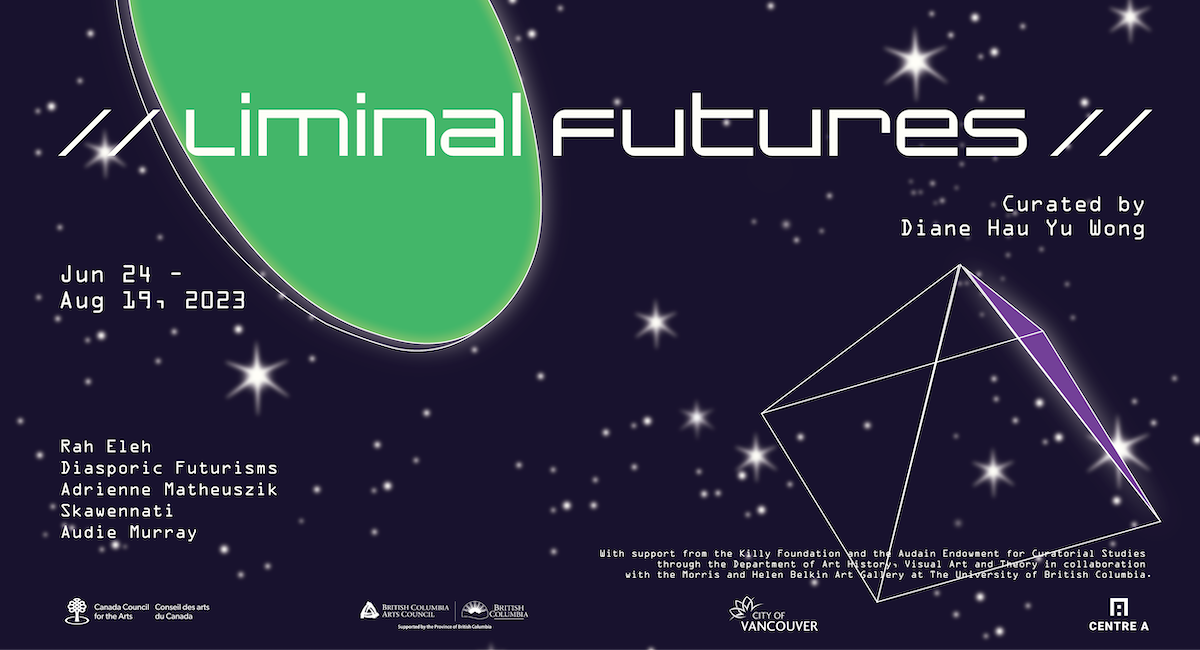 // Liminal Futures //
– 
June 24 – August 19, 2023
Curated by Diane Hau Yu Wong 
– 
Current Gallery Hours:
Wednesday to Saturday, 12 PM – 6 PM*
*Subject to change as per COVID-19-related protocols. Face masks or face coverings are optional during your visit.
–
// Liminal Futures // intends to examine the potentiality of liminality as a portal to a better future and include works by Rah Eleh, Diasporic Futurisms, Adrienne Matheuszik, Skawennati, and Audie Murray. In mainstream post-apocalyptic visions of the future, the focus is predominantly on global catastrophes that lead to human extinction. These stories usually explicitly centre figures of whiteness as their protagonists and the survivors of the apocalypse who can save the world. In these narratives, strategies and methods to preserve the future of humanity are more concerned with protecting the future of global structures rooted in a set of social, political, and economic structures derived from Eurocentric systems of imperialism, colonialism, and capitalism. This can be seen in the structural absence of BIPOC bodies in mainstream science fiction, or the tokenization of these characters as a source of difference and otherness within a post-apocalyptic future that stemmed from racial contamination and racial paranoia. At the same time, these stories completely neglect to address the disproportionate effect of the eco-crisis on marginalized communities worldwide.
Instead, // Liminal Futures // centre diverse knowledge and pluralistic forms of agency that undermine the current hegemonic notion of 'humanity'. In contrast to an apocalyptic future, they embrace nonlinear temporalities and forms of liminality to put forth multiple futures. It can create alternatives to apocalypse visions to open up the possibility for the emergence of a new pluralistic world beyond the apocalypse of colonial domination. The exhibition will address the speculative possibilities of liminal futurisms to create generative solidarities and forms of collective power. It takes into consideration the multiplicity of lived experiences and embraces knowledge from different communities that exist in the world. Post-colonial theorist Homi Bhabha, in particular, has referred to liminality as a transitory, in-between state or space characterized by ambiguity, hybridity, and potential for subversion and change in his 1994 text, "Location of Culture." Liminality identifies an environment in which cultural transformation can take place, creating sites and opportunities for major societal changes. 
At the same time, the exhibition draws on multiple cosmologies that embrace alternative temporalities in which the 'past', 'present', and 'future' are interwoven, where multiple intersections of time exist to imagine the possibilities of a sustainable future for all that embody mutually enhancing relations and collective wisdom. It puts forth alternative methods of examining nonlinear and equitable futures that are parallel to our own, from which we can collapse into our world to encourage steps towards making these futures our reality. The exhibition proposes a set of strategies and knowledge for hybrid beings to embrace radical temporality and liminality beyond the imagination of colonial futures. In doing so, strive away from the imposition of differences amongst marginalized communities to imagine and build collective futures through solidarity and mutually enhancing relationships for future generations. 
– 
Artist Biography
Rah Eleh is a video, digital and performance artist and a PhD candidate at the die Angewandte in Vienna, Austria. Rah's work has been exhibited extensively both nationally and internationally at spaces including: Venice Biennale (ECC Palazzo Mora), Nuit Blanche (Toronto), Museum London, Carleton University Art Gallery (Ottawa), Williams College Museum of Art (Williamstown, Massachusetts), Miami Art Basel, Nieuwe Vide (Haarlem, Netherlands), Pao Festival (Oslo, Norway), Kunst Am Spreeknie (Berlin, Germany), Kunsthaus Graz Museum (Graz, Austria), and Onassis Cultural Center (Athens, Greece). She has been the recipient of numerous awards including: Longlisted for the 2023 Sobey Art Award, Chalmers Arts Fellowship, several CCA, OAC and Toronto Arts Council grants, and a SSHRC Canada Graduate Scholarship for her MFA and her PhD. She has been awarded several residencies including the Intergenerational LGBTQ Artist Residency (Toronto Island, 2019), Koumaria Residency (Greece, 2016), Studio Das Weisse Haus (Vienna, 2014) and the Artslant Georgia Fee Residency (Paris).
Diasporic Futurisms is a collaborative curatorial team comprised of Adrienne Matheuszik and Vanessa Godden. This collaborative curatorial endeavor works to create space for Indigenous, Black and racialized peoples whose artworks are based in the genre of diasporic futurisms.
Matheuszik and Godden define diasporic futurisms as the presentation of alternative perspectives of the present, predictions of the future, and creative approaches to reimagining the past. Within the movement of diasporic futurisms, the destabilization of white-supremacy, colonisation, and capitalism in relation to the lives of diasporic peoples are a primary concern. In diasporic futurisms, these concerns are materialized through the genres of Fantasy, Magical Realism, Science Fiction, Speculative Fiction, and related subgenres.
The collaborative team, Diasporic Futurisms is radically reimaging and reimagining IBPoC diasporic futurisms in the arts through the impact of a global pandemic and the increased visibility of police brutality. Diasporic Futurisms is continually working to build immersive and inclusive arts experiences that radically resist patriarchal, heteronormative, ableist, and racist oppression.
Adrienne Matheuszik is a mixed Jamaican & settler-canadian interdisciplinary artist in Toronto. Adrienne has had unsupervised access to the internet since she was nine years old. She uses computers to make art — video, physical computing, creative coding & 3D design — which usually result in interactive installations, augmented and virtual reality, short film and video. Adrienne's work explores ideas of representation & identity online and IRL. She is interested in speculative futures and using sci-fi to examine the possibility of the post-colonial.
Adrienne has an MFA from OCAD University from the Interdisciplinary Masters of Art Media and Design Graduate program (2019), and a BFA from University of Ottawa with a specialisation in New Media Art (2014).
Vanessa Godden (they, them) is a queer Indo-Caribbean and Euro-Canadian artist, educator, and curator. They are based in Pickering, the traditional territory of the Mississaugas of Scugog Island First Nations, the Anishinaabe, the Chippewa, the Haudenosaunee and the Wendat peoples. Godden's transdisciplinary practice explores how personal histories and the body in relation to geographic space can be conveyed through oral and somatic storytelling in art. They draw from their multi-ethnic diasporic experiences navigating the world to build multi-sensory performances, videos, sound installations, book art pieces, and net-art that unfurl the impacts of trauma on the body, connections to community, and tethers to culture.
Skawennati investigates history, the future, and change from her perspective as an urban Kanien'kehá:ka woman and as a cyberpunk avatar. Her machinimas, still images, textiles and sculpture have been presented internationally and collected by the National Gallery of Canada, the Musée d'art contemporain de Montreal and the Thoma Foundation, among others. Recipient of a 2022 Hewlett 50 Arts Commissions Grant and an Honorary Doctorate from the Minneapolis College of Art and Design, she is also a founding board member of daphne, Montreal's first Indigenous artist-run centre. She co-directs Aboriginal Territories in Cyberspace, a research-creation network based at Concordia University, where she received her BFA. Originally from Kahnawà:ke Mohawk Territory, Skawennati resides in Montreal. She is represented by ELLEPHANT.
Audie Murray is a relative, dreamer, skin-stitcher and Michif visual artist based in Oskana kâ-asastêki (Regina, Saskatchewan; Treaty 4 territory). 
Her practice is informed by the process of making and visiting to explore themes of contemporary culture, embodied experiences and lived dualities. This way of working assists with the recentering of our collective connection to the body, ancestral knowledge systems, time and space. She has exhibited widely, including at the Independent Art Fair, NYC; The Vancouver Art Gallery; Centre for Contemporary Arts, Glasgow; and the Anchorage Museum. Murray is represented by Fazakas Gallery, located on Squamish, Tsleil-Waututh, and Musqueam territory (Vancouver, B.C.).
Curator Biography
Diane Hau Yu Wong (She/Her) is a Cantonese-Canadian emerging curator based on the unceded territories of the Musqueam, Tsleil-Waututh and Squamish First Nations. She received her BFA in Art History from Concordia University and is currently an MA Candidate in the Critical Curatorial Studies program at the University of British Columbia. She is also the Programming Manager at Centre A: Vancouver International Centre for Contemporary Asian Art and has curated exhibitions at espace pop, Art Matters Festival, Nuit Blanche, articule, and Centre A. She was the inaugural recipient of the articule x MAI Curatorial Mentorship in 2020/2022 and the 2020 Momus Emerging Critics Residency program.
Her curatorial practice and research are broadly based on the intersection between technology and new media art, predominantly focusing on the world-building possibilities of different iterations of Futurism, such as Afrofuturism, Indigenous Futurism, and Asian Futurism. She is particularly interested in examining the depiction of Asian bodies as cyborgs and non-humans in science fiction through Techno-Orientalism and the current development of Asian Futurism.
–
With support from the Killy Foundation and the Audain Endowment for Curatorial Studies through the Department of Art History, Visual Art and Theory in collaboration with the Morris and Helen Belkin Art Gallery at The University of British Columbia.
Centre A would like to acknowledge the generous support of Canada Council for the Arts, BC Arts Council, and Vancouver City Council for the realization of this exhibition.
________________________________________________________________________________________________________
Accessibility: The gallery is wheelchair and walker accessible. If you have specific accessibility needs, please contact us at (604) 683-8326 or [email protected].
Centre A is situated on the unceded territories of the Musqueam, Squamish, and Tsleil-Waututh peoples. We honour, respect, and give thanks to our hosts.