ABOUT CENTRE A
Centre A: Vancouver International Centre for Contemporary Asian Art is a leading public art gallery currently situated in the heart of Vancouver's Chinatown, on the unceded territories of the Musqueam, Squamish, and Tsleil-Waututh peoples. It is a registered charity and the only public art gallery in Canada dedicated to contemporary Asian and Asian-diasporic perspectives since 1999.
Centre A is committed to providing a platform for engaging diverse communities through public access to the arts, creating mentorship opportunities for emerging artists and arts professionals, and stimulating critical dialogue through provocative exhibitions and innovative public programs that complicate understandings of migrant experiences and diasporic communities.
Centre A's mandate is to be an engaged participant in the ongoing production of a pluralistic and democratic society. We strive to activate contemporary art's vital role in building and understanding the long and dynamic Asia-Canada relationship while tackling questions of broader concern from Asian and Asian-diasporic perspectives. Amidst the absence of institutional commitment in Canada to contemporary art as a vital site for social engagement and critical cultural production in local, migrant, and global Asian contexts, the gallery has continued to be dedicated to:
Supporting the creation of new works by Asian and Asian-diasporic artists in Canada, particularly emerging artists and artists within the Asian milieu whose voices are underrepresented due to the particular intersectional spaces that they occupy; facilitating collaboration and creative exchange between Asian artists in Canada and abroad, in order to engage critically with local, regional and national concerns from a global perspective; fostering meaningful relationships with local arts organizations, collectives, community organizations and groups within the Asian community and beyond; and engaging meaningfully with the call for Reconciliation and contribute to the understanding and navigation of non-European settler identities from Asian perspectives.
While we play an active role in community enlivenment and conviviality, we are a means for broader cultural productivity; a local and transnational community-building apparatus that acts as a conduit for the contest of ideas and a site for the contemplation of issues of contemporary concern.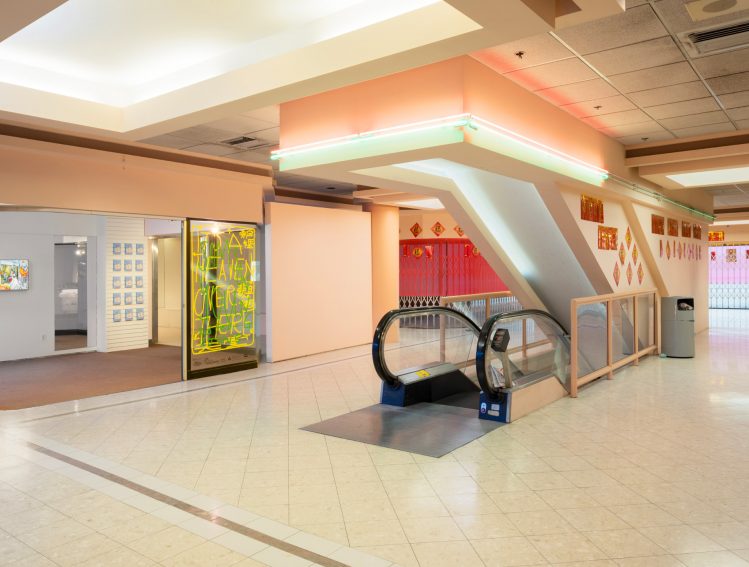 In addition to our exhibition space, we house a reading room with one of the best collections of Asian art books in the country, including the Finlayson Collection of Rare Asian Art Books. In these facilities and beyond, we rigorously engage in culture-making through research, curatorial engagement with artists, mentorship of emerging arts professionals, presentation of works, public dialogues, and various forms of documentation.

History
Centre A was founded in 1999 by Hank Bull (Founding Director), Zheng Shengtian and Stephanie Holmquist, who assembled an all-star board consisting of such distinguished figures as Milton Wong, Joanne Louie Mah, Joe Wai and Anndraya Luui. Through their, and subsequent boards' leadership, as well as the contributions of our curators and directors (Sadira Rodrigues, Alice Ming Wai Jim, Makiko Hara, Haema Sivanesan, Tyler Russell, and Henry Heng Lu), and a robust list of donors, volunteers, interns and staff, Centre A continues to make an important impact on Vancouver's art scene and community at large.
Over the years, Centre A has worked with countless artists including Yoko Ono, Ho Tam, Vanessa Kwan, Young Hae Chang Heavy Industries, Hong Kong Exile, Samson Young, Khan Lee and Subodh Gupta. Additionally, we have collaborated with numerous organizations, locally and internationally, such as the National Taiwan Museum of Fine Arts, Or Gallery, the Vancouver Art Gallery, and Long March.
Board of Directors
Kristin Cheung (President)
Yajing (ChiChi) Wang  (Vice President)
Marilyn Jung (Treasurer)
Brandon Leung (Secretary) 
Olivia Chow
Eugene Kung
Muhan Zhang 
Staff
Ellie Chung, Executive Director
Diane Hau Yu Wong, Interim Artistic Director
Hania Ilahi, Infrastructure Project Manager 
Coco Zhou, Special Project Manager
Dyana Kim, Digital Coordinator
Contact Us
T: +1 604.683.8326
Mailing Address:
205 – 268 Keefer Street
Vancouver, BC, Canada V6A 1X5
Current Gallery Hours:
Wednesday to Saturday, 12 – 6 PM
Funders and Sponsors
Centre A gratefully acknowledges the generous support and financial assistance from the Canada Council for the Arts, the Government of Canada, the British Columbia Arts Council, BC Community Gaming Grant program, the Government of British Columbia, the City of Vancouver, Cultural Services, Young Canada Works, and Canada Summer Jobs, as well as all of our donors and programming partners.
Centre A is a registered charity. Our Registered Charity Number is: 875097214RR0001. If you would like to support our expansion project, or any of Centre A's programming, consider making a tax-deductible donation HERE.
Employment

Centre A is committed to paying fair wages, and is a certified Living Wage Employer.
Membership