To Be Free, Everything You Most Hate and Fear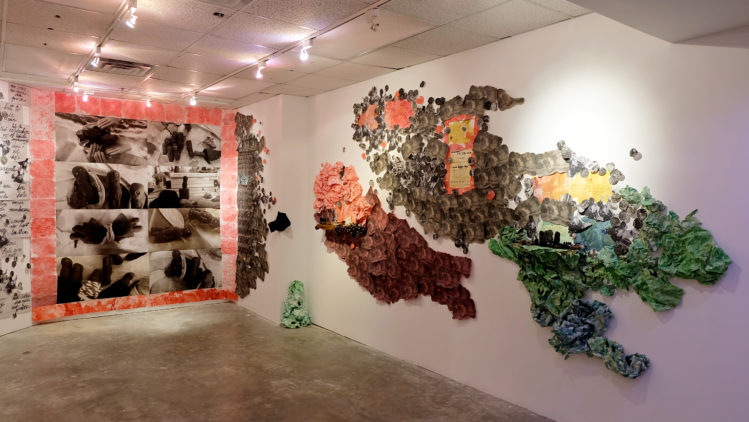 Lucie Chan, To Be Free, Everything You Most Hate and Fear (detail), 2018, mixed media installation.
Lucie Chan: To Be Free, Everything You Most Hate and Fear
—
January 24 – March 14, 2020
—
Opening Reception: Thursday, January 23, 2020, 6 – 9 PM
Artist's Talk + Workshop: February 29, 1 – 4 PM
Curatorial Tours: By appointment
Unit 205, 268 Keefer Street, Vancouver, BC
—
Guyana-born Lucie Chan makes multi-layered drawing installations that often include animations and works produced with voluntary participants to discover potentially connected cross-cultural narratives between seemingly disparate lives. Through the eye of the general public, ongoing personal experiences have brought the artist into a consistent mode of curiosity around the encounters and representations of racialized bodies, specifically Black bodies, and how they all differ yet are intertwined. Stemming from Chan's recent growing attention towards the return of a racist candy depicting Black babies, and her attempts to have them removed from several businesses that sell them, the exhibition draws from particular imagery, representation, and distinct documentation that get buried yet continuously resurface and remain. 'To Be Free, Everything You Most Hate and Fear' is comprised of a wide range of materials such as candy, text-based drawings, a racist ad from the 1950's, and found objects. The exhibition uses several seemingly disparate historical and current-day elements, and reflects Chan's layered inquiry imagining what it would be like when in public to be not either hated or feared. The title of the exhibition 'To Be Free, Everything You Most Hate and Fear,' stems from this question, and is also a nod to Adrian Piper's The Mythic Being: I Embody Everything You Most Hate and Fear (1975).
Lucie Chan has participated in duo and group exhibitions at the National Gallery of Canada, Carleton University Art Gallery, Mendel Art Gallery, Dalhousie Art Gallery, Robert McLaughlin Art Gallery, TRUCK Contemporary Art, among others. Her work has also been featured in solo exhibitions at such venues as the Art Gallery of Nova Scotia, the MAI (Montréal Arts Interculturels), Mount Saint Vincent University Art Gallery, Line Gallery, and most recently Kitchener-Waterloo Art Gallery. She was also long-listed for the Sobey Art Award in 2006 and 2010. She has completed residencies across Canada, Portugal, Spain, France, and Italy, but spends most of her time making art on the Coast Salish territories of BC, where she also lives and works. Her recent practice involves one on one interviews with strangers in order to gain insight into themes around personal struggles, misunderstandings, and wrongful accusations in the public realm.
Curated by Henry Heng Lu
---
Accessibility: The gallery is wheelchair and walker accessible. If you have specific accessibility needs, please contact us at (604) 683-8326 or [email protected].
Centre A is situated on the traditional, ancestral, and unceded territories of the Musqueam, Squamish, and Tsleil-Waututh peoples. We honour, respect, and give thanks to our hosts.
Download a copy of the Exhibition Overview (Chinese) HERE (Translator: Ketty Haolin Zhang).