Artist's Talk + Storytelling Workshop: Lucie Chan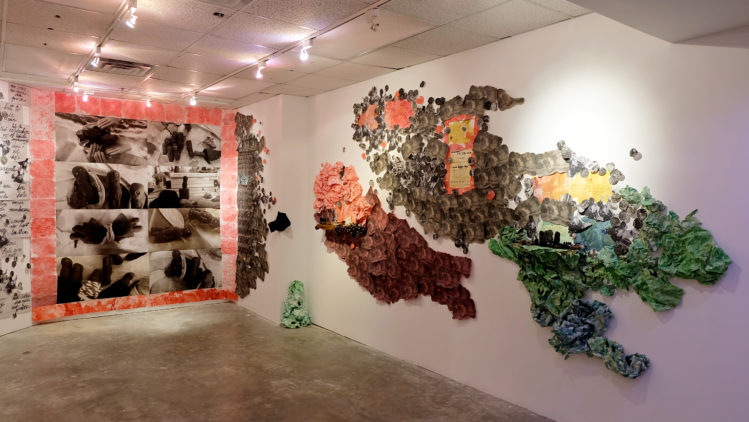 Saturday, February 29, 2020, 1 – 4 PM
In tandem with her exhibition To Be Free, Everything You Most Hate and Fear at Centre A, Lucie Chan will give a public talk at the gallery on Saturday, February 29 from 1 to 2 PM, followed by a storytelling workshop from 2 to 4 PM.
No registration is required for the artist's talk. You can reserve a spot for the workshop by registering here: https://luciechan.eventbrite.ca.
Free for Members / Pay-what-you-can for Non-Members
Open to all
The workshop invites members of the public to contribute an inventory of personal stories related to immigration, migrant identities, and the meaning of connection, home, and community, as part of the artist's research for a new body of work. In her practice, Chan often works one-on-one with members of the public to create a diverse range of works inspired by their stories.
The following is a list of questions to consider prior to signing up to be a part of this project:
• Consider a personal historical moment that has not been documented or realized that you would like to share.
• Consider a recent and memorable time when you forgot about your race, your language, and/or your culture that you would like to share.
• Consider the varying areas in your life, public and/or private, where code-switching is necessary, feels natural, or demands obvious effort on your part and what aspects of these you would like to share.
• Consider what you'd like others to remember and what you'd prefer they forget (a personal or historical moment).
• Think of an occasion, and with who you were with at the time, when you felt a profound moment of belonging.
• Consider a time when you experienced an act of racism but was unable to communicate in words what had taken place.
• Consider the personal expectations you have of others as far as how you are perceived by them.
• Think about unexpected moments that you experienced in relation to feeling at home.
Mandarin and Cantonese interpretation will be available at the event, and spaces will be reserved for those who have a connection to the Chinatown community.
Located in Vancouver's Chinatown, Centre A acknowledges and recognizes the complex and multilayered experiences of the individuals who have lived, built, and contributed to the vibrancy of this historic neighbourhood, and those who continue to do so today. We highly encourage our neighbours, co-residents, and friends in the Chinatown community to join us for this storytelling workshop.
---
Accessibility: Centre A is wheelchair and walker accessible. If you have specific accessibility needs, please contact us at (604) 683-8326 or [email protected].
Centre A is situated on the traditional, ancestral, and unceded territories of the Musqueam, Squamish, and Tsleil-Waututh peoples. We honour, respect, and give thanks to our hosts.
Page image: Lucie Chan, To Be Free, Everything You Most Hate and Fear (detail), 2018 – 2020, mixed media installation, installed at Centre A. Courtesy of Centre A.