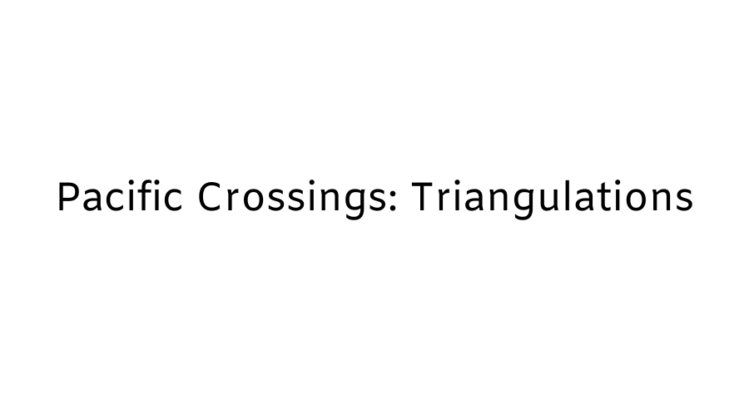 Pacific Crossings: Triangulations 
Borrowing a term from both navigation and research methods in social science that employ multiple points of view, Triangulations offers three online propositions with artists and curators in Hong Kong, Beijing and Manila, encompassing shared concerns germane to the pandemic and locational contexts. Produced as part of Pacific Crossings in partnership with Centre A: Vancouver International Centre for Contemporary Asian Art, Nanaimo Art Gallery, and Richmond Art Gallery, Triangulations is a coordinated effort to bring forward distinct perspectives from different regions through digital means to support empathy and to cultivate shared understandings about what the future may hold for the arts sector and for the public.
The series launched with:
PART I: Revisiting A Journal of the Plague Year on the Eastern Pacific Coast 
A talk with Cosmin Costinas and Inti Guerrero
Organized by Jesse Birch
Response by Charlotte Zhang
DATE: Wednesday, May 27, 2020, 7 PM PST (Vancouver local time)
Register HERE.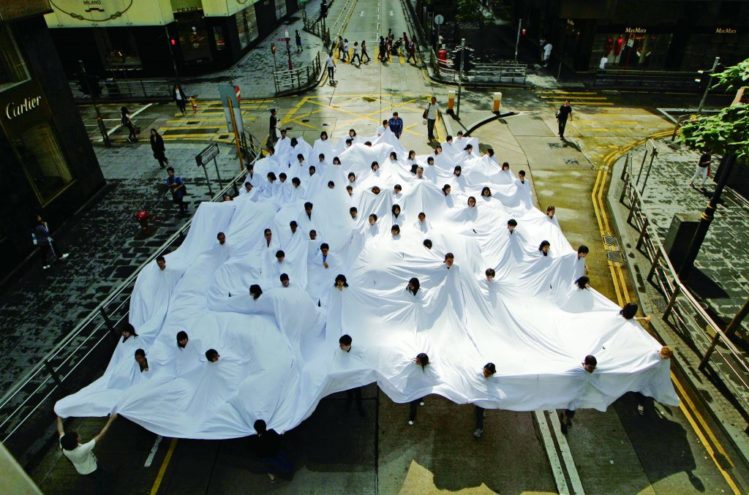 Lygia Pape, Divisor (1968 – 2013), photograph and façade print of a street performance, performed in Central, Hong Kong, 2013. Courtesy of the artist.
The exhibition, A Journal of the Plague Year, originally responded to disparate narratives of 2003 in Hong Kong—the SARS epidemic, the first arrivals of mainland Chinese on individual tourist visas, and the beginning of the democracy movement, as well as the death of pop culture figure and pan-Asian icon Leslie Cheung, the exhibition traced the fears of disease and fears of other people, both colonial and recent, and the political and pop-cultural watersheds that have shaped Hong Kong identity in the years since. These themes have come back with renewed strength in the recent months of the COVID-19 crisis, with a similar profile of fear grappling our collective imagination. For this special Pacific Coast presentation, curators Cosmin Costinas and Inti Guerrero will focus on the 2015 version of A Journal of the Plague Year held at Kadist Art Foundation in San Francisco. As noted in the press release for San Francisco version of the exhibition: 
California and San Francisco were deeply affected by the Western world's anti-Chinese immigration prejudices, through the history of Chinese immigration in relation to the Gold Rush, the 19th-century railway construction in the Western United States, and the subsequent Chinese Exclusion Act. These events make this exhibition highly relevant in a context that has not entirely moved beyond the stereotypes of its past centuries, even as it finds itself ever more deeply entangled in an emerging Asia-Pacific geopolitics of power. 
While held in the United States, the questions raised in the exhibition are also highly relevant to the parallel histories of immigration, exclusion, and heightened xenophobia on Canada's West Coast, as exemplified by recent acts of violence and intimidation perpetrated against members of the Chinese Canadian community in B.C.
The talk will be followed up by a written response by Nanaimo-raised and Los Angeles-based artist Charlotte Zhang, which will be published by Pacific Crossings at a later date. 
ABOUT THE SPEAKERS
Inti Guerrero (b. 1983, Colombia) is The Estrellita B. Brodsky Adjunct Curator of Latin American Art at Tate, London since 2016, and Artistic Director of Bellas Artes Projects, Manila since 2018. He was Chief Curator of the 38th EVA International – Ireland's Biennial, Limerick (2018), Guest Curator of Dakar Biennale 2018 – La Biennale de l'Art africain contemporain-DAK'ART, Dakar (2018), and Artistic Director of TEOR/éTica, San Jose (2011-2014).
Cosmin Costinas (b. 1982, Romania) is the Executive Director/Curator of Para Site, Hong Kong since 2011, and Artistic Director of Kathmandu Triennale 2020. He was a Guest Curator of Dakar Biennale 2018 – La Biennale de l'Art africain contemporain-DAK'ART, Dakar (2018), Guest Curator at the Dhaka Art Summit '18 (2018); Co-curator of the 10th Shanghai Biennale (2014), Curator of BAK-basis voor actuele kunst, Utrecht (2008-2011), Co-curator of the 1st Ural Industrial Biennial, Ekaterinburg (2010), and Editor of documenta 12 Magazines, documenta 12, Kassel (2005–2007).
---
Followed by:
PART II: Let Individuals Represent Individuals
A talk with Carol Yinghua Lu & Liu Ding
Organized and Moderated by Henry Heng Lu
Interpreted by Yun-Jou Chang
Response by Su-Ying Lee
DATE: Thursday, June 18, 2020, 7 PM PST (Vancouver local time)
Register HERE.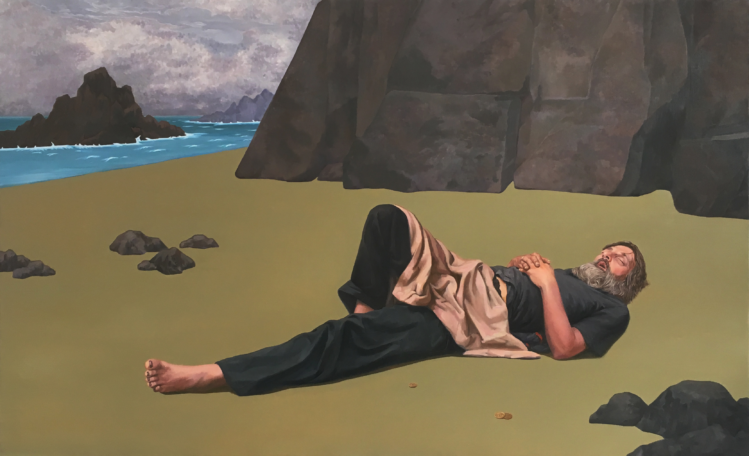 Liu Ding, A Man in Deep Sleep Year (2017), oil on canvas. Courtesy of the artist.
Through Beijing-based Carol Yinghua Lu and Liu Ding's own daily conversations and their contributions to "Letters Against Separation" on e-flux conversations (https://conversations.e-flux.com/t/letters-against-separation-liu-ding-liu-qingshuo-and-carol-yinghua-lu-as-a-family-in-beijing/9699), they have had a chance to reflect on the impacts of COVID-19, not just on the everyday life in a practical way but on their conception of the existing orders of organization that condition our lives. They have observed a general overdependence and almost blind trust on larger structures, systems and framework of thinking as well as a universal abstraction of individual positions, conditions and subjectivities. The rhetoric around COVID-19 has pivoted on politics and its problematic, yet they argue that politics can only represent and emulate an abstract form of the society consisting of countless individuals, but not actual individuals.
The talk will be followed up by a written response by Toronto-based curator Su-Ying Lee, which will be published by Pacific Crossings at a later date.
ABOUT THE SPEAKERS
Liu Ding is a Beijing-based artist and curator. He has participated in international biennials and triennials such as Istanbul Biennial (2015), Asia Pacific Triennial (2015), Shanghai Biennale (2014), Prospect.3 New Orleans (2014), Taipei Biennial (2012), the Venice Biennale (2009), Seoul Mediacity Biennale (2008), and Guangzhou Triennial (2005). His works have been presented in many art institutions and museums across the world.
Carol Yinghua Lu is an art critic and curator. She is a Ph.D. candidate in art history at the University of Melbourne and director of Beijing Inside-out Art Museum. She is a contributing editor at Frieze and is on the advisory board of The Exhibitionist.
As a curatorial team, Liu Ding and Carol Yinghua Lu have curated Liberation (2010); Little Movements: Self-practice in Contemporary Art I\II\III (2011, 2013, 2015); The 7th Shenzhen Sculpture Biennale (Accidental Message: Art is Not a System, Not a World) (2012), From the Issue of Art to the Issue of Position: Echoes of Socialist Realism (2014), New Measurement and Qian Weikang: Two Case Studies in Early Chinese Conceptual Art (2015), Salon Salon: Fine Art Practices from 1972 to 1982 in Profile—A Beijing Perspective (2015) and Factories, Machines, and the Poet's Words: Echoes of the Realities in Art (2019). Their ongoing practice of exhibition and publication making establishes organic connections between history and the contemporary, investigates and narrates historical realities from multiple perspectives. They intend to generate narratives of the subjectivity in Chinese art from a diversity of entry points, related closely to the intellectual tradition in China.
---
Happening now:
PART III: Dispatches From Manila
An online screening of short video works selected by Lost Frames, a short story by an unnamed artist, and an interview between Allison Collins (Pacific Crossings), Mayumi Hirano and Mark Salvatus (Load na Dito)
DATES: July 30 – August 13, 2020
Watch HERE.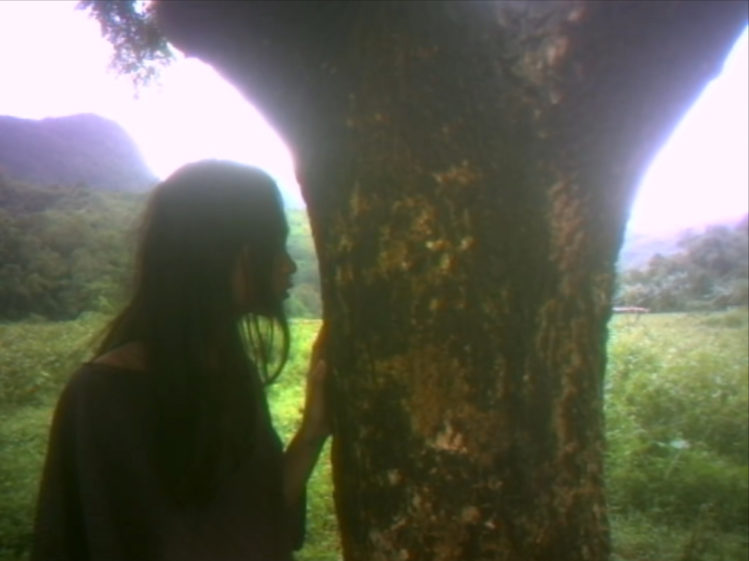 Timmy Harn, Ancan (still), 2019, video. Courtesy of the artist.
Dispatches From Manila asks artists and curators from the region to 'check-in', offering perspectives or creative projects that they have been occupied with during the recent months. Metro Manila has been in various types of lockdown since early March 2020, when measures to restrict movement were taken to prevent the spread of disease. With the COVID crisis unfolding among its citizens, governing officials have used the pandemic as a pretense to impose military and police enforcement around the National Capital Region, inciting fear through forms of restriction that echo previous eras of forced civic containment under Martial Law.
Resistant voices among artists in the community, balanced with considerations of safety circulate messages of critique, humourous resistance, and creative forms of virtual comfort. Dispatches relays perspectives of members of the Manila community. The trail of connections reveals a rhizomatic network of solidarity and support.
The program unfolds in three parts:
Programmed by Lost Frames, this virtual screening follows the collective's regular format of a community screening of short videos selected in an open call. Deliberately 'anti-curatorial,' Lost Frames focuses their energies on artist's recent works and perspectives, emphasizing sharing and feedback over framing devices. Featuring artists include:
Ralph Barrientos
Leslie de Chavez
Martin de Mesa
Timmy Harn
Danielle Madrid
Alwin Reamillo
Tekla Temoria
Sidney Valdez
Tanya Villanueva
Some works will screen in Tagalog or other local dialects, without translation.
Between the Corpse and the Tree
Remaining anonymous for reasons of safety, this story by an unnamed artist unfolds as a spectral life of palpable fear lived under a militarized state. Drawn from lived experience, both remembered and imagined, the narrator's account relays the dark atmosphere created by the extreme force that state-sanctioned violence exerts on the lived realities of Filipino citizens.
Following their residency with Pacific Crossings in Vancouver in May 2019, this interview asks Load na Dito's Mayumi Hirano and Mark Salvatus to elaborate on how their projects continue to unfold under the present circumstances of COVID-19.
ABOUT THE PARTICIPANTS 
Lost Frames is a community-based initiative for viewing experimental moving image works in the Philippines, organized by a small group based in Manila. As an in-person event, Lost Frames encourages individuals to share their process and to speak about each other's methods and ideas. This online screening program presents a selection of artists' videos from the Philippines.
Load na Dito is a mobile art site that explores creative energies generated and circulated through interactions of individuals, objects, images and ideas. It creates spatio-temporal situations that address issues of participation and problematize the potential of collective production. Load na Dito was initiated by Mayumi Hirano and Mark Salvatus in 2016.
Artist Bios are available online: https://www.pacificcrossings.ca/contributors.
---
ABOUT PACIFIC CROSSINGS
As a space that connects but is not determined by any one people or place, the Pacific Ocean is a fluid region. Our engagement through it imagines the alliances, meeting points or crossing of paths that can take place and where mutual influence, responsibility and care come to build and sustain a shared body of work and practices. 
Pacific Crossings is an ongoing conversation and public presentation series that draws participants from various regions across the ocean. This collaborative project works to bring together perspectives in an evolving and dynamic exchange, instigating events and activities that can increase public awareness of the multitude of traditions, histories, and practices, offering potential routes for intersection to take place. Thinking both metaphorically and ecologically, the series will address the care and consideration that must emerge for long-term healthy exchange, and the sharing in responsibility as much as resources.
Pacific Crossings acknowledges that it takes place on the unceded Territories of the Musqueam, Squamish, Tsleil-Waututh and Snuneymuxw First Nations. It was first conceived by Bopha Chhay (Artspeak), Allison Collins, Shaun Dacey (Richmond Art Gallery), and Makiko Hara, and is currently programmed by Collins, Dacey, Hara, Jesse Birch (Nanaimo Art Gallery), and Henry Heng Lu (Centre A).
Pacific Crossings acknowledges the generous support of the province of British Columbia.