Charlie Don't Surf | 4 Vietnamese American Artists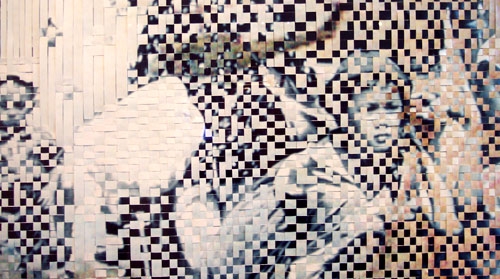 Dinh Q. LE
NGUYEN Tan Hoang
Ann PHONG
TRAN T. Kim-Trang
Opening: Saturday, April 9, 8pm (artists in attendance)
Gallery Hours: Tuesday – Saturday 11am – 6pm
Curated by Viet LE
80 page full colour catalogue
PANEL DISCUSSION
"Charlie Don't Surf: Art, the Politics of Identity, and the Vietnam War"
Sunday, April 10, 2 – 5 pm, Vancouver Art Gallery, room 403 ADMISSION FREE.
PANELISTS
Dinh Q. Lê (artist; Ho Chi Minh/Los Angeles)
Viet Le (artist/curator; PhD candidate, USC, Los Angeles)
Nguyen Tan Hoang (filmmaker/artist; PhD candidate, UC, Berkeley)
Nhan Duc Nguyen (artist; Vancouver)
Ann Phong (artist; Los Angeles)
Moira Roth (art historian and critic; Mills College, Oakland, CA)
MODERATOR: Alice Ming Wai Jim (curator; Centre A)
Thirty years after The Fall of Saigon in Vietnam, and a decade after the flowering and subsequent proclaimed failure of multiculturalism and identity politics in the United States, this exhibition highlights contemporary Vietnamese American visual artists whose work and subjectivity is affected by these socio-political intersections. Through experimental video, abstract painting, and photography, these multi-generational artists' seemingly disparate practices explore memory, failure, sexuality, trauma, and the ambivalent politics of cultural difference.
Referring to Antonio Gramsci's notion of the war of position (as opposed to the war of maneuver), which situates cultural production as an active site of resistance and a space to question hegemonic structures, the exhibition raises a number of critical questions. How has the legacy of the Vietnam War affected these multiply diasporic artists' work (or has it)? How do these artists embrace, challenge and engage issues of representation, authenticity, and validation? Do they address—or problematize—the burden of representation? In short, how do these artists subvert and/or exploit standard expectations and assumptions of Vietnamese American/ Asian American subjectivity?
The exhibition is accompanied by a colour catalogue (32 illns;106pp), edited by Viet Le and Alice Ming Wai Jim, with essays by Linda Thinh Võ, Mariam Beevi Lam, Moira Roth, and others. * SPECIAL PRICE ON OPENING NIGHT.
Centre A gratefully acknowledges the generous support of its patrons, sponsors, members, partners, private foundations, and government funding agencies, including the Canada Council for the Arts, the British Columbia Arts Council, and the City of Vancouver through the Office of Cultural Affairs. Charlie Don't Surf: 4 Vietnamese American Artists is also supported, in part, by SEATRiP ("Southeast Asia: Text, Ritual, Performance" Research Program), University of California at Riverside; the Long March Foundation; the VAWA Fest (Vietnamese American Women Artists Festival); the Vancouver Art Gallery; the Vietnamese American Arts and Letters Association (VAALA); and individual patrons Dawn Akemi Nakaya, Hong Hoa Thi Ho, and Catherine Hong Le. Additional support for related education programs for the exhibition has been provided by a Diversities Initiatives grant from the City of Vancouver.
Presented in affiliation with Asian Heritage Month
Artist and Curator Biographies
Dinh Q. LE uses photo weavings to examine trauma and representation in Cambodia, Vietnam and the United States. The large, lush photo montages, using a traditional grass mat weaving technique, combine disparate images culled from popular culture (particularly American film and newspaper representations of the Vietnam War) into tapestries that conceal and reveal half-truths, media constructions, providing a visual analogy of the processes of memory and historical trauma: fragments are obscured, recovered, it is a process of ongoing articulation and negotiation—to remember is to forget, the viewer struggles to form a mental image, must take time with what is before her to make sense of the disconcerting, haunting splinters—a face, a body, machines of war. In his latest work, the images have multiplied, a dizzying array of references, an onslaught of images of violence, flesh, and terror re-imagined as spectacle by the Hollywood machine. Lê's work has been exhibited in numerous international solo and group exhibitions, most recently at the Venice Biennale.
Viet LE is an interdisciplinary artist, creative and critical writer, and curator. He has received creative fellowships from the Banff Centre (Canada), the Fine Arts Work Center (MA), and PEN Center USA (CA). His artwork has been exhibited both nationally and internationally, most recently at the Laguna Art Museum (CA) and the Cape Museum of Fine Arts (MA). His work has been published in Asia Pacific American Journal, Amerasia Journal, So Luminous the Wildflowers: An Anthology of California Poets (Vols. I & II: Tebot Bach 2003, 2005), Corpus, among others. His latest curatorial project was a performance series premiering in Los Angeles and Orange Counties entitled Miss Saigon with the Wind, featuring work by Vietnamese American female performance artists (www.missaigonwiththewind.com). Le obtained his M.F.A. from the University of California, Irvine, where he has also taught; and is currently pursuing his doctoral studies at the University of Southern California.
NGUYEN Tan Hoang is both an academic and an experimental film-maker whose creative work has been featured in festivals in the U.S., Canada, Hong Kong, and Europe. Nguyen's artistic agenda is a political one: to create a popular culture for queer Asian Americans. Nguyen often uses appropriated film footage, combining pastiche, kitsch film and music references to speak of his queer positionality. Nguyen's output of short videos includes Seven Steps to Sticky Heaven, a musing on the politicization process of becoming "sticky rice"—a gay Asian male who dates other GAM's. Maybe Never (but I'm counting the days) is an exploration of loss, longing and queer colored subjectivity in the shadow of AIDS. Nguyen's other work has included homages to supermodels (Forever Linda!); Dalena, a blue-eyed, blonde haired singing sensation within the Vietnamese American community (Cover Girl: A Gift from God); Hong Kong popstars (Forever Jimmy!); "bottoms" (Forever Bottom) and pirates (Pirated!). Through a nonlinear "pirated television" editing technique used in Pirated! (2003), Hoang speaks of the perilous journey of boat refugees, pirates, and his own homoerotic desire for pirates (manifest in swashbuckling films), as well as insights on "returning to the homeland" and its inherent contradictions.
Born in Saigon, Ann PHONG fled Vietnam in 1981 and spent a year living in refugee camps in Malaysia and the Philippines before coming to southern California. In 1995 she received her M.F.A. from California State University, Fullerton. Her work has been exhibited in more than 40 solo and group shows throughout California and in Japan. She currently teaches art at Cal State Fullerton, and Cal Poly Pomona. Phong's abstracted paintings of boats reference the female body as a vessel, and also the plight of the Vietnamese refugee boat people. The surfaces are tactile, layers and layers of paint and text embedded; when lit properly, they glow from within. The images are abstracted—waves of translucent paint, an outline of an empty boat, a disembodied hand. Formal and visceral, she plays with extremes—tenebroso, if you will—areas contrast each other, light and dark. Her work often evokes painful individual and collective memories, expressing impotence, loss, wonder, rage. This is manifest in her paintings, the colors, the layers, the violent and gentle brush strokes.
TRAN T. Kim Trang was born in Vietnam and immigrated to the U.S. in 1975. She received her M.F.A. in 1993 from the California Institute of the Arts and her B.F.A. from the University of Iowa in 1989. In 1991, Tran T. Kim Trang commenced working on the Blindness Series, an eight-part experimental video project examining blindness and its metaphors. Stylistically and conceptually different, each video functions as a theoretical and visceral musing on different aspects of sightlessness. Alethia (1992) is the introduction to the series, weaving various categories together; operlucum (1993) deconstructs Western ideals of beauty and shows the artist visiting Beverly Hills cosmetic operations offices for consultations on blepharoplasty, or eyelid creasing surgery; kore (1994) muses on blindfolds, gender and sexuality, fear, and institutional blindspots (women, people of color, AIDS); ocularis: Eye Surrogates (1997) deals with surveillance; ekleipsis (1998) delves into the hysterical blindness of a group of Cambodian women residing in Long Beach; alexia (2000) is a musing on word blindness and metaphors. The penultimate installment of the series, amaurosis: a portrait of Nguyen Duc Dat (2003) is an experimental documentary about a blind guitarist residing in Little Saigon, CA.