Volunteer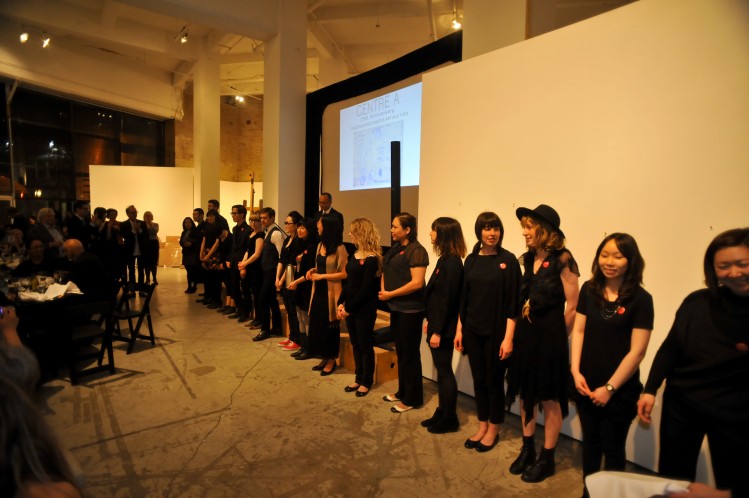 Centre A relies on the dedication and commitment of volunteers to help us in a number of ways. Our volunteers provide essential support to Centre A's staff and ensure that visitors leave with a rewarding experience. As a non-profit public art gallery, Centre A relies on an active and engaged team of team of volunteers to provide invaluable support for a range of tasks including web building, installation assistance, library cataloguing, and assisting with opening receptions, talks, screenings, galas, and gallery orientation.
We would like to thank the wonderful array of interns, co-op students, and volunteers that have helped us throughout the years.
How to participate
If you are interested in getting involved, meeting new people, developing new skills and learning how a public art gallery functions, please feel free to contact us!
Available volunteer positions are listed below. To apply, please complete this online Volunteer Application Form. If there are additional skills or experience you would like to bring to the Centre A team, please let us know!
For more information, email info@centrea.org or call (604) 683-8326. We look forward to hearing from you!
Volunteer Positions
GALLERY ATTENDANTS
Gallery attendants are charged with visitor management and gallery docenting tasks. Shifts are 4 hours, 11am to 2pm and 2pm to 6pm Tuesday to Saturday. Attendants are responsible for greeting visitors, answering questions, and providing information on our exhibitions to the public. Attendants should be interested in learning and sharing about artists and their work and conduct themselves in a friendly manner. In addition to attending to the gallery, we often engage Gallery Attendants with a variety of marketing, administration, and library related tasks.
PHOTOGRAPHERS
Our photographer volunteers help us make history. We are seeking generous, skilled photographers who could commit to helping us create the official photo-documentation of our exhibitions and events. We are seeking individuals capable of committing to a few afternoons and evenings per month. Most shifts are 2~4 hours. For qualifying professionals who may like to donate their services a donation of services arrangement may be possible. Photos are taken archival and marketing purposes, and when photos are used for promotional materials, or on our social media, credit will always be given.
TRANSLATORS
We are currently seeking volunteers who can read and write in Traditional Chinese. Projects include translating exhibition texts, and writing promotional materials for exhibitions, so knowledge of art and art history vocabulary is an asset.  For qualifying professionals who would like to donate their services, a donation of services arrangement may be possible.
INSTALLATION ASSISTANTS
Install assistants help out our Curatorial staff, contracted technicians, and artists with the installation of artwork. Tasks include wall patching and painting, installing hanging hardware, assisting with wiring AV equipment, art packing, and other safe and low-risk tasks. Shifts are periodic, occurring on installation and de-installation days prior to and after exhibitions. Please check our upcoming exhibitions schedule for details. This is a great opportunity for someone looking to gain experience working alongside artists and technicians.
EVENT ASSISTANTS
From set up to clean up and everything in between, Event Assistants help run Centre A's opening receptions, panel discussions, artist talks, screenings, from set up to clean up, and everything in between. Shifts are one to two shifts per month and ideal for people who are available on Saturday afternoons and from 5:30pm – 10:30pm on Thursdays and Fridays. Event Assistants are friendly, attentive people who can work well in a crowded fast paced environment. Volunteering at events offers a great opportunity to learn about and connect with art and artists.
Apply Now: https://forms.gle/qqe9uyaiZmeV1y9z6