World Tea Party Part Two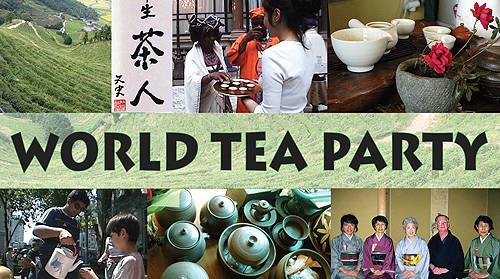 Centre A presents
WORLD TEA PARTY- Part Two
a celebration of global tea culture
Click here for the complete special event schedule 
Friday, March 12 – Sunday, March 14
and Thursday, March 18 – Saturday, March 20
Open 3:00 pm – 9:00 pm
Admission by donation.
Following a great success during the Olympics, Centre A is pleased to present the World Tea Party – Part Two, featuring installations by local artists and a number of special events (see detailed schedule below).
Animated by tea master and calligrapher Bryan Mulvihill (aka Trolley Bus), truly one of Vancouver's "living cultural treasures", The World Tea Party has been presented for publics large and small in a wide range of contexts, including the Winnipeg Pan Am Games, the Venice Biennale, the National Gallery of Canada, the Hollywood Bowl and the Eiffel Tower.
The World Tea Party is based on the notion that humanity shares in the drinking of tea a spirit of generosity and exchange that both celebrates and transcends our cultural diversity. Tea is the most popular beverage in the world. 

Installations
Blue by Project Rainbow
Replay Your Tea With Me by Luke Moloney & Darren Stone
The Good Old Days […] When Times Were Bad  by Vancouver art collective, DRIL.
Special Events
Friday, March 12, 7-10pm
Pact 4 – TRADE, a one-day open-call, non-juried exhibition
organized by 221A Artist Run Centre
Saturday, March 13, 3-6pm
Introduction to the Art of Chinese Tea by Gina Zuiten
a demonstration of a modern tea practice followed by Wu-Wo Tea Ceremony and tea offering
Saturday, March 13, 7-9pm
Teeth Party by DRIL
A Birthday Fundraiser Extravaganza for Leisha O'Donohue organized by DRIL
Sunday, March 14, 3-5pm
Japanese Tea Ceremony & Demonstration by tea master Sakai-sensei
Sunday, March 14, 3-4pm
Skype Tea with 161 Gallon Gallery (Halifax)
Thursday, March 18, 6:30
Arty World Tea Party
A fundraising event for the Downtown Eastside Centre for the Arts
Live and silent auction, entertainment, fun
Entrance by donation
Friday, March 19, 3-4pm
Le thé de l'amitié
Skype Tea with Oboro (Montreal) featuring parlour games and other surprises.
Friday, March 19, 7-9pm
The Good Old Days […] When Times Were Bad
Campfire Social Gathering
organized by DRIL
(This installation was previously shown at Drawn Festival 2009)
Saturday, March 20, 3-5pm,
The Japanese Way of Tea
Presented by the Urasenke Society Vancouver Branch
Saturday, March 20, 7-9pm
A Listener's Lab Sound artists talk and trade their favorite play-lists, organized by Debra Zhou.
Sunday, March 21, 6:30-9:30pm
Pinoy Poetiks, by The Philippine Canadian Youth Alliance (UKPC/FCYA).
In celebrating March 21(the International Day to Eliminate Racism), Filipinos in Vancouver will connect that history to their own struggles and achievements through hip hop, poetry, music and more.
BRIGHT LIGHT – in partnership with 15 Downtown Eastside arts groups
The World Tea Party is Centre A's contribution to the City of Vancouver's Olympic and Paralympic public art program, Bright Light.
Bright Light includes performances, video projections, exhibitions, social events and a parade. It is produced by artist-run centres, a fashion artist, an architecture studio, a commercial gallery, and a magazine.
More information: http://bright-light.ca/

Come have a cup of tea!
World Tea Party is presented in partnership with the Vancouver 2010 Cultural Olympiad the City of Vancouver and the British Columbia Arts Council.
Tea generously provided by
DAVIDsTEA www.davidstea.com
Pari Azarm Motamedi
Centre A would especially like to thank Anndraya T. Luui for her support of this project.
Centre A gratefully acknowledges the support of its patrons, sponsors, members, partners, private foundations, as well as government funding agencies, including the Canada Council for the Arts, the British Columbia Arts Council, and the City of Vancouver through the Office of Cultural Affairs.