Experimental Relationship (for your eyes only, or maybe mine, too)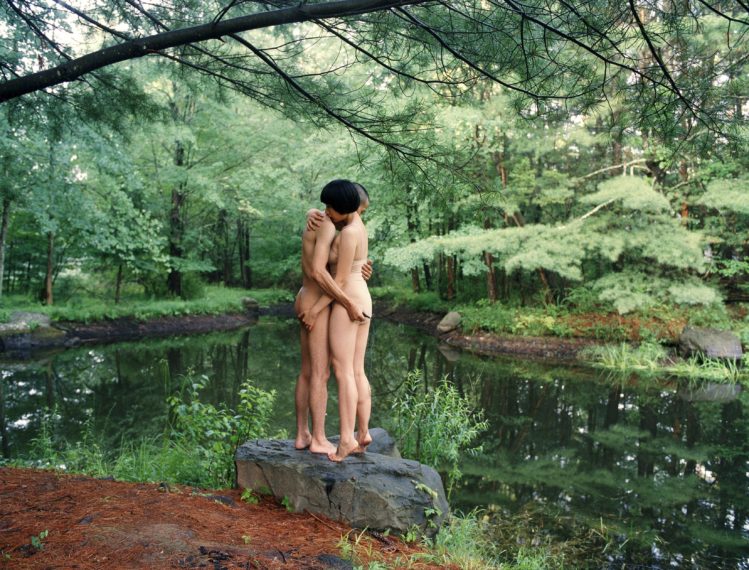 Pixy Liao, The Hug by the Pond, 2010, photography. Courtesy of the artist.
Pixy Liao: Experimental Relationship (for your eyes only, or maybe mine, too)
—
Since April 3, 2020
—
View the exhibition online here, until December 31, 2020:
—
Opening Reception: Friday, April 3, 2020, 6 – 9 PM
Due to the unforeseen circumstances of COVID-19, we have decided to cancel our opening reception of Brooklyn-based artist Pixy Liao's exhibition; however, we are thrilled to announce that we will be launching an online gallery as of April 3, 2020, to share Pixy's works from the exhibition as part of Capture Photography Festival 2020, and will also be having Pixy as our guest Instagram artist in the following weeks to come (follow us on Instagram @centre_a).
—
Online Artist Talk: Saturday, April 18, 2020, 1 – 3 PM
Register here.
For more information: centrea.org/2020/04/online-artist-talk-pixy-liao
In partnership with the David Lam Centre at the Simon Fraser University 
—
Brooklyn-based artist Pixy Liao's ongoing project, Experimental Relationship, dwells on sociocultural tendencies, power play, and emotional sustenance by examining the dynamics of her personal, romantic relationship, performed with photography and printed matter. Since 2007, the Chinese-born artist has staged photographs and live performances with her Japanese boyfriend, Moro, in keen attempts to balance, reverse, or subvert cultural traditions and gendered behaviours in a seemingly tongue-in-cheek, yet graceful manner. The sometimes-surreal images created throughout the process signal some of the traditional values and views of intimacy that are dictating interactions between the two lovers; they also point to a broader context in which gender dynamics and gendered expectations are questioned: Who is leading the relationship, who has the deciding voice in decision making, and who is gazing. Pixy and Moro's relationship, in a way activated (not documented) by the project, has also been growing with it. Accompanying the photographic works and acting as an extension of Experimental Relationship in the exhibition is Pimo Dictionary, a collection of hybrids of Chinese, Japanese, English words and phrases as well as slangs, which was inspired by Pixy and Moro's communication barriers.
This exhibition at Centre A provides a rare platform for discussing intricacies of romance, sex, and desire within a culturally specific framework, against the western backdrop of the fetishization of Asian women and the denial of Asian masculinity.
The exhibition is Pixy Liao's first solo exhibition in Canada.
Born and raised in Shanghai, China, Pixy Liao is an artist currently resides in Brooklyn, New York. She is a recipient of NYFA Fellowship in photography, Santo Foundation Individual Artist Awards, Jimei x Arles International Photo Festival Madame Figaro Women Photographers Award, En Foco's New Works Fellowship and LensCulture Exposure Awards, etc. She has done artist residencies at the University of Arts London, School of Visual Arts RISO Lab, Pioneer Works, Light Work, Lower Manhattan Cultural Council, Center for Photography at Woodstock, and Camera Club of New York.
Liao has participated in exhibitions and performances in institutions internationally, including the UCCA Center for Contemporary Art (Beijing, China); He Xiangning Art Museum (Shenzhen, China); the Museum of Sex (New York, USA); Asia Society (Houston, USA); Open Eye Gallery (Liverpool, UK); Chambers Fine Art (NY); Leo Xu Projects (Shanghai, China); and Firstdraft Gallery (Sydney, Australia). Liao holds an MFA in photography from the University of Memphis.
Curated by Henry Heng Lu
This exhibition is part of the 2020 Capture Photography Festival Selected Exhibition Program and supported by a Tricera Print Grant.

---
Accessibility: The gallery is wheelchair and walker accessible. If you have specific accessibility needs, please contact us at (604) 683-8326 or [email protected].
Centre A is situated on the traditional, ancestral, and unceded territories of the Musqueam, Squamish, and Tsleil-Waututh peoples. We honour, respect, and give thanks to our hosts.