Capture Public Art 2023: Kvet Nguyen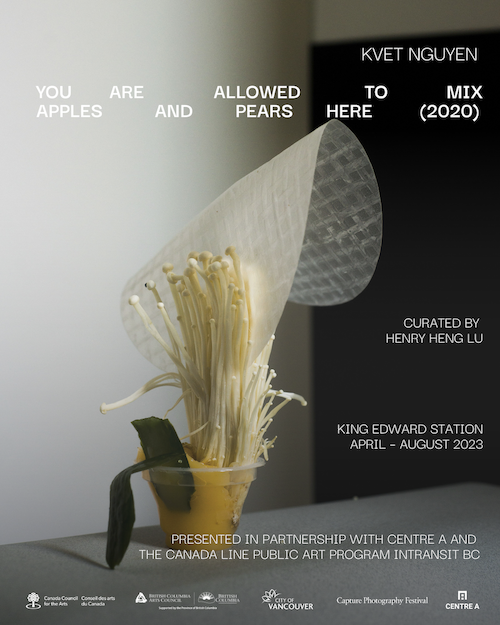 Capture Public Art: Kvet Nguyen
–
April 1 – August 31, 2023
Curated by former Executive Director/Curator Henry Heng Lu 
–
King Edward Station
–
Courtesy of the artist:
Kvet Nguyen's work demonstrates an embodied sense of searching within the self. For her photo series You are allowed to mix apples and pears here, assembles a range of objects – primarily organic – of various sculptural forms and photographs them against backdrops of domestic settings. The objects, many of which are often found in diasporic cooking, are posed with others with apparently different cultural roots; the constructed compositions display dexterity, elegance, and discomfort. These compositions symbolize the act of "blending in" performed by Nguyen's family following their immigration to Slovakia from Vietnam several decades ago, and simultaneously evoke a sense of uncertainty through the strange-yet-familiar quality of the collages. The subtle approach to familiarity is aided by elegant lighting, surroundings, and colour choices, seemingly creating a metaphor for becoming, unbecoming, and rebecoming.
Ultimately, You are allowed to mix apples and pears here is a family portrait of Nguyen's parents and herself that speaks to the prolonged process of navigating cultures and settling in.
–
Presented in partnership with Capture Photography Festival and the Canada Line Public Art Program – InTransit BC