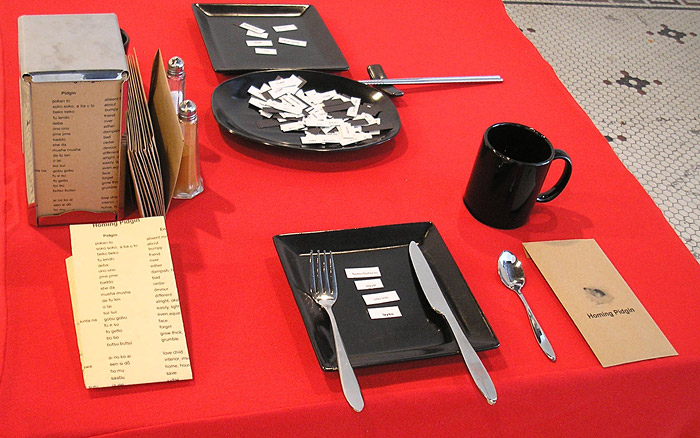 October 21 – December 14, 2019
—
Artist Haruko Okano's residency at Centre A, titled Homing Pidgin, introduces visitors to words and phrases she recovered from a hybrid trade language that was developed and spoken by early settlers during the late 1800s and early 1900s. Pidgin on the west coast incorporated snippets from Chinese, South Asian, French, and Chinook wau wau woven in with portmanteaus or Janglish (a fusion of Japanese and English). Through printed handouts and magnetic strips, along with a small table, chairs, and place settings symbolizing the meeting of two cultures, the viewers are encouraged to learn a little of a lost oral transition. This residency-installation offers an opportunity to experience the challenges of communicating when one is unfamiliar with another's mother tongue.
Haruko Okano is a sansei (3rd generation) Japanese Canadian with over 30 years as a professional interdisciplinary artist. Signature characteristics of her practice are deep community engagement, collaborations in the arts and cultural activism. In 2000 she received the VIVA Award from the Doris and Jack Shadbolt Foundation in recognition of her artistic practice. She has extensive training in human rights, and anti-discrimination through the Justice Institute of BC, and the summer human rights college/University of Ottawa. She received her curatorial training through a two-year apprenticeship at the grunt gallery in Vancouver, BC.
Join us for the opening reception on Saturday, October 26, at 12 PM followed by the artist's Ocean Flotilla workshop from 1 – 4 PM. Light refreshments will be provided.
Workshop: Ocean Flotilla
Free / By donation
Ocean Flotilla is the public participation component of a larger environmental art project started in 2011 by artist Haruko Okano. Ocean Flotilla invites the public's help in making 1000 paper boats. The boats are made of unbleached kraft paper made water-resistant with Kakishibu, an organic multi-purpose medium from Japan. Each of the boats will be numbered inside so that participants will be able to track their boat's journey by periodically checking the ocean flotilla BlogSpot. Because this workshop requires precise paper folding and waterproofing in 3 stages the participant age limit is 12 years or older. Younger children accompanied by an adult are welcome to contribute a message during the workshop or through the blog site (mentioned below). Space is limited and participation will be on a first come first serve basis. Visit http://oceanflotilla.blogspot.com for more information about a boat launch.

---
Accessibility: The gallery is wheelchair and walker accessible. If you have specific accessibility needs, please contact us at (604) 683-8326 or info@centre.org.
Centre A is situated on the traditional, ancestral, and unceded Coast Salish territories of the Musqueam, Squamish, and Tsleil-Waututh peoples. We honour, respect, and give thanks to our hosts.