Music Temple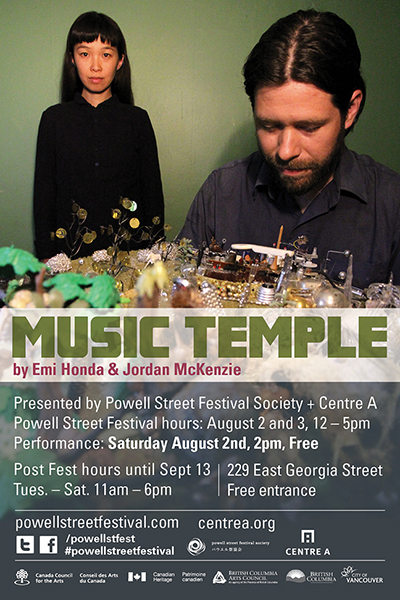 MUSIC TEMPLE
Emi Honda & Jordan McKenzie
Co-presented with
Powell Street Festival Society
August 2 – September 13, 2014
Powell Street Festival dates: August 2 & 3
Performance: August 2 at 2pm, followed by the opening reception
Gallery Hours: Tuesday – Saturday, 11am – 6pm
Emi Honda and Jordan McKenzie present Music Temple at the 38th Annual Powell Street Festival. Honda and McKenzie began Elfin Saddle after migrating from Canada's lush west coast to Montreal, transporting their nature-inspired creations to the urban environs of the east. Already seasoned collaborators in sculptural installation and music, Elfin Saddle began as a more contained outlet for these multi-disciplinary activities, using prepared acoustic instruments, found percussion elements, and often mythological and pantheistic themes delivered in a mixture of English and Japanese. Recently incorporating video projection and audio installation elements into their live performances, the resulting Music Temple presents a pseudo-narrative culmination of all of the above.
Website: http://www.elfinsaddle.com/
Please check back for info on a second performance in September.
PRESS COVERAGE
"A hybrid of sight, sound and and movement comes to Centre A", Alison Chiang, The Source, Vol. 15, Issue 3 – August 26 to September 9, 2014.
"Powell Street Festival boasts diverse and eclectic program for its 38th year", Graham McFie, Beatroute, July 21, 2014.
"Powerful sounds at Powell Street Festival", Alexander Varty, The Georgia Straight, July 29, 2014.